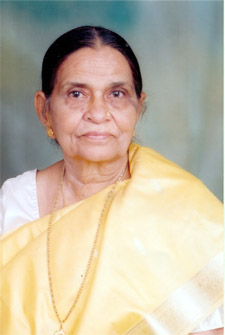 Dr. (Mrs.) Krishna Saksena is a lady with a difference. Giving a broad smile to one & al, she walks with great confidence and poise. She is a very jovial person. Pooja and Prayer, Meditation and Jap form an integral part of her life. Despite being highly educated, humility is her greatest asset. Her life is a saga of misfortunes, yet these have never let her down. She carries herself around with great dignity.
She has a brilliant academic record. She is the first woman candidate to get a Ph.D. in English Literature in whole of U.P. and stands out amongst the very few in whole of India. The topic of her thesis is "William Cowper: His Poetry and Personality". This topic greatly interested her because of the strange personality of William Cowper and the traits that he had in his poetry which made him the precursor of the romantic poetry that followed. In Cowper, we have what Walter Savage Lander found, "I saw that in one hour poet and the sage unite, more grave than man, more versatile than boy!" Her thesis was highly praised both by internal as well as external examiners. Her external examiner was chosen from London, namely Professor Ifar Evans, an authority in the field of English Literature. Her style, as professor Siddhanta taught her, is very simple yet forceful. She has also done proficiency in French language. She has studied Urdu up till the eighth standard, while she did her High School in Hindi. She carries a good knowledge of all these languages which helps her in mixing with various kinds of people.
She joined Delhi University as a lecturer and taught for twenty-five years in L.B. College. She has a great passion for teaching. Even during her student days, she would teach all those poor who would come to her for coaching. Even today, she has a dream of building up a school one day, and bringing it up according to her norms.
She sees a streak of light even in the darkest of clouds that not only gives her hope but also the strength to go ahead with her noble deeds. She feels very strongly that the greatest gift given to all of us is the gift of life itself, so one should make the best out of it. This is only possible when we do not forget God even for a single moment. Every act must be performed remembering that it is a worship to the Almighty.
Yet, despite of possessing all the above noble qualities, she is a very human figure, full of weaknesses. She has a domineering spirit which refuses to accept those who defy her. Her bouts of anger, now and then, perhaps too often, become at times unbearable to others. And her impatience sometimes makes her take a few wrong decisions too. All these shortcomings are very much to her knowledge and she acknowledges them all. On her part she tries hard to overcome these, but this can be only a gradual process.