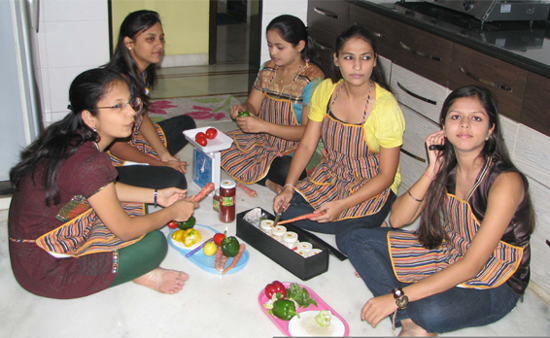 Remember the Famous Five gang of Enid Blyton's stories? Adventurous, daring, chirpy, fun loving and ready to rid the world of evil? Well, Mumbai has its own Famous Five (sans the dog though!) and they share these qualities with their fictional counterparts. The only difference: Their mission is to bust all myths associated with diet foods that are popular with hordes of 'health conscious' women and men across Mumbai and instead provide consumers with more nutritious alternatives.
Students of SVT college in SNDT University, Mumbai, Princee Kalra, Arpita Shah, Madhura Gurav, Alfana Khatri and Disha Jhaveri - all of them have just entered their 20s - call themselves the 3D gang, who are ready to take on the pseudo diet-food industry. "The market is flooded with diet foods making false claims and fooling consumers. Ours is an authentic diet food line of 'chatpata' items such as sauces, dips, spreads, and so on, made with fresh vegetables sans preservatives, additional sugars or edible food colours," chorus the girls, whilst they are busily cooking and packing the weekly quota of their Delicious Diet by Dieticians or 3D food items.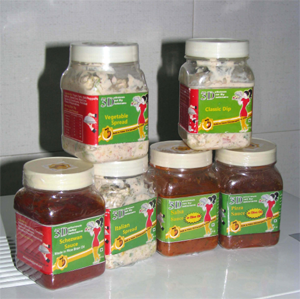 The group has understood what drives urban Indians. Each has a post graduate degree in Clinical Nutrition and Dietetics and they know that the perpetually hard-pressed-for-time working women of Mumbai, and even the scores of single men, have increasingly started reaching out for packaged, ready-to-eat and ready-to-cook (RTE and RTC) food items at their nearest malls or food bazaars.
All these convenience foods have a major downside. As Jhaveri, who is doing her post graduation along with Shah, puts it, "The problem with many such RTE food items is the high calorie and cholesterol count." Jhaveri and Shah, along with Kalra, who is interning at Tata Memorial Hospital in Mumbai, specialise in cancer and critical care nutrition.
Khatri and Gurav, who are currently interning at KEM Hospital and specialise in diabetics and cardiac care, add, "In between meals one feels like snacking and one most definitely craves for something spicy, salty and tasty. This is when we reach out for cheesy, salty foods, which are very high on calories. One can't always eat fruits or bland foods; as Indians we do not like to compromise on our taste or spice."
But all this does not match up with the wave of health and fitness that has swept through the metros and even the small towns, does it? Well, that's the reason why the market is flooded with all kinds of ready 'diet' foods. "Because people need to eat and also watch their weight, they go in for food brands, which supposedly offer 'nonfat-calorie free but yummy' items," explains Kalra.
The girls are not off the mark. The Datamonitor consumer survey has shown that there is a 50 per cent increase in health and diet conscious people who are always looking out for foods with 'low or lower cholesterol' and 'low or reduced fat'.
"But in our post graduation study we found that many such items actually make false claims. Most of the present tasty foods have a cheese base. And the average person, for instance, feels that if cheese is replaced with mayonnaise, it becomes a health food when factually it doesn't, as mayonnaise is also high in calories. In fact, a majority of the dips and spreads available in the market use either mayo or cream to get the cheesy effect, thereby fooling innocent consumers," adds Shah.
And here is where the 3D stuff is different. For instance, in a dip that requires a cheesy base, 3D substitutes the cheese, cream or mayonnaise with hung curd, which has the same texture and taste but is considerably low in calories. Added to this are fresh vegetables - like yellow or red bell peppers, tomatoes, lettuce, sweet corn, baby corn, and so on - spices, garlic, herbs, jaggery, salt and other condiments and - voila! - you have a sumptuous and healthy alternative. Keeping an eye on the fat factor, all 3D food is cooked in olive oil or rice-bran oil.
The only catch is that their products - that includes Dip-O-Italio (with or without olives), vegetable spread, Italian spread, Salsa sauce, Classic dip and Pizza sauce - come with a short shelf life. As Gurav explains, "Except for the Schezwan sauce - in which we don't use Ajinomoto - all our other products that are refrigerated can keep between 7-15 days. The sauce can be consumed within six months. That is the reason why we make fresh products every week and they are all made-to-order and available in 200 gram poly jars only."
Despite the fact that they started recently, 3D has an astoundingly large client base, which includes industrialist Yash Birla and his family. Priced between of Rs 75 and Rs 130, on an average the 3D products are supplied to 60 to 70 people every week. "We haven't yet spent a paisa on promotion and have built up a client base through word-of-mouth publicity," say the girls with pride.
And they have every reason to be happy about their achievement. While most of their classmates have been busy pursuing academics, this group has turned into entrepreneurs. Each of the 3D members chipped in with Rs 1,000, which they borrowed from their parents, besides the vessels and the gas stove. Initially, they would go wrong but by trying out various permutations and combinations with the desired ingredients, they have arrived on some foolproof recipes, which they are wary of not revealing to anyone.
"We paid back our parents within a month and are very happy that they all supported and helped us in our venture," says this gang of girls. They are just waiting to complete their six months' internship at the hospitals - mandatory after their degree course - after which they want to completely devote their time and energy to making 3D a huge success.
Although they have already been approached by some food companies to sponsor their venture and market their products, the girls have firmly turned them down. "We don't only want to make money. We have lot of plans - coming up with newer products, giving lectures on diet and nutrition, holding seminars and workshops, and counselling people on the necessity of healthy eating. And all this without compromising on the quality of our products," conclude the fabulous five, who find their weekly meetings and cooking sessions as the best stress benders of their lives.

By arrangement with WFS