Tucked above the 1,200-odd shops in old Delhi's Bhagirath Place, Asia's largest electrical goods market, are matchbox-size hutments that house hundreds of workers, mostly migrants from Nepal. The houses are virtual prisons during the day, as they are without staircases.The dwellings in the bustling Chandni Chowk area of old Delhi are a stark reminder of how some who toil silently to keep the engines of this aspiring powerhouse of a nation running are treated.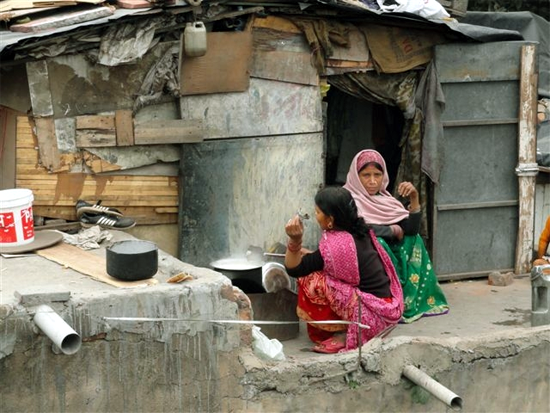 A mix of thatched huts and brick structures, they house around 400 workers and their families, totalling about 1,000. They work as night guards for the shops on the groundfloor, apart from doing other menial jobs to support themselves. Around two to three families jostle for space inside a single house. The dwellings have no water or drainage facilities.
"We do not move out from 9 a.m. till 9 p.m. as the shops here are open during this time and the shopkeepers do not want a wooden ladder right outside their shops. It is a put off for the potential buyers," Shera Aala, 34, told IANS.
Shera was a 10-year-old boy when he came to Bhagirath Place with his father in 1987. "My father worked here as a security guard in one of the shops, and I took over the job when I was 16. I did not find myself alone as there were hundreds of other families like us who were leaving Nepal because of the political unrest at that time," a nostalgic Shera recalled.
This IANS reporter, on an early morning visit to the place, was soon surrounded by other residents who poured out their tales of misery. Without staircases and left with no option, the migrants either risk their lives trying to climb the rickety wooden ladders among high voltage cables, or stay holed up inside their houses when the market is abuzz with buyers and tourists.
"Our two previous generations have spent life here this way. My younger brother and my son died due to brain injury after they fell while climbing down the wooden ladder," said Tekraj. But he believes the problems faced by men were insignificant compared to what the women braved.
"We can still manage to live this way because we have grown up here. But for women, they do not have access to toilets throughout the day when the ladders are removed, and our children have survived accidents while trying to get drinking water in huge jars all by themselves after climbing the dangerous ladders," Tekraj said.
For the families living here, the only toilet is a stench-filled public convenience facility positioned in the middle of the market. "No one has ever bothered to do anything, and neither do we expect any help because we know we are outsiders. During Independence Day celebrations at Red Fort (a stone's throw from the market), we are sent to other areas or asked to go back home," said Majeh, another security guard.
The men are angry, but stay silent as they cannot afford to annoy the shopkeepers. Moushmi Kundu, working for voluntary organisation Care, gives an inside view of the problems.
"When we first approached the Nepali residents here, we came across women who had delivered their child and cut the umbilical cords themselves because they could not be taken down from the unstable wooden ladders.
"Slowly, we discovered that the problems were serious and multi-faceted for children and women living in houses without any sanitation, ventilation or drinking water. What is the difference between a detention camp and Bhagirath Place when a human being can't even go out of his own house to meet his basic needs," Kundu told IANS.
She also said the population here was highly vulnerable to HIV/AIDS, and lacked access to medical care. Shopkeepers, meanwhile, refuse to comment on the matter, saying "this has been going on for years."
"We cannot say anything on this matter. If police are aware of the settlement, why disturb things?" a shopkeeper said, refusing to be named.
As this reporter was about to leave, a newly-wed bride in one such rooftop house asked what the market at Chandni Chowk, where Bhagirath Place is situated, looks like.
"I have heard a lot about it, but never got a chance to get down and visit the market. I was told I could not move about much after marriage," she said.

IANS

Read also: Chandni Chowk Needs Restoration