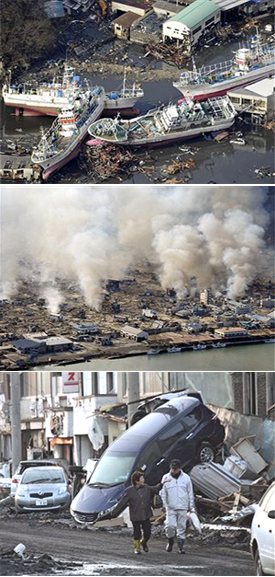 'How barbarous you are', said Cleopatra to Mark Anthony, 'to destroy the library in Alexandria.'
On March 11, 2011 the world was shaken and horrified by the Tsunami in Japan triggered by an earthquake with a magnitude of 8.9 on Richter's scale, the strongest tremor ever to hit the quake-prone Japan. Ship with 100 occupants was swept away, the airport was defunct, besides severe damages to men and their properties.

Unprecedented, reminding us of the ravages of 2004 Tsunami following Sumatra earthquake in Indonesia, Malaysia, Singapore and Indonesia. We had the sad experience in Nagipattanam in Tamilnadu and Kerala coasts.
This was a blow from the blue brought in by nature.
At the same time on Mar 11, 2011 there were ravages in India, too, though of a different kind. A large number of demonstrators descended on the Tank Bund Road in Hyderabad to express their grievances by pulling down the statues of poets, scholars, saints and other icons who belonged to India, though had their births in Andhra Pradesh. Saint-poet Annamayya and king-poet Krishnadevaray like many other statues belonged to time. Pt Nehru in his famous Discovery of India has paid glowing tributes to Krishnadevaraya. And which child in India doesn't take pride to read Tenali Rama!!
People in India at large, specially those who belong to this part of the country, were crestfallen by these ravages.
Women in distress surrounded the place where Annamaya once stood and rendered his devotional poems. Just two years back in 2008 summer, 1,00,000 people had gathered in the Parade Grounds of Hyderabad and the following year still more people came together in Vijayawada to sing the soul-stirring songs, the feats have gone into the Guinnes Book of World Records. What a performance that was by the people of Andhra Pradesh to shake the whole country, no the whole world!
Prominent personalities in the twin cities and several thousand people across the state have condemned this barbarous act. Will good sense ever dawn in the minds of the educated demonstrators to realise that every heritage site in the country belongs to us, and we are the custodians of our nation and its honour.
'Boloji' is deeply pained by such unmindful act, and hopes the citizens do feel for the places of their birth, take pride in the achievements of their forefathers and love their country.
We pray the Nature not to bring in such ravages again on the earth, and pray the people, specially the youth, not to fall prey to the instigations of the short-sighted selfish leaders.

Read also: World is Shaken by Japan earthquake and Tsunami

Images (c) Gettyimages.com