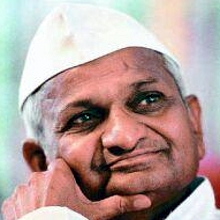 Mr. Anna Hazare on Tuesday began a fast-unto-death in the capital demanding enactment of a stronger Lokpal Bill to give powers to Ombudsman to check corruption. Why is he doing it?


The Congress spokesperson Manish Tiwari says that Mr. Hazare's actions are premature. The government has already appointed a panel headed by the defense minister Mr. A. K. Anthony to draft a bill. He says further that in a democracy the government moves the bill and Parliament enacts it.

Why then is Mr. Hazare hell bent on going on fast until death?


Our government certainly cannot figure out Mr. Hazare's action. So let us look little more objectively and see if Mr. Hazare is not all that irrational.


In a normal democracy the government moves the bill and the parliament enacts it. But this is a very different situation. By any world standards we have a corrupt government and a Parliament heavily populated by corrupt politicians. I am not going to substantiate this statement because there is no need for it. Everyone knows it! There is no public confidence in our politicians when it comes to curbing corruption. So what we have here is one corrupt element drafting the semblance of an anti-corruption bill to be enacted by another corrupt element - all this in the name of "protecting the public". It is much like the fox guarding the chicken.


Mr. Hazare seems to be uneasy about this whole process. To be honest I am uneasy about it as well and if you are reading it then ask the same question to yourself. If you also feel uneasy, then you can relate to what Mr. Hazare is feeling.

The difference between most of us and Mr. Hazare is that he is willing to do something tangible about it like put his life on the line.


So what is unique about fasting till death? In our country, millions of poor are compelled to go through involuntary fasting for years and years without making any news. They do not even realize that their fasting is a silent protest against the corruption within our government that victimizes them. Neither do we? Because if we did, we would be actively doing something about it. We simply got used to it and have immunized ourselves against it.

Virtually every day somebody announces to start a fast. In one recent case a person who started the fast broke it within half an hour of the start as he was tempted by a glass of chilled orange juice. You guessed it right! – he was a politician. The politicians know that starting a fast, however concocted, is a news grabbing event. They also surmise that how can it be a fast if it does not start fast and end fast?


But Mr. Hazare is not a politician. So why is he doing it?


It could very well be that Mr. Hazare has rationally thought out the whole approach and is genuinely doing it to focus public attention on this most critical problem facing our nation. The stakes are high for him but the issue is compelling and any sacrifice is worth it. Look at the history of mankind. This is how revolutionary changes are made in a system incapable of curing itself. Yes, in a democracy the government introduces the bill and the Parliament enacts it. But on this issue they have no credibility whatsoever to do it themselves. We cannot empower the culprits to conduct their own trial and pass a judgement to suit their own fancy. Any Lokpal Bill worth its weight in salt has to have equal representation from the public outside the government and politicians. In my article in this forum on Dec. 10, 2010 titled
Are We Living in Self-Knowledge Amnesia - Part II
, I alluded to the need for such a participation to come up with any meaningful anti-corruption remedy. It is high time to put the government under intense pressure to be accountable to the public.


Mr. Hazare is serving them a notice.

Also, this could be the wake-up call we all needed.