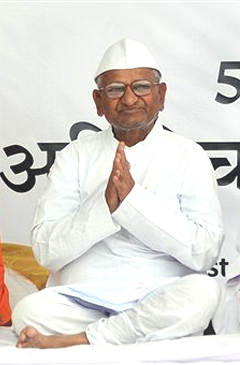 They say treachery can overcome enthusiasm and exuberance. History is witness to that. Anna (I can't believe I have stopped using his last name so quickly since he has occupied my thinking so much) has to watch out for potential traps that crafty politicians can set up for him.
During the negotiations being conducted right now there are two key differences that still remain. Both are significant:


The Chairperson for this committee; who and from which side and


The appointment and the authorization of the Committee by the government to carry out its task.





Along with these two points there are a host of stipulations on time lines for specific activities which are equally important.
The normal trap from any political negotiating body is to word the agreement craftily so it seems very close to what Anna Hazare wants. The agreement is announced with a lot of fanfare, the government agrees they have accommodated what Anna wants, Anna stops his fast until death, the movement subsides and the heat cools off.

Then as the Committee starts the work, every technical detail is reanalyzed as to what it "really means" and what the government "really meant" in it. The process bogs down and we have another stalemate in the long history of failed attempts for a Lokpal Bill. The wicked and the corrupt win and continue on pillaging the country as in the past.
It is critical that the agreement outlining the structure, purpose, deliverables and the time line of the Committee are worded very carefully and in legal terms with a team of competent legal scholars. The time line and the deliverables are a MUST. The Committee has to produce the Jan Lokpal Bill on time. It cannot use stalemate as an excuse to miss the time line. Anything short of that will be a recipe for a disaster.
Until that happens, Anna has no choice but to keep his neck on the line. It hurts me to say it but that is the reality. I do believe that he has the ability and the fortitude to carry this task to a successful closure.

Incidently, the fast by Anna was started on the first day of Navaratri a popular Indian festival in which Hindus celebrate the victory of truth over evil. What a fitting start! May he have an equally fitting closure to this crusade! God speed!

Comments on this Article
---
Thank you. We seem to be converging on the point that a two prong approach is needed to fight corruption rampant in India: 1. Systemic and 2. Value Systems improvements.

The last paragraph in your comments reinforces the point on the Value Systems. We have had a widespread deterioration of the value systems in our society since India gained independence. There are scores of reasons why that has taken place. Religous and other societal institutions play a significant role in establishing these values early on in our childhood. Hiduism as it is mostly practiced in India right now is virtually reduced to rituals with very little emphasis on its sound philosophy. Hindus have a long way to go to revive their glorius philosophical teachings.

I will quote from one of my earlier articles titled "Are We Living in Self Knowledge Amnesia?" - December 1, 2010:

"The empowered segment of our society is certainly well educated. We have learned how to attain intellectual excellence. However, we pour all of it to gain material excellence. We seem to have little time or interest in applying it to gain spiritual excellence. The term spiritual is not being used here in any religious sense. It relates to Spirit which is universal in nature. The moment we think beyond our selfish interests and feel concerned about others, we have entered the domain of spirituality. To be sure, we are very religious people. We have mastered religious rituals and harnessed every possible logic of how they can absolve us of any guilt (if we feel any). I am not anti-religion or anti-ritual. They both have a place in our lives. The problem here is limiting religions to mostly rituals and confusing rituals with spirituality".

Virtually in every religion of the world there are sagas of unending fights between the "good" and the "evil". The fight against corruption is also such a saga. Important thing is that we never give up that fight. Life itself is such a saga of overcoming the obstacles and continuous improvement.

---
'The wicked and the corrupt win and continue on pillaging the country as in the past.' Dr Gopal Singh.

This categorisation implies that at a stroke the good and the honest by nature will replace them. Of course, this is a noble aspiration, but it is an illusion. Presently, the wicked and corrupt are merely the experienced in office; as in the past, exactly the same Indians who would now be good and honest, but aren't. The point being that however honest and sincere they start off as, individuals gain experience in office and increasingly play the system. Thus it is not a change in moral nature that is needed, or possible, but a system that detects and punishes corrupt practice. But the latter requires a respected ethical code that is usually, or erstwhile has been, the province of religious belief.

The analysis of corruption yields surprising results. Its widespread nature among all classes, however petty, is backed by self-righteousness: a corrupt person secretly argues it is owed to him what he acquires by illegal means, and the confirmation of his method, at least to himself, is that it works with impunity, and is usually judged, the moral palliative, as insignificant in the grand scheme of things, with increasing hardening of heart.

Massive corruption in the Indian government indicates a crisis in Hindu or other religious belief in the sort of affluent, intellectual person that holds office today. Such a person invariably constitutes one of a sophisticated breed who consider gods and religion a load of antiquated 'mumbo jumbo'. As atheists, any morality they have is purely for show - where it suits them, and suitably abandoned where it doesn't, and they feel they can get away with immoral action with no fear of divine retribution.

If there was any religious conviction of moral responsibility, would there be such a scale of corruption among Hindus in government? I suggest that unless morality is underpinned by religious belief, a fear of God's judgment, clearly lacking in evidence in the upper echelons of Indian Hindu society today, we will never see the end of corrupt practice in Indian government.

---