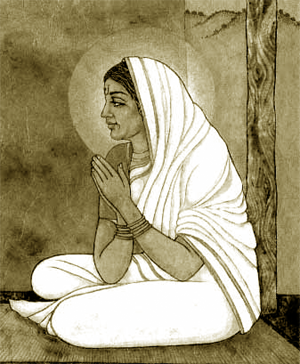 Bahinabai is a powerful example of a saint who struggled between dharma (duty) and devotion (bhakti); and marriage and the love of God, despite many trials and tribulations.

While other female saints of the bhakti movement renounced their homes, refused marriage or left their undesired husbands, she successfully realized God and uniquely reconciled these two Vedic ideals in the process. Little wonder that this flame of the17th-century bhakti movement is celebrated as both the ideal bhakta and the pativrata (one dedicated to her spouse), in Maharashtra, where she was born, lived and died.


>>> Drawing of Bahinibai by Richard Laeton

"To leave a husband is against the teachings of the Vedas, and
thereby one can never acquire the supreme spiritual riches.

At my door there seemed a great serpent hissing at me. How could I
live under such conditions?

It is the teaching of the Vedas, that one should not neglect one's duty,
but my love was for the worship of God (Hari).

Says Bahini, 'I was in a sea of troubles. How can I describe the
increasing anguish of my heart!' " (Abhanga 62)
This was the anguish, the tension between devotion and domesticity, articulated by her in Atmanivedana, her vividly detailed autobiography. It celebrates her unfaltering commitment to bhakti, yet unlike Akka Mahadevi, who is considered one of the first feminists, Bahinabai's abhangas praise the role of the dutiful wife, even as they extol the virtue of bhakti and the saints, glorify Vithoba and redefine the criteria for Brahmanhood. Most of what we know about her today is through this and her other works.
She was born in Devagaon in western Maharashtra to Brahman parents who had remained childless for many years. As was customary in those days, she was married in Shivpur at the age of five to Gangadhar Pathak, a thirty-year-old Brahman astrologer, a very learned businessman and a distant, widowed relative. She became a mother at the age of eleven, first to a daughter named Kashi and later to a son, Vithoba.

After her marriage, family feuds led her father Audev into debts and imprisonment. Ratnakar helped to set him free and the whole family set off to Rahimatpur. After staying there for two years they finally decided to settle in Kolhapur, where a learned Brahmin named Bahirambhat gave them shelter in the courtyard of his house.

Those early years were marked by frequent pilgrimages to temples but, of all the places they visited, Bahina liked Pandharpur the most. She was captivated by the idol of Lord Vithoba and thrilled by the abhangas of Tukaram. She has described herself as a child who didn't enjoy playing ordinary games, but who wanted to chant God's name, fix her mind on Him and develope a great love for the poetry of Tukaram. Eventually Tukaram came to her in a dream, placed his hand on her head, and blessed her with the mantra Rama Krishna Hari.

"My soul was rocking with joy. With my mind intensely happy, I went to the Indrayani River. I looked upon the image of Pandurang when suddenly I felt inspired to be a poetess. I made a namaskar there to Tukaram, and quickly came back to where we lodged. Says Bahini, "[This inspiration] came like the tide of the ocean, or like the words of the God of Thunder in the sky of my heart."

With these words she describes the ecstasy she experienced after she awoke from her dream initiation.

There is an interesting story told of Bahina's attachment to a calf gifted to her and Ratnakar by Bahirambhat and how that attachment brought her to an awakening. The calf liked Bahina and followed her wherever she went. Once, Jayaram Swami, a well-known Kirtankar (performer of kirtans) had come to Kolhapur. Bahina attended the kirtans (devotional musical discourses) with her family, and as usual, the calf followed her. Jayaram Swami noticed this and appreciated the bond between the two, but the people around thought that the calf had strayed into the pandal and drove it out. Noticing this, Jayaram Swami called the calf back and patted both the calf and Bahina. When Ratnakar heard about this he was enraged by the special attention Jayaram Swami showed towards Bahina, so he beat her severely. Unable to bear the ill-treatment Bahina was subjected to, the calf stopped eating and died as a consequence.

Grief-stricken by this news, Bahina fell unconscious for three days. In her unconscious state she saw Lord Vithal before her and was enlightened. She had also seen Sant Tukaram. After these visions, Bahina was a changed person once she regained consciousness. She became a devotee of Lord Vithal and spent her time singing Tukaram's abhangas. Jayaram Swami realised and explained to Ratnakar how very fortunate he was, for Bahina, he said, was a saint and Yoga-brastha (a former yogi under a temporary memory lapse).

A series of such experiences only deepened the spirituality which she had shown from childhood. But Ratnakar had a marked disdain for devotional practice and adhered strictly to orthodox rituals. Bahina's deep reverence for the things of God and her affection for Tukaram who was a low class shudra, often incited a jealous rage in him, which ultimately translated into physical violence against her. He even threatened to abandon her.

Her absolute devotion to God and her guru, the famous varkari mystic Tukaram, gained her the admiration of others, her fame spread far but antagonized her husband in equal measure and he abused her more physically. It was a mysterious illness which finally brought a begrudging alteration in his heart and mind. In abhangs 39 and 40, Bahina tells us about this incident.
39 - My husband had made up his mind to leave us on the morrow, when suddenly he was stricken ill and for seven days his body was burning with fever. Even from those he knew, he accepted no advice. I was at his side day and night. He rejected the medicines given to him. He suffered intense pain. For more than a month he rejected food, and endured excruciating pain. The various gods and family deities were pleaded with in special ways, but there was no cessation of his sufferings. He exclaimed, "I am about to die. How I insulted Pandurang and Tukoba! and it was then that this suffering came to me. If this pain is due to my having insulted Tukaram, then O Tukaram, you who are honoured in all the universe, perform now a miracle". Says Bahini, "My husband repented; Pandurang is the inner witness of this change."
40 - An oldish Brahman appeared and said to him, 'Why is it you are wishing to die? Why did it come to your mind to take up the ascetic's life? What are your reasons for wanting to desert your wife? First, think in your own heart what wrong she has committed, and then if true, give yourself into the hands of anger. If you wish to live, accept her. If she has conducted herself without regard to her duties, then only you might abandon her, you idiot! She is one who has no worldly desires. She is truly a bhakta of Hari. You should likewise be one also. You will be blessed by it,' said the Brahman, and my husband bowed down at his feet.
He explained all to the Brahman and exclaimed, 'Give me now to-day the gift of life. O my Swami, save me from this painful disease, and I will devote my life at your feet.' He did not speak at all to his wife, but with all his heart he pleaded with Hari for help. He then arose and made a namaskar to the Brahman. The twice-born responded 'You will be blessed.' I was listening to the conversation of the two, and I at once fell at the feet of my husband. The Brahman immediately vanished out of sight and my husband regained his health and well-being. Says Bahini, 'If God bestows His favour, all the Siddhis stand at the door ready to serve."
After his miraculous recovery Ratnakar, who had always fiercely opposed her devotion to Tukaram, suggested that they go to see their Master in Dehu.
"The person of Tukaram, which I'd seen in a dream," Bahini writes, "now appeared before me in reality: joy danced in my eyes… Tukaram took possession of my heart. Says Bahini, 'I shook with joy. This joy the wise know through experience."' She and her husband lived on for many years in Dehu. Both her children were born there too.

In another abhang, Bahinabai laments her female birth which kept her away from the knowledge of the holy scriptures like Vedas and sacred mantras.
The Vedas cry aloud, the Puranas shout
"No good may come to woman."
I was born with a woman's body
How am I to attain Truth?
"They are foolish, seductive and deceptive -
Any connection with a woman is disastrous."
Bahina says, "If a woman's body is so harmful,
How in this world will I reach Truth?"
Bahinabai's literary works envision this suffering as a test of her bhakti, and as inspiration for seeking refuge in Vithoba's grace.
"A woman's body is a body controlled by somebody else. Therefore the path of renunciation is not open to her."
Bahina had to struggle with the institutionalised power structure of the family which blocked and often forbade her religious expression. Tukaram, preached renunciation of the world in order to reach God but unlike him, Bahina was bound by social life and its attachments. She harmonised these forces by interlacing her love of God and husband. Without sacrificing the intensity of her religious devotion, she cloaked it, with dutiful expressions of spousal piety: "she who conducts her household duties and her religious life equally - only she catches the heaven". She saw service to a husband as the duty of a woman, adherence to duty as the teaching of the Vedas, and disregard of the Vedas as the surest way to miss the ultimate Goal.

Despite her criticism of the restrictions placed upon her religious practice, in the final analysis, she upheld the authority of the orthodox tradition, its reliance on Sanskrit, (her abhangs were in Marathi) and its limited religious/spritual freedom for women. In fact, her compositions revere facets of this culture, allowing for the patriarchal ideal of the obedient wife, or pativrata. Though she questioned the norms that limited female spirituality, she never provided a direct solution to the dilemmas female devotees encountered. Rather, she provided high-caste women with a new model for religious living by integrating the role of the pativrata into the spirit of bhakti.
In her life story, her last message to her son describes her previous thirteen births. It is presumed that she knew beforehand the time of her death in the present incarnation as Bahinabai. She is believed to have initiated disciples too. Deenakavi, the author of Panchkaran Mahavakya, was one of her disciples.
Bahina's poems concern saintly life, the praise of Brahman, and the duties of wifely devotion taking her work beyond religious context to a commentary on the workings of caste, the wifely devotion and submission demanded of every woman, the need to mediate through a guru, and the dynamics of rebirth, displaying a remarkable convergence of gender and religion.
A widow, she died a normal death at the age of seventy-two, in Dehu where her memorial stands.

References
Autobiography and Verses - Justin Abbot
Bahinabai and Mystical Resistance – Cynthia Ho
spiritual-note.com
database.org
answers.com
infionline.net


---
Previous: Who is Andal?