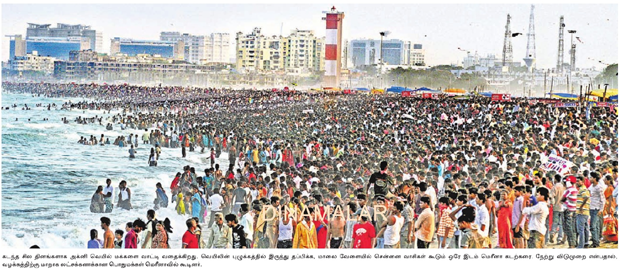 I may sound cynical; ominous; menacing. But, the bitter truth remains. Just have a look at the photograph published in Dinamalar a popular Tamil daily taken on this Sunday evening. Everyone knows that summer is very hot in Chennai and the exceptionally beautiful Marina beach provides an asylum for those who want to enjoy a cool breeze and calm ambiance.
The photograph shows a sea of head in front of the sea almost diminishing the sea itself. How can one expect to get a cool breeze or calm atmosphere in this mass of humanity? The explosion of population in India is something to be really worried about. We indulge in criticizing the government for their inaction, scam, monarchy and high handedness. Have ever thought of managing such huge crowds at any point of time?
Many of death due to the accidents taken place in India in public places were because of the crowd, panic and stampede. Just imagine something happens in this crowd? Do you think that the crowd will disperse calmly as happened in Japan during the recent Tsunami, earth quake or the twin tower catastrophe?
Already our recent report on census has proved that Indian population is 1200 million and much more than the total population of USA, Brazil, Bangla Desh, Pakistan etc. The combined populace of UP and Maharashtra is much higher than that of USA.
Can you imagine that such a motley crowd could be satisfied and provided with all facilities? In fact we should marvel how India survives in spite of this amount of crowd and congestion? Even science states that more the molecules more will be the chaos. So no wonder in India is chaotic, unruly, indisciplined and terrible.
Unless the government and population work together to bring down the population I am afraid none of the plans could be executed in the proper manner however sincere one tries to do it.

Read also: Having Children in a World of Six Billion