"You gather the idea that Mauritius was made first and then heaven, and that heaven was copied after Mauritius". - Mark Twain (1896)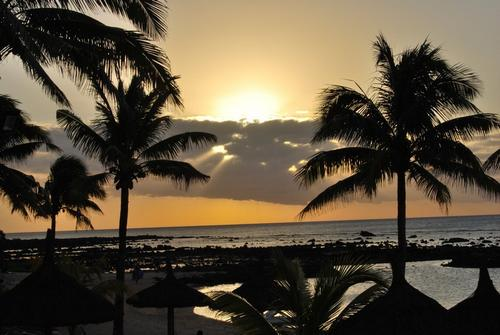 Some nations conjure a mental image of pleasure and leisure when their names are mentioned. Mauritius is one such nation and it marvellously lived up to our expectations. Mauritius is a tiny green speck strewn into the vastness of the Indian Ocean. We started our journey from Dubai to Mauritius by Emirate Airways, our first experience to cross the equator and move into the southern hemisphere. Our flight lasted 6 hrs and we landed at Seewoosagur Ramgoolam International Airport in Mauritius at 9:30 AM. There was a slight drizzle and a green board announcing "Welcome to paradise" captivated our attention as we walked to the immigration counter. Immigration was a fast process and Indians can receive Visa on arrival. That was the beginning of our 10 days of enchantment with Mauritius.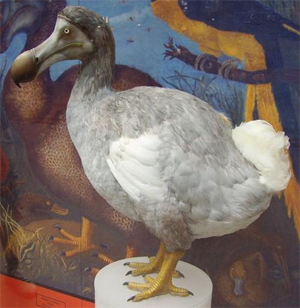 Although the region known as The Mescareignes, an archipelago, which comprises of Mauritius, Reunion Isalnd, Rodrigues and St. Bradon, is named after the Portuguese navigator Pedro Mascarenhas , he left no record of Mauritius. The first inhabitants of Mauritius were the Dutch who came in 1598 and they abandoned the island in 1710 after introducing sugarcane that today earns almost 25% of its export earnings. It was also the Dutch who hunted down to extinction the famous flightless bird Dodo by 1681. This gentle and saintly looking plump bird wasn't afraid of humans and was thus easy prey to the Portuguese and Dutch invaders who would club the bird to death as it approached them seeking friendship.Today, dodo is the national pictogram of Mauritius.
Mauritius was then occupied by the French in 1710 and it was the French who truly made the island an inhabitable place. They developed and transformed the island in every sense and in 1766, when the French King took over direct governance of the island , there were just 20,000 inhabitants, about 10 % whites and the rest slaves brought from Africa. The sugarcane Industry flourished under the French and with its earnings, the French brought in an elegant and sophisticated way of life to this island. The capitulation of the French to the British in 1810 was an unusually courteous act with a gentleman's treaty that the British would maintain the French customs, laws and way of life. Under the British, it became a plantation colony and converted 90 % of its land into sugar fields. The ascension of sugar Industry and abolition of slavery in 1835 was the beginning of the large scale arrival of Indian immigrants from Bihar and Uttar Pradesh. By 1909, there were 450,000 Indian labourers in the sugar Industry who were never to return to India. By the middle of the 19th century almost 400 sugar factories were in operation in this island. In 1968 Mauritius became independent from the UK and has since then functioned as a vibrant democratic republic.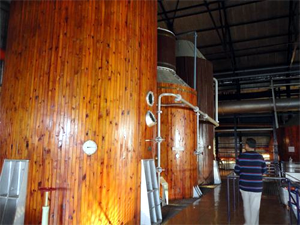 A visit to the sugar Museum in Port Louis, the capital of Mauritius, is a must for every tourist. The museum was artistically conceived when a major sugar factory was closed down. As you move through this museum amidst equipment and pipelines, you not only learn about sugar production, but will also be taken back into the Mauritian history since its beginning through numerous fllms, photographs and drawings.
We learn that this tiny green island in a huge warm ocean is the offspring of a volcanic activity that raised huge hot cone around eight million years ago. It then solidified into mountain ranges and plains. The original volcanic peak constituted 1860 square Kilometres and that is the area of the island today. Though volcanic activity has ceased on Mauritius, you can still spot many small craters that have today become beautiful scenic spots.
The island beguiles every visitor with its turquoise beaches and glorious landscapes and exudes an air of enduring tropical splendour fed by abundant sunshine and short, sharp rain showers. Though we visited in June, winter season in Southern hemisphere, we found the weather pleasant (with day temperatures around 18-22 degree C). A day in this land is enough to tell you that this is a terrain of true tranquility. Though its blue green beaches are world famous, Mauritius has a wonderful ecosystem too incorporating some unusual creatures seen nowhere else on the planet. The many bird sanctuaries and botanical gardens in Mauritius showcase its well-preserved ecological heritage.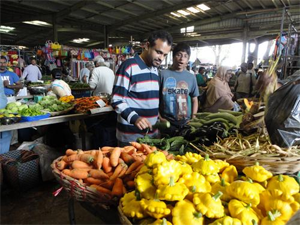 Apart from the above, Mauritius proclaim a unique cultural diversity that belies its small size and a seemingly harmonious society that owns, embraces and celebrates its complicated ethnic make-up of Creole, Indian and African descendents. 51 % of its population of 1.2 million is Hindu, 32% Christians and 17 % Muslims. All Mauritians speak French and Creole and the Indian descendents speak both French and a mix of Hindi and Bhojpuri. The Mauritian people believe in good manners and hospitality, and they do both with aplomb. We found Mauritians extremely warm and hospitable. A walk would reveal that Mauritius is a welfare state despite certain amount of poverty. Streets are clean, well maintained and fencing of footpaths in many streets are of treated wood planks, displaying good environmental care. Abundant Chinese bamboo trees fence most of the independent houses. Though small towns with modest shops and vegetable markets resemble a typical tiny town in India, Mauritius boasts of posh Malls and modern shopping centers too. Jumbo is major chain supermarket and I can vouch that in terms of quality of displayed varieties of products, it could vie with any super market in North America. Most of the consumer products sold here have strong European flavour, France being its biggest business partner. Textile shopping is not a bad idea in Mauritius as it supplies some of the major fashion houses. One can get a fine branded T-shirt for about 220 Mauritian Rupees (30 Mauritian Rupee being One dollar).
The Mauritian beaches, especially in the stretch from Trou aux Bitches through Mont Choisy to Grand Bai in the North, are simply sublime and breathtaking and heavenly. We hired a house in this area adjacent to the beach for two days and those were the most memorable days of our stay. The beaches are very clean with no rubbish littered around and above all smell good. The beaches encircling the nation are a public property and one can fearlessly walk on the beaches in front of even 'Le Paradis Hotel', the most expensive hotel in Mauritius.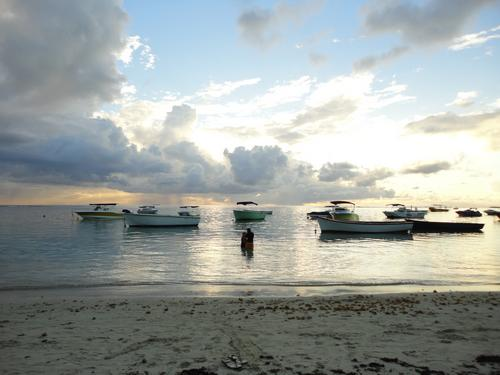 The beach in front of the house where we stayed
The nation has an extremely smart attitude to sweeping the beaches and maintaining a clean appeal. It is heartening that most of its glorious beaches are still unspoilt. We were told that one night stay in some of the high end luxurious resorts could cost as high as 2000 Euro per night. Mauritian hotel restaurants offer wide range of choices ranging from popular Mauritian Cuisine to Chinese and Indian too. The famous Caudan water front in Port Louis, a locale famous for many Hindi Movies, has a fine Indian restaurant named 'Namaste'.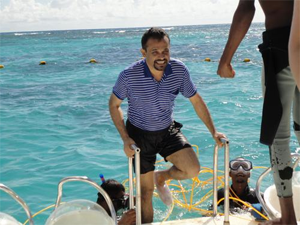 Mauritius is an excellent place to undertake water sports and children would love it. We undertook Parasailing, Tube Ride and undersea walk during our stay here. The underwater sea walk is one of the most unique attractions that one must experience when visiting Mauritius. It is a truly once in a life time experience and does not require any knowledge of swimming or diving. A heavy helmet (to counter buoyancy) with a transparent visor is placed on your head. A special air cylinder apparatus kept on the deck feeds air to the helmet to allow normal breathing under the water. The life guard who guides you will also capture the images of your exhilarating experiences of walking under the azure blue waters surrounded by multihued fishes.

In parasailing, strapped by a safety harness to a speed boat, you will be gliding through the air with the help of a parachute. The ascend happens so fast that in no time you are up in the air and will be treated to breathtaking views of beautiful lagoons and beaches from a superb vantage point up in the air. Though initially it may seem scary, one soon gets over the jolt, relaxes and enjoys the solitary experience of being aloft in the sky.
The tube ride is yet another amazing adventurous water sport. In this one, you will be seated inside a huge inflated 'doughnut' with life vest and the boat then pulls you over the waves to give a bumpy ride. Here, you are sure to scream in sheer excitement and thrill.

Blue Bay in Mauritius houses some of the finest beaches of this region. The Blue Bay marine park is a mesmerizing treat in terms of flora and fauna and is the haven of some of healthiest coral reefs in the world. Glass bottomed boats take you to these coral reefs and If you are adventurous you can do snorkeling or Scuba diving to have close encounter with corals. The coral lagoons here hosts around 50 different species of corals such as Lettuce Corals, Fire Corals, Brain Corals and Cabbage Corals
Grand Bassin is by far the most visited lake in Mauritius. A perfectly formed volcanic crater filled with water, it sits high in the interior at just over 700 M above sea level. Hindus call the waters Ganga Talab (Lake of the Ganges) believing it is linked literally and spiritually with the sacred Ganges. Ganga Talab is surrounded by at least three Shiva temples and one Hanuman Temple.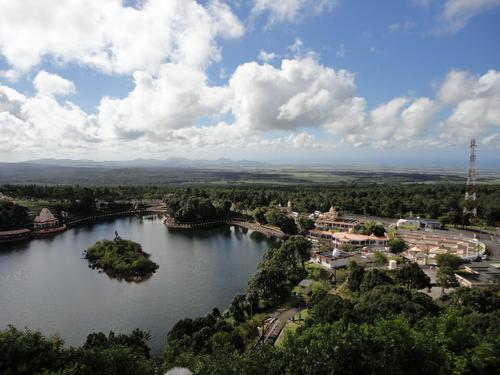 View of Ganga Talab from the top of Hanuman temple
The view from the Hanuman temple located at the top of a mount here is beautiful. Every year, Hindus march to Ganga Talab on the day of Shivarathri to partake in the celebrations there. Shivaratri is a national holiday in Mauritius. On the way to Ganga Talab, we could sight a huge statue of Lord Shiva built in 2006.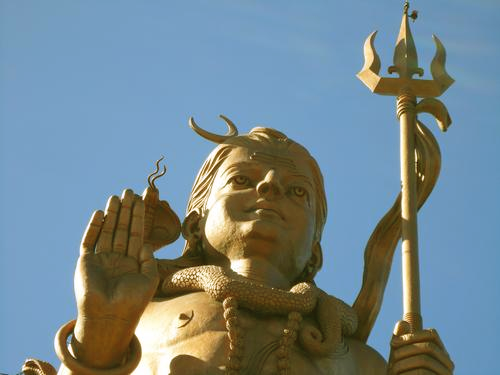 Shiva Statue on the way to Ganga Talab
The Botanical Gradens named after the first President of Mauritius Sir Seewosaugur Ramgoolam is a sprawling green garden with its criss-crossed lanes offering cool shades by huge canopy of trees like mahogany and ebony. One can spend a full day lazing in this serene setting. The highlight of the gardens is the giant Amazon water lily whose monumental fibrous leaves are said to hold the weight of a human adult. The delicate flowers show an ivory white to dusky pink.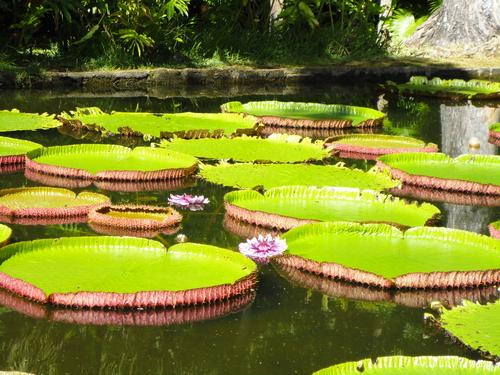 Giant Amazon water lily
Casela nature and Leisure Park is a beautiful bird sanctuary where one can spot peacocks leisurely walking on the green carpet. It has an impressive collection of over 140 varieties of species that includes the Pink Pigeon, one of the rarest birds in Mauritius. All of us were more attracted to the Macaw aviary here and some pairs could be seen coolly walking around unperturbed by the human presence around.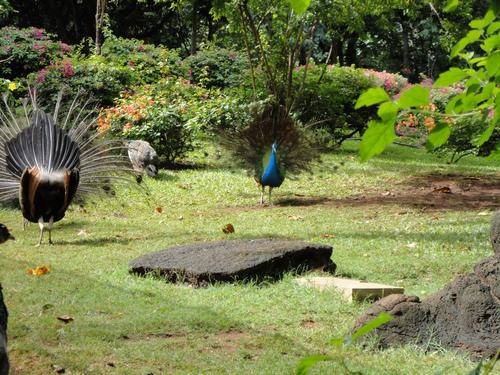 Peacocks strolling in Casela Bird Park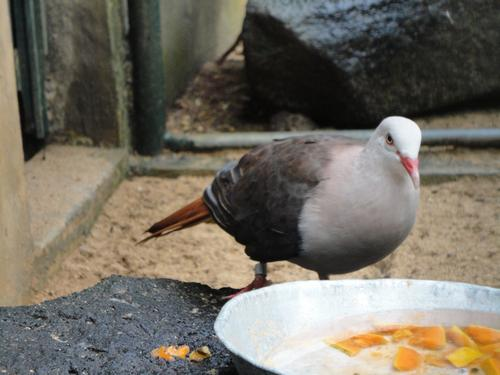 Pink pigeon in Casela Bird Park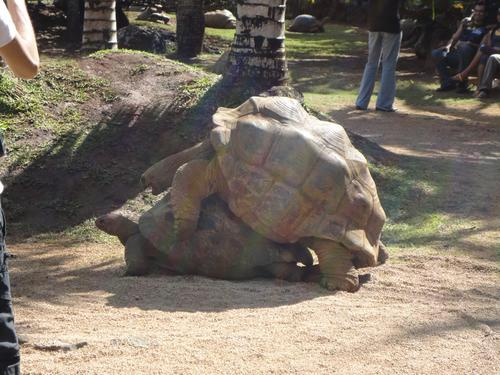 The Vanilla Crocodile & Giant Tortoises Park, home to various species of animals, reptiles and plants, is set in a beautiful rain forested valley with natural freshwater springs. We had some unforgettable walks in the luxuriant greenery where banana trees, palm trees and giant bamboos hug to offer cool shades not only for the visitors but to the crocodiles and the giant tortoises too. The major attraction here is the giant tortoises imported from Madagascar. The original giant tortoises of Mauritius became extinct when Dutch killed all of them to extract its oil. The giant tortoises making love is a fascinating sight and you are sure to encounter at least a couple of them as about 500 of them hover around the park. Mating is very noisy (resembles hollow groaning sound of humans) and we are told that only 2% mating is successful.
Mating of Giant Tortoisein Vanilla Park. Here is Video link to it if you are interested. A must see in the park is a rare collection of butterflies and other brightly colored insects (with about 23 000 species), which is one of the most fascinating in the world.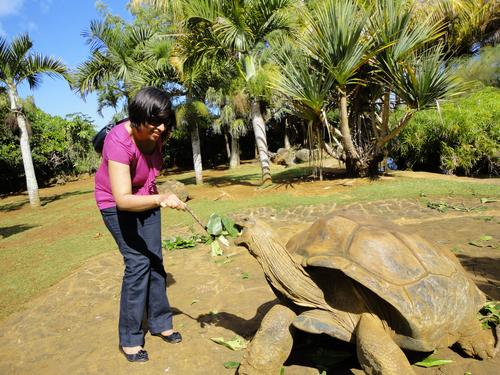 My wife feeding a giant tortoise
As you travel the length and breadth of Mauritius, you will see that there is hardly any wasteland in Mauritius. The sprawling sugar fields with its strong green stalks flaunting their featherlike flowers were a sight of constant enchantment in our journey. We ended our stay in Mauritius with great contentment and the memories of those magical moments continue to enchant us.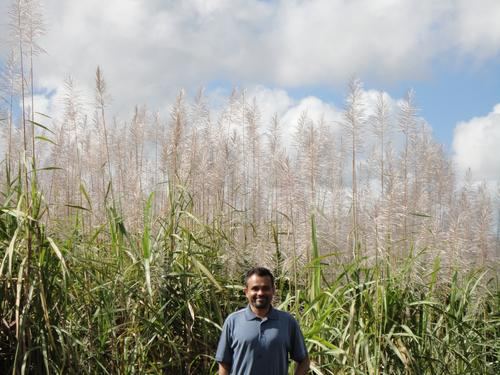 Sugarcane flowers like the feathered regiment of a Maharajah
To sum up, Mauritius is a fascinating melting pot of philosophies, faiths and life styles, a model society living in trust and tranquility. We will one day return to this island of dreams and delights.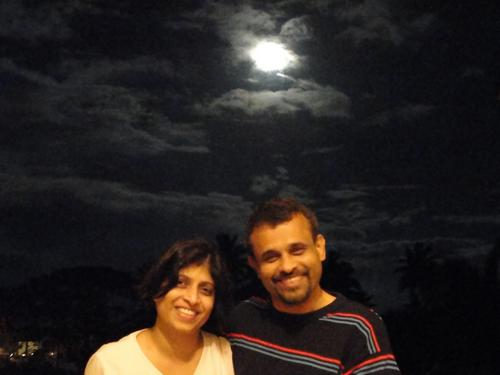 A picture taken on a full moon day from the balcony of the beach house.
Image of Dodo (Sourced from net)
All other images by the author.