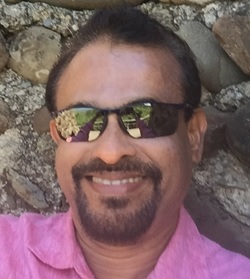 PGR Nair is a chemical engineer who worked as Process Superintendent in Saudi Arabian Fertilizer Company (SAFCO, a SABIC affiliate) in Jubail, Saudi Arabia and later as Senior Asst Engineer with Qatar Petroleum in Doha. He holds M.Tech in chemical Engineering from Cochin University, MBA from IGNOU, Delhi and M.A. in English Literature from Mysore University. He was previously employed with FEDO, a detailed engineering & contracting company in the field of fertilizers and petrochemicals in Cochin, as Deputy Chief Project Manager.

His interests include World literature, Kathakali, Classical Music (Carnatic and Hindustani), World Cinema, Yoga, Quiz, writing, Travel, Nature Watching and Social Service. He is currently residing in his hometown Cochin, India.

He is a passionate public speaker and holds the highest accreditation of DTM (Distinguished Toastmaster) from Toastmasters International, California. He was the past president of Jubail Toastmasters and the founder of Global Toastmasters Club, Periyar Toastmasters Club and Saudi Kayan Toastmasters Club in Jubail. He was also the founder president of Association of Malayalee Professionals in Saudi Arabia (AMPS) and one of the founders of 'India Forum' in Jubail. He received 'Hind Rattan' award from NRI welfare Society, New Delhi for his social contributions in 2004.

He is blessed with two children - Avinash Krishnan (31) and Navneeth Krishnan (23).