Review of a book by Svetlana Alexievich,
the 2015 Nobel Prize winner for Literature.
When I read a few days ago in Ladbroke betting site that Svetlana Alexievich, the great Belarusian writer, is topping as a probable candidate for 2015 Nobel prize for literature, I felt a palpitation in my heart. Ever since I read her book Zinky Boys, I have been a great fan of this writer. Now that she has won the prize, my joy knows no bounds as she is a truly deserving writer to win Nobel Prize. I own two books of her-Zinky Boys and Voices from Cherneobyl. Both of them fall into a kind Oral history of ordinary people entangled in the events that are beyond their control; superhuman events that had torpedoed their life- The Soviet Invasion of Afghan and the Chernobyl Nuclear tragedy. The throng of tragedies that she portrays through episodic narration from the voices of the people and witnesses she had interviewed after the events overwhelm any sensitive reader. The trauma of ordinary people who were incapacitated by the immensity of sorrow as a result of the unforeseen events acquire extraordinary dimension as we read them.

Zinky Boys chronicle the stories of mothers, Generals, widows, Privates, nurses, Civilians and even Military advisors who were traumatized by the soviet invasion of Afghanistan from 1979 to 1989. The war claimed about 50,000 Soviet causalities, most whom were young boys recruited to fight the Afghan Mujahideens. The Soviet dead were shipped back home in sealed zinc coffins (Hence the term 'Zinky Boys'. The title is an ironic allusion, on the one hand to the zinc coffins used by the Red Army in this war, on the other hand to the Soviet imagery of 'steel men', soldier and workers in heroic narratives of earlier wars.) while the state was denying the tragedy and even the very existence of a conflict in Afghanistan. The whole book as I said is a chorus of voices; voices that reverberate with pain and agony. They offer a unique and hauntingly powerful insight into the realities of war and how the iron curtain of Soviet Union made it invisible and improbable.

Here is an excerpt. Note how she builds up the emotional crescendo by repetitions and associations to simple aspects of her child.

Mother

He was always small. He was as small as a girl when he was born, just couple of kilos, and he grew up small. I'd cuddle him and call him my little sunshine.

The only thing he was afraid was spiders. Once he went out to play. We'd bought him a new coat and when he returned I hung it up in the cupboard and went into the kitchen. A few minute later I heard this strange noise , shelp-shlep, shlep-shlep. The entrance-hall was full of frogs. They were jumping out of his pockets. He picked them all up. 'Don't be frightened Mum,' he said, stuffing them back in pockets, 'they're nice little creature'. My little sunshine…

He loved toys to do with war, tanks, machine guns, pistols. He'd strap guns round himself and march round the house. 'I 'm a soldier, I'm soldier.'
When he went to school, we couldn't find a uniform to fit him and he was lost in the smallest one they had. My little sunshine…

Then they took him off to army. I prayed he wouldn't be killed. I prayed he wouldn't be beaten up and humiliated by the bigger, senior ones-he was so small. He told us how they could force you to clean out the toilets with a toothbrush and wash out other people's underpants. That's what I was afraid of. He wrote and told us when he was being posted and to send him photos of his mum and sister….*

He didn't write where he was being sent. Two months later we had a letter from Afghanistan. 'Don't cry, Mum, our flak-jackets are very good,' he wrote. 'Our flak-jackets are good…' My little sunshine….

I was already expecting him home, he had a month more to go in army. I managed to buy him some shirts, and a scarf, and shoes. They're still in the cupboard.
The first thing I knew about it was when a captain from headquarters arrived.

'Try to be strong, mother…..' That's what he called me.

'Where is my son?'

'Here in Minsk. They're bringing him now.'

I fell to the floor. 'My little sunshine. My little sunshine.' I got up and threw myself at the captain. 'Why are you alive and my son dead? You're big and strong and he's so small. You're a man and he's just boy. Why are you alive?'

They brought in the coffin. I collapsed over it. I wanted to lay him out and they wouldn't allow us to open the coffin to see him, touch him, touch him….Did they find a uniform to fit him? 'My little sunshine, my little sunshine.' Now I just want to be in the coffin with him. I go to the cemetery, throw myself on the gravestone and cuddle him. My little sunshine….

( *As part of the regime of military secrecy conscripts are generally sent to their units straight from the training-camp)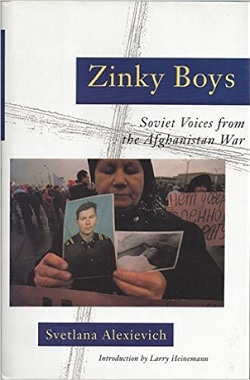 I know there are puritans who consider that interviews and oral history are not literature in the sense intended by Nobel and the sense employed by the Academy all these years. I do not bear any disinclination to "creative-nonfiction" or "Journalistic Literature" (an excellent example in this genre is that of the late Polish Journalist and writer Ryszard Kapu?ci?ski whose works like "Emperor", "Sha of Iran" and "Another day of Life" are marvellous testaments of intercultural encounters and life in turbulent times like in Ethiopia, Iran and Angola) so long as the works are great testaments of humanity. Well, this genre is not new also as many writers like Alexander Solzhenitsyn (Gulag Archipelago), Truman Capote and Oliver Sacks have written similar works.
The greatness of that Svetlana Alexievich lies in the fact that though the book is written as a collage of polyphonic voices, the voices are distinctive in many episodes. Being a mother, she excels well in narrating memories of mothers and widows. Her prose is lucid and devastating. She sees things with heart and her Ear is the witness. I couldn't read the book at a stretch when I read it in 2006 as many passages gave a lump in my throat and made my eyes misty. Yes, the book is not altogether devoid of sentimentality, though the writer has strived to maintain great restraint, concision and solemnity in her narration. The feminine memory has an adorable charm in this book. Their voices are more ethical than political. I wish to cite one more small passage from the voice of a Widow.

There's a big photograph of him hanging on the wall.'Take Daddy down for me', my little girl asks, 'I want to play with Daddy'. She puts her toys round his picture and talks to him. When I put her to bed at night she asks, 'Who shot Daddy? Why did they choose Daddy?' I take her to nursery school and when it's time to take her home she's in tears. 'I'm not leaving school till Daddy comes to fetch me. Where's my Daddy?'

What can I tell her? How can I explain? I'm only twenty-one myself. This summer I took her to my mother in the country, hoping she'd forget him.
I'm not strong enough to go on crying day after day…I watch a man with his wife and child, three of them going somewhere together and my soul begins to scream….'If only you could get up for one single minute to see what a lovely daughter you've got .

This incomprehensible war is over for you, but not for me, and for our daughter it will never be over for she'll go on living after us, Our children are the unhappiest generation of all-they'll have to take responsibility for everything…Can you hear me?

Who am I crying to….

Zinky boys is a marvellous attempt in writing multiple autobiography. The monologues and memories that come alive in Zinky Boys are monumental testimonies of the misfortunes inflicted by mankind.