The great French composer - Claude Debussy (1862-1918) - was one of music's greatest originals and a composer whose range makes convenient pigeon-hole terms such as 'impressionist' or 'pantheist' relevant but limiting. He composed a wide variety of pieces for the piano, often expressing his visions of nature and evoking scenes of vivid imagery. The music of Debussy is an eternal enchantment to anyone who has a few minutes to listen to. They radiate a rare freshness and aroma. Till recently, I had been under the false impression that there is nothing in music more enchanting and soothing than the great piano music of Chopin as unraveled in his "Mazurkas" and "Nocturnes" and "Polonaise" through its ultimate interpreter Arthur Rubenstein. Listening to the complete piano works of Debussy by Pascal Roge has totally changed my perspective on piano music.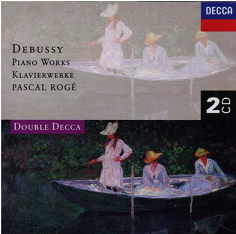 Let us first have a peep into history. During 1840s novelists were creating psychological tales using new discoveries of the mysteries of unconscious mind and the significance of world of dreams. The emergence of "Stream of unconsciousness" style of writing, the psychological thriller tales of Edgar Allen Poe, the advent of novelists like Andre Gide and Marcel Proust, the symbolist poetry of Stephen Mallarme and Paul Verlaine – all these revolted against naturalism and excesses of romanticisms. Many of these writers were Debussy's friends and no wonder he perfectly complemented the sentiments that artists and poets harbored during the period of impressionism and symbolism.
Like Cluade Monet's 'Sunrise', the music too sought to capture and crystallize the light, color and atmosphere of a particular moment. Drawing from his exposure to Impressionism in painting, particularly those of Joseph Turner, Debussy attempted to recreate the subtle nuances in light in his shading of sound which made his music unique and avant-garde in the entire history of classical music. As music critic Camille Mauclair says, "The landscapes of Claude Monet are in fact symphonies of luminous waves, and the music of Monsieur Debussy, based not on a succession of themes but on the relative values of sounds in themselves, bears a remarkable resemblance to these pictures. It is Impressionism consisting of sonorous patches."

Imagine you standing at a sea shore and looking at the placid blue waters and the giant waves rising and breaking over into spray, foam and baby waves at the shore. It creates an image of calmness, terror, elegance, and awesome power. This imagery is very well suited to the spirit of Debussy's works. It is seen in Debussy's view of nature, which is typically vague, dreamy and radiant. If impressionist artists were called painters of light, musicians like Debussy painted a canvass of ineffable feelings in the minds of listeners. In his own words, he was 'expressing the inexpressible' One senses a sort of formlessness in his form and his music truly mirrors the "blurred images" of French impressionist art. No wonder, Debussy's revolutionary new harmonies marked the beginning of true "impressionism" in music.

Debussy's piano works are poetry in motion so much so that I have now virtually stopped listening to Chopin. The rhapsody of his music is ethereal, to say the least.

Now let us turn to the amazing oeuvre of Debussy. Just listen to his most famous Clair de Lune (Moonlight). Close your eyes and allow this melody to slowly sink into your soul. You may visualize a stream of memories unfolding before you, possibly a stroll by a lake in the moonlight, or a rapturous starry night during your honeymoon when you walked on the seashore holding the arms of your beloved, or a girl sitting on a swing and gazing at the pellucid waters reflecting moonlight. 'Clair de lune' or 'Moonlight' has a mystifying uniqueness. Its sublime melody, rivers of rolling notes, colourful harmonies, and intriguing dynamic phrases are, perhaps, Debussy's interpretation of moonlight filtered through the leaves of a tree. The floating sonorities, wash of tone and colour, and compelling rhythms create illusions that cannot be described. It's a masterpiece unto itself.

Another interesting piece is 'The Children's Corner'(The snow is dancing, Jumbo's Lullaby, The Little Shepherd, Golliwog's Cakewalk) that Debussy wrote for his little daughter Claude-Emma when she was three years old is pure magic and enough to transport us back to our childhood. This work has the tang of both the innocent and the sophisticate. Some of the movements were inspired by Emma's toys. For example, Golliwog is a black doll and cakewalk is a dance form that originated in America. Golliwog(Golliwog's Cakewalk) is lively piece and has some humorous passages as well. Debussy apparently enjoyed the frivolity that could be shared in addition to the expansive deep emotions and night sky glory of the ones like "Clair de Lune". The Little Shepherd is a very witty piece in a pastoral style. It contains very colourful harmonies, and alternates between monophony and polyphony. When you hear Snow is dancing ('Snow is dancing'), you may visualize catching snowflakes on your tongue in a perfect winter wonderland.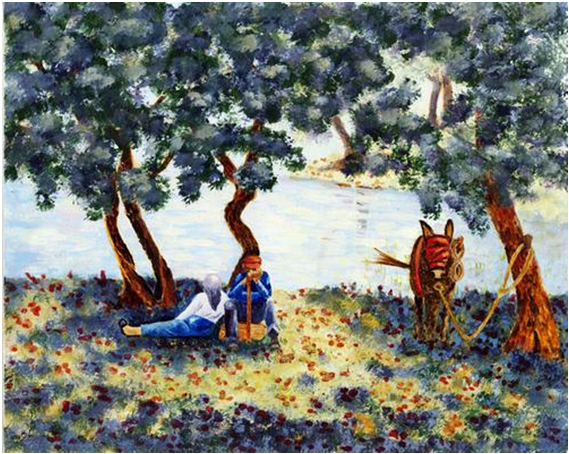 Some of the greatest works of the impressionist artists Renoir and Monet are paintings of a dreamy young woman gazing at reflections in water, water's depths, or the sky. The idea of reflection is very important, as in impressionism, the reflection is more "real" than the actuality. In art works such as The Boat (1867) by Renoir, the impressionist technique allowed the state of reverie to be boldly explored. It is no coincidence that one of Debussy's most popular piano works is entitled 'Reverie'. When you listen to the hypnotic Reverie, you will agree with me how powerfully evocative piano music is. 'Reverie' moves slowly and deliberately, and yet with a rhythm that brings to mind water flowing and bubbling in a fountain. As the song continues, the music becomes more wavelike in tone. It then becomes soft and tranquil and moves back and forth in a slight crescendo only to die away again. As you listen, you simply drift away into your own cozy dream world, letting your thoughts move off like clouds blowing across the sky.

His early work, Arabesques or 'Deux Arabesques' (Two Arabesques) is still popular and it seems to be more rooted in romantic tradition than his representative works. You will find in them an enchantment falling on you like a stream of soft sunlight. The first arabesque is a light, dreamy piece, emphasizing pleasantness. It is mostly delicate and soft, with a great deal of transparency. It is somewhat like a sunny spring day. The second one is more straightforward, quicker in tempo and more abstract. There is a real burst of joy in Arabesques.

Consider his extended solo piece, "L'isle Joyeuse" (The joy of Isle). You can see a golden mist hanging over a lake when you listen to it. It has an irresistible sweep and I adore listening to this one. It has a sort of voyage-into-outer-space kind of sound. In "Jardins sous la pluie" (Gardens in the rain), you can see the gold of the sunlit rain. Jardins sous la pluie begins in the middle of a rain shower in Paris. When the rain subsides, a French nursery song is heard, and the sun emerges at the end. Throughout the piece, there are sections that evoke the sounds of the wind blowing, a thunderstorm raging, and raindrops. In "Pagodes" (Pagodas) one can visualize the jungle radiance turning the cobwebs into gold threads. Pagodes is said to have been inspired by Javanese gamelan orchestras which Debussy heard at the Paris International Exposition. In "Poissons d'Or , one can see a pool alive with golden scales.

The watery allusions to Debussy music have some validity. Debussy once exclaimed in ecstasy and said, "Music is the expression of the movement of waters, the play of curves described by changing breezes". Listening to Gieseking or Pasacal Ponge playing, 'Reflets', ("Reflections on water") is to be at the water's edge, sight unimpeded by any mist rising from the surface of the pond, gazing upon a reflection of the moon that is not hazed in by clouds.

Though Debussy is commonly referred to as an impressionistic composer, many of his works for piano evoke more joyous pleasure and childlike sentiments than the term impressionism might suggest. When questioned about his harmony, he said, he wrote for his pleasure and followed only the rule of hearing. The examples I have sighted above demonstrate gentle playfulness, where clean melodies and simple harmonies come together in masterfully crafted vignettes.

Critics say that the most original and expressive compositions written by Debussy, however, are none of these but rather the two sets of Images, the 12 Preludes and 12 Etudes. They are his supreme acts of transcendence and here we see a hallucinatory world of half lights and shadows, though one which can turn with frightening rapidity into sinister march rhythms as in Etude No.12.

Now, the works of music- which is a creation in time, as opposed to plastic art, which is a creation in space- comes into actual existence through the performance of the interpretive artist. As the great French poet Paul Valery rightly said: "A work of music, which is only a piece of writing is a cheque drawn on the fund of talent of a possible performer". This is true in Debussy's interpretive artists as well. My favourite interpreters of Debussy are listed below:
Piano works : Debussy by Pascal Roge (Decca CD)

12 Etudes by Mitsuko Uchida (Philips CD)

Walter Gieseking Performs Debussy(EMI)

Debussy: Complete works for Piano by Jean-Efflam Bavouzet (Chandos CD)
Many compositions of Debussy rendered by renowned Italian pianist Arturo Benedetti Michelangeli are available on YouTube.

The most kaleidoscopic mixtures of colors in Debussy's music emerge spotlessly clean and clear in the recordings of these artists. The great Debussy pianist, Walter Gieseking, had a unique command of suspended motion with vibration, like that of a hummingbird hovering over a flower. One hears a perfectly spaced, pearly articulation as though the artist was born with boneless and muscleless hand. And always the music comes first, always the motion of the drama is carried forward. Such playing is the ultimate in mastery and sensuous elegance, the result of a scrupulous care that marks genius. Everything is present to the nth degree: knowledge, precision, tonal color, radiance, iridescence and limpidity. And their wonderful balances and blending are luminous and wondrous. They are of a kind that depersonalizes an artist and enables his auditors to catch glimpses of eternity.

The piano pieces of Debussy continue to drape my dreary days with dazzling hues.