Director: Federico Fellini /Italy/Italian/104 mts

La Strada ("The Road") is one of the watershed movies of Italian cinema. It also launched the international careers of the director Federico Fellini and his actress wife Giulietta Masina in the process. Amongst many accolades, the movie walked away with the 1956 Academy Award for 'Best Foreign Language Film'.

The story is one of the most haunting and heartbreaking ones in cinema. A brutish strongman named Zampano (Anthony Quinn) tours Italy, living in a ramshackle caravan pulled by a motorcycle. He needs an assistant for his act, and from a poor widow at the seaside he purchases her slow-witted daughter Gelsomina (Giulietta Masina) to serve as his clown, cook and concubine. He is cruel to the young woman, but she has a Chaplinesque innocence that somehow shields her from the worst of life. He teaches her some simple routines as they bowl along in his motorcycle-trailer — clowning and simple tunes on a trumpet — to serve as a come-on to his pitifully corny act of breaking chains across his chest.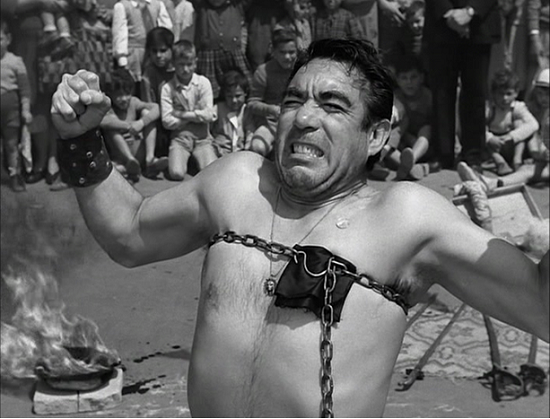 Anthony Quinn as Zampano
Although her timorousness fades into happiness as they play villages, fairs and country weddings, her idyllic existence is broken when they sign up and join a small circus on the outskirts of Rome. Here Zampano encounters the Fool (Richard Basehart) employed by the circus company. He mocks Zampano, who attacks him in a rage, and is jailed. The Fool is attracted to Gelsomina, but sees that she has formed a strong bond with the strongman, and leaves so they can be together. A catalyst in other characters' lives, he gives Gelsomina hope. "Everyone serves some purpose," he tells her, "and perhaps you must serve him."

But his merciless teasing of the humorless Zampano precipitates the disaster that brings La Strada to its tragic climax. Zampano's jealousy and rage return and later when he meets the Fool, he beats and unwittingly kills the Fool. This terribly upsets Gelsomina who goes mad and since her constant whimpering serves as the strong man's conscience, Zampano deserts his ill-fated companion. At the drama's climax, when he accidentally learns of her death, he breaks down in sudden and helpless realization of his solitude.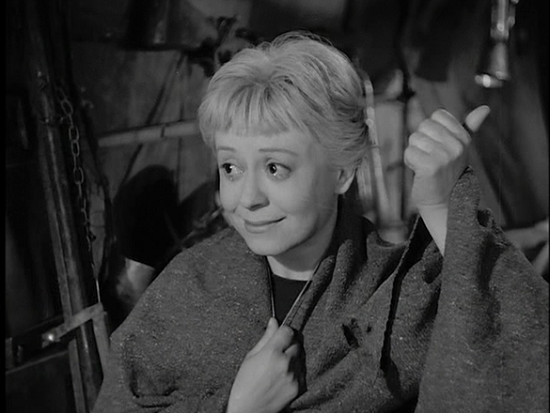 Giulietta Masina as Gelsomina
Despite this doleful outline, Fellini has not handled his story in merely tragic or heavily dramatic fashion. From the start, Fellini visually contrasts the two main characters of his film: Gelsomina-blonde, diminutive, pixy-faced, humble in bearing; Zampano-dark, huge, glowering and arrogant in demeanor. On one level, La Strada is a fable about Beauty and the Beast; in this case, however, Gelsomina's beauty is interior, not exterior, and it is a beauty who loves the Beast, not the other way round-at least for the most of the picture. The film begins and ends by the sea; but, though the structure is in one sense circular, the opening and closing are in sharp contrast. When we first meet Zamapano, he is standing tall and strong in the sun-water. At the end, the camera slowly recedes and rises, leaving Zampano looking small and alone on the beach at night. Thus, when we take leave of Zampano, he remains prostrate before the sea, no longer proud of his strength but hardly enduring his dark night of the soul.

In Giulietta Masina (Mrs. Fellini in private life) he has an extremely versatile performer who mirrors the simple passions and anxieties of the child-like girl with rare and acute perception. She is expert at pantomime, funny as the tow-headed, doe-eyed and trusting foil and sentient enough to portray in wordless tension her fear of the man she basically loves.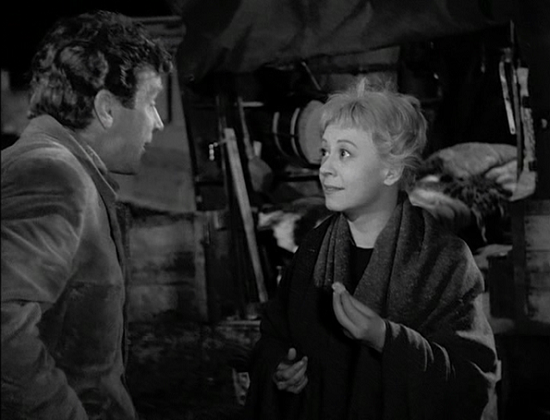 Gelsomina and the Fool
Anthony Quinn is excellent as the growling, monosyllabic and apparently ruthless strong man, whose tastes are primitive and immediate. But his characterization is sensitively developed so that his innate loneliness shows through the chinks of his rough exterior. As the cheerful and prescient clown, Richard Basehart, like the haunting background score by Nino Rota, provides a humorous but pointed counterpoint to the towering and basically serious delineations of the two principals.

Fellini's treatment of all is effortless and elegant. The La Strada never presses any point. Like the characters' realizations about themselves and the world, the meaning of La Strada slips over you gradually, simply, unforgettably. His vignettes fill his movie with beauty, sadness, humor and understanding.

The film speaks poetically and movingly in a universal language.
A series of "Hundred Favorite Films Forever"