Introductory Article
Understanding and appreciating any form of art - may it be Literature, Classical Dance, Painting or Classical music- requires certain amount of mental preparation, some pruning of the soul and genuine devotion on the part of the individual seeking it. Learning to understand and appreciate good cinema is no different. In fact, film appreciation demands keener faculties and a better unification of our sensibilities as the medium is complex. The process of evolution of a film as a fine product necessitates the optimal and chaste utilization of the quintuplet, viz man, machine, materials, money and management. The man who conceives, controls, coordinates and consummates each and every scene in a film is often the director and thus his artistic imagination, creativity and versatility are vital to the quality of the product. "Film making is a close relation to dreams", so said the maestro Federico Fellini. "As it miraculously fixes its images, symbolic building blocks of reality, it becomes instant 'memory'. When this 'memory' finds the poetics it needs to express itself as an art form, it becomes 'remembrance', the poetic memory of a past transformed into an eternal, ritual present"

A great film is evolved as a result of the fine fusion of many aspects. Cinema is everything that can be put to work on film: angle, editing, and lighting but also writing, acting, music, what belongs to other arts as well as what belongs only to the movies.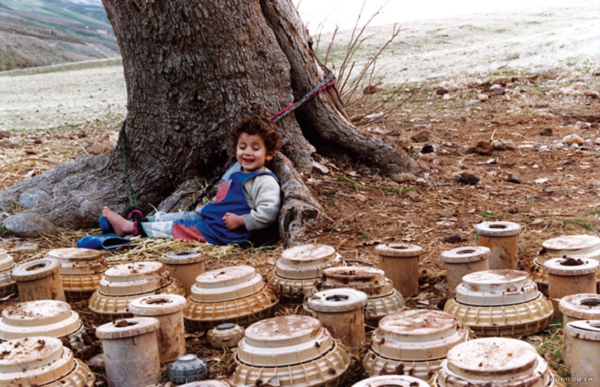 A scene from 'Turtles can Fly' directed by Bahman Ghobadi
Cinema as an art form is just as significant and profound as painting or music. Art exists to stimulate its audience, to provoke thought and stir them to consider what a person believes and why he believes it. It exists to create a reaction in a person, and to make its audience into less of a watcher and more of a participant. One of the important features of film in the cinema, as distinct from novels or plays, or even films on television, is that it is inescapable. It may not move us ''more grandly or deeply'' than other arts. But it does get to us ''more quickly and surely.'' When two screen lovers kiss, in any film, that kiss has a minimum inescapability which is stronger than in other arts, both as visual fact and emotional symbol.

Does art reflect life? In movies, yes. Because more than any other art form, films have been a mirror held up to society's porous face. As Carl Jung said, "The cinema, like the detective story, enables us to experience without danger to ourselves all the excitements, passions, and fantasies which have to be repressed in a humanistic age." The range that cinema as a medium provides has helped to utilize it as a catalyst for change.

A scene from "Aguirre, the wrath of God" by directed R W Fassbinder
Perhaps the renowned Russian director Andre Tarkovsky has underscored the power of this medium over other arts in his book 'Sculpting in time'-
"Romeo uttered beautiful words to Juliet, vivid, expressive words, but they surely didn't say even half of what made his heart feel as if it was ready to jump out of his chest, and stopped him breathing, and made Juliet forget everything except her love? There's another kind of language, another form of communication: by means of feeling, and images. That is the contact that stops people being separated from each other, that brings down barriers. Will, feeling, emotion—these remove obstacles from between people who otherwise stand on opposite sides of a mirror, on opposite sides of a door. . . . The frames of the screen move out, and the world which used to be partitioned off comes into us, becomes something real".
It must also be said that no other media stage has stimulated as much artistic creativity and freedom to experiment as has cinema.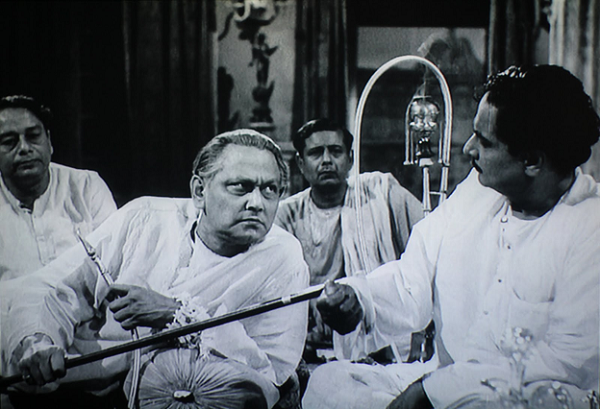 From "Music Room" directed by Satyajit Ray
With the above thoughts, let me now come to the list of hundred films that I consider as my favorites. All similar lists reflect an element of bias that has its base in one's tastes and predilections. Mine too is no different. For example, I have hardly any interest in horror movies, science fiction, cheap comedies or silly romance and that explains the absence of such movies from my list. I love films that are intellectually stimulating, smack of originality in its theme and style, rouse imagination, contain layers of meaning or multiple levels of understanding, portray a new reality, make strong statements about human condition, provide profound emotional understanding of our life and times and echo spiritual qualities that ennoble life. I believe that in all good films, there is always a directness that entirely frees us from the itch to interpret.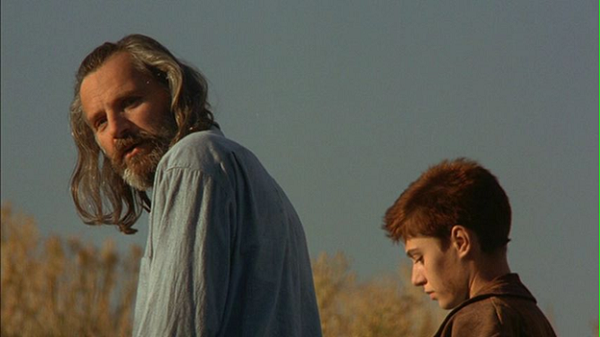 From "Before the Rain" directed by Milcho Manchevski
Thus, if a film matches the above artistic aspirations, it is likely to become my favorite. At the same time I am not a judge to proclaim that the below listed films are the greatest films in the history of cinema. That is why I merely wish to call them as my favorites.You may argue that all such lists are propagandistic and reductive. This is true to a certain extent. But I love the whimsical nature of lists and I love its elements of subjectivity and objectivity. That explains the ethos of this one too. I know everyone has his own canons to measure. After all, there is no last word in art.

Here goes the list of my favorites . The names of the directors are given in bracket to avoid confusion.
1. Wild Strawberries (Ingmar Bergman)
2. Ikiru (Akira Kurosawa)
3. Tokyo Story (Yasujiro Ozu)
4. Children of Paradise (Marcel Carne)
5. Pather Panchali (Satyajit Ray)
6. La Strada (Federico Fellini)
7. L'Eclisse (Michelangelo Antonioni)
8. Andre Rublev (Andrei Tarkovsky)
9. Jules et Jim (François Truffaut)
10. La Grande Illusion (Jean Renoir)
11. Rashomon (Akira Kurosawa)
12. Le Samourai (Jean-Pierre Melville)
13. Paris, Texas (Wim Wenders)
14. Aguirre, the Wrath of God (Werner Herzog)
15. Earrings of Madame de... (Max Ophuls)
16. The passenger (Michelangelo Antonioni)
17. The Marriage of Maria Braun (Rainer Werner Fassbinder)
18. The Music Room (aka. 'Jalsaghar 'by Satyajit Ray)
19. Rules of the Game (Renoir)
20. Taste Of Cherry (Abbas Kiarostami)
21. Wages of Fear (Henri-Georges Clouzot)
22. Bicycle Thieves (Vittorio De Seca)
23. Fanny and Alexander (Ingmar Bergman)
24. Coup de grace (Volker Schlöndorff.)
25. Passion of Joan of Arc (Carl Dreyer)
26. The Decalogue (Krzysztof Kieslowski)
27. Ashes and Diamonds (Andrzej Wajda)
28. Battle of Algeirs (Gillo Pontecorvo)
29. Au revoir les enfants (Louis Malle)
30. Vivre Sa Vie (Jean Godard)
31. Departures (Yôjirô Takita)
32. L'Atalante (Jean Vigo)
33. Hiroshima Mon amour (Alain Resnais)
34. City Lights (Charlie Chaplin)
35. Pickpocket (Robert Bresson)
36. Cleo from 5 to 7 (Agnes Varda)
37. The Mirror (Andrei Tarkovsky)
38. Floating Weeds (Yasujiro Ozu)
39. Virdiana (Luis Bunuel)
40. Close-up (Abbas Kiarostami)
41. The Gospel According to St. Matthew (Paolo Pasolini)
42. The Fifth Seal (Zoltan Fabri)
43. Woman in the Dunes (Hiroshi Teshigahara)
44. Samurai Rebellion (Masaki Kobayashi)
45. Rome, Open City (Roberto Rossellini)
46. Turtles can fly (Bahman Ghobadi)
47. Cinema Paradiso (Giuseppe Tornatore)
48. Battleship Potemkin (Segie Eisenstein)
49. An Actor's Revenge (Kon Ichikawa)
50. A Year of the Quiet Sun (Krzysztof Zanussi)
51. Before The Rain (Milcho Manchevski)
52. The Return (Andrei Zvyagintsev)
53. Spring, Summer, Fall, Winter… and Spring (Kim Ki-duk)
54. Once Upon a Time in America (Sergio Leone. The uncut version)
55. The Treasure of the Sierra Madre (John Huston)
56. The Leopard (Luchino Visconti)
57. Amelie (Jean-Pierre Jeunet)
58. My night at Maude's (Eric Rohmer)
59. 400 Blows (François Truffaut)
60. Color Trilogy (Krzysztof Kieslowski)
61. Casablanca (Michael Curtiz)
62. Paths of Glory (Stanley Kubrick)
63. The Hairdresser's Husband (Patrice Leconte)
64. Children of Heaven (Majid Majdi)
65. Citizen Kane (Orson Welles)
66. Ugetsu (Kenji Mizoguchi)
67. Vertigo (Alfred Hitchcock)
68. Roundup (Miklos Jancso)
69. Mephisto (Istvan Szabo)
70. The Cranes are flying (Mikhail Kalatozov)
71. The Naked Island (aka. Hadaka no Shima by Kaneto Shindo))
72. Meghe dhaka Tara (aka. The Cloud-capped Star by Ritwik Ghatak)
73. Umberto D (Vittorio De Seca)
74. Kaos (Paolo and Vittorio Taviani)
75. Amarcord (Federico Fellini)
76. Ali: Fear eats the soul (Werner Fassbinder)
77. The Gleaners and I (Agnès Varda)
78. Bonnie and Clyde (Arthur Penn)
79. Z (Costa-Gavras)
80. Closely Observed Trains (Jiri Menzel)
81. El Topo (Alejandro Jodorowsky)
82. Mother and Son (Aleksandr Sokurov)
83. The Tree of Wooden Clogs (Ermanno Olmi)
84. The Scent of Green Papaya (Tran Anh Hung)
85. Black Orpheus (Marcel Camus)
86. Night of the Hunter (Charles Laughton)
87. A Moment of Innocence (Moshen Makhmalbaf)
88. The Story of a Weeping Camel (Byambasuren Davaa and Luigi Falorni)
89. The Travelling Players (aka. O Thiasos by Theo Angelopoulos)
90. Last Tango in Paris (Bernardo Bertolucci)
91. Rat-Trap (aka 'Elippathayam' by AdoorGopalakrishnan)
92. The Man without a Past (Aki Kaurismäki)
93. High Noon (Fred Zinnemann)
94. Sunrise: A Song of Two Humans (F.W. Murnau)
95. The shower (Yang Zhang)
96. Satantango (BélaTarr)
97. Raging Bull (Martin Scorsese)
98. Knife in the Water (Roman Polanski)
99. Greed (Erich Von Stroheim)
100. Color of Pomegranates (Sergei Parajanov)
In the articles that will follow, I will throw more light on the films listed above so that readers will get better perception about what these films strive to convey. I hope the experience you gain out of watching these films will heighten your curiosity and open a world beyond what the commercial celluloid offers. It will make a decisive change in your insight about films and help you to realize that no other art form has the capacity to hold up a mirror to the contemporary psyche as has cinema. As the great Swedish director Ingmar Bergman rightly said, "No art passes our conscience in the way film does, and goes directly to our feelings, deep down into the dark rooms of our souls."

(The author is the past president of Cochin Film Society, Cochin, India)