Director: Rainer Werner Fassbinder/ Germany/German/120 mts

"The Marriage of Maria Braun" is, without question, one of the highpoints of Fassbinder's all-too brief career and one of the crowning achievements of the once-radical New German Cinema movement. This is the best film that belongs to Fassbinder's BRD Trilogy.

It is probably best to look at this film with other two films of BRD Trilogy-Lola (1981) and Veronika Voss (1982)- as they all centre on women in WW2 and its aftermath - a wife looking for her missing husband, a cabaret artist caught between two powerful men and a washed up Third Reich film star. These films offer careful analysis of the social make-up of those years in terms of dissidence and the changing and unchanging nature of Germany through that period. Fassbinder's greatest achievement is perhaps his ability to put everyday life onto screen in short sagacious parables.

"The Marriage of Maria Braun" is about a war widow rebuilding her life in post war Germany and rising high on the corporate ladder till she realizes that she has given too much of herself for the climb to enjoy the cause she was climbing for. On another level, the film can be viewed as a critique of the way the new Germany forgot it's awful past and sold its soul in order to prosper in what would become known as the German Economic Miracle. In essence, it's a damning indictment of the German post-war society and economy.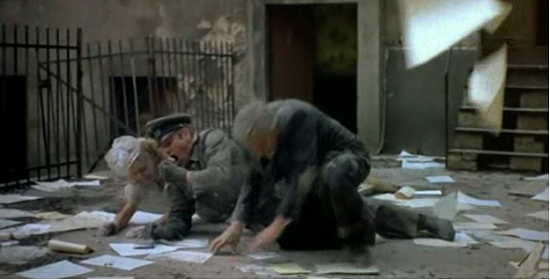 Maria and Hermann signing the marriage contract under bombing
It opens with an absurdist scene where a marriage ceremony takes place under siege. Bombs dropping all around them, Maria (Hanna Schygulla) weds Hermann (Klaus Löwitsch), a German soldier she has known only briefly during the waning days of World War II. Eventually they are forced out of the rapidly disintegrating building and have to sign the certificate, cowering on the floor as debris and shrapnel rain down. The surrealist introduction, though, is all too similar to the realities of post-war society in Germany the director goes onto depict.

After a one-day honeymoon, Hermann returns to the Russian front, and Maria keeps a daily vigil at the train station, searching for any word about her husband. When word comes that he has died, she refuses to mourn her loss. Instead, she trades her mother's brooch for a sexy black dress and finds work as a bar girl.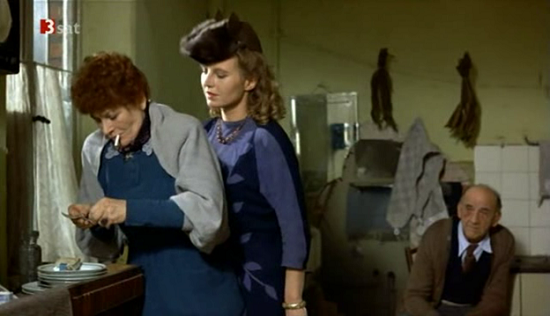 Maria with her mother and grandfather
In the redecorated confines of an old school gymnasium, Maria drifts into an affair with a black American soldier named Bill, a generous, cheerful, pudgy fellow by whom she becomes pregnant. But wait — Hermann is not dead!

As such things tend to go in the realm of farce, Hermann returns one evening just as Maria and Bill are preparing to make love. Maria, with the logic she uses in all crises, explains that although she likes Bill, she loves Hermann. There is a scuffle. Maria hits Bill over the head with a bottle, and in less time than it takes to write these words, Hermann has been packed off to prison and Maria has set off to make a fortune, which the two of them will share when he is released.

A chance meeting on a train with a factory owner, Karl Oswald (Ivan Desny), earns her a secretarial job. She begins an affair with Karl, and soon proves to be a formidable businesswoman. Maria's single-minded rise through the company's ranks mirrors the renaissance of the German postwar economy. Braun's commitment to her marriage is in reality out of her love for the idea of such a spiritual bond, and Fassbinder shows with bitterness the futility of this, as their union and consummation is continually delayed, first by the war, then by Hermann's incarceration, then as he is paid to stay away by her lover Karl, the owner of the company she has risen to the top.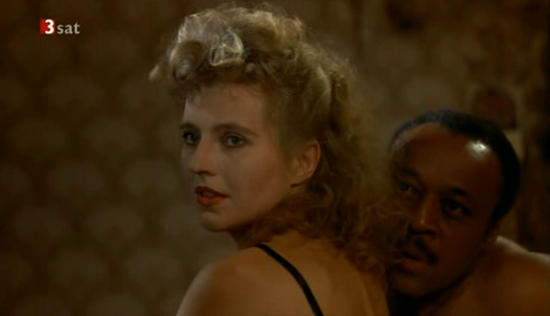 A tensed moment: Maria with her Black American lover
The performances of all actors match the complex symbolic nature of the script and Fassbinder's confident direction. Schygulla is magnificent and mesmerizing as Maria - as utterly believable as she is impenetrable, the woman who lost her husband to the War, found him after she took an American soldier as a lover, lost him again after he went to jail for her, and found him again at the end. Her day and a half marriage before he disappeared was longer than their time together at the end. Such is life!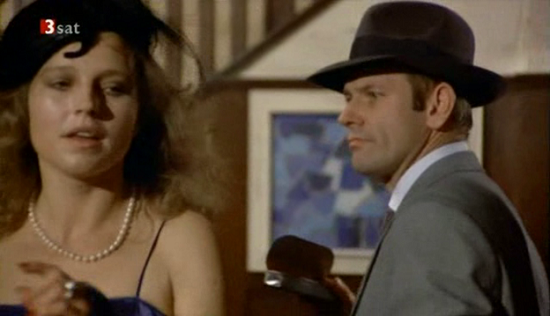 Maria with her returned Husband Hermann
"The Marriage of Maria Braun" is both an epic comedy and a romantic ballad, two not especially friendly forms that become seamlessly one in the sweet, tough, brilliantly complex performance of Hanna Schygulla, who is becoming for Mr. Fassbinder what Stephane Audran once was for Claude Chabrol and Anna Karina was for Jean-Luc Godard.
A series of "Hundred Favorite Films Forever"