Director: Paolo and Vittorio Taviani /Italy/Italian/188mts
With a free adaptation from Luigi Pirandello's works, the Taviani brothers have constructed an ethereal odyssey into the Sicilian landscape in the enchanting film Kaos. It is certainly a film of a glorious naturalism previously un-encountered in cinema. Giuseppe Lanci's incredible photography, along with the mythical characters of the stories and Piovani's unearthly music, confer upon the film a kind of dreamlike fluidity.

Aerial views of temples and castles on top of rocks, full moons with mystical power, vast stretches of land under the sunlight, and an almost purifying Mediterranean sea contribute to a deification of nature in Taviani's masterwork. Kaos is thus a magically euphoric film with uniquely conjured images.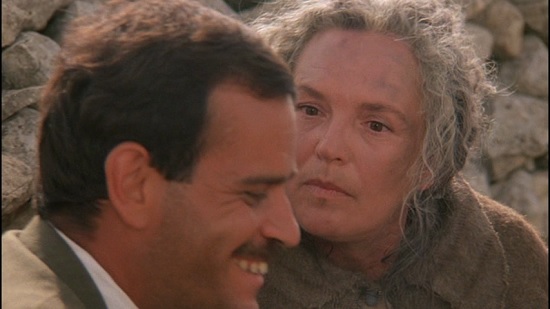 Scene from the first story "The Other Son"
The Taviani Brothers evoke the mystery, drama, and stark beauty of Sicily in this wondrous three-hour film, with its four earthy stories and a sublime epilogue. In the first story titled "The Other Son", a demented Sicilian mother (Margarita Lozano) longs to hear from her sons who have emigrated to America and forgotten her. She beseeches prospective emigrants to America to deliver a letter to her son. A man taking pity on her sits with her to listen to her story and and realizes her tragic plight . Memories of a traumatic rape experience as a young woman prevent her from being able to accept the love of her only devoted son who follows her around with his cows.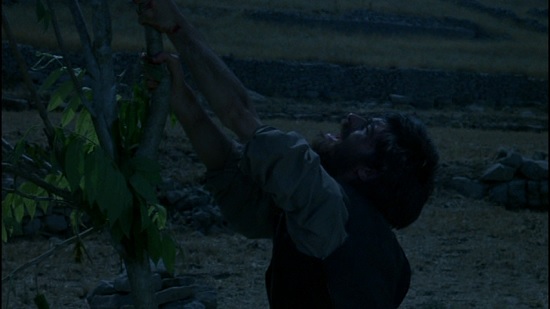 Scene from the story "Moon Sickness"
The second story, "Moon Sickness" is a werewolf story. This is where the movie starts to get a bit bizarre. Newlyweds Sidora and Bata live in the Sicilian countryside and every full moon, Bata is enchanted by the moon and it rules him. He howls and barks like a wolf and it causes him great pain. Sidora totally freaks out and is not without an erotic moonsickness of her own which makes her crave sex with her cousin when the husband is unable to perform his marital duties.Finally, she accepts the fact that her husband needs a kind hand to protect him.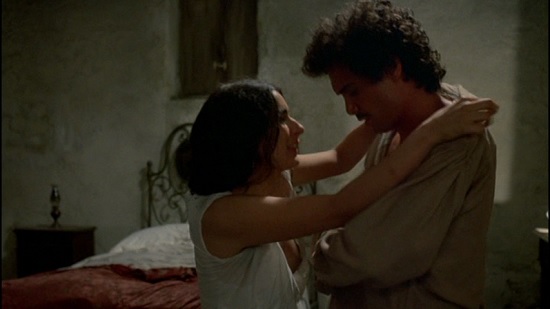 Sidora with her cousin in "Moon Sickness"
The third one, "The Jar", is a piece of delicate Italian comedy in which Don Lollo (Ingrassia), who owns a huge olive jar that breaks under mysterious conditions, is desperate to have it repaired. A hunchback (Franchi) gets trapped in it while fixing it and an agreement over financial differences seems to be out of the question. The Jar is remarkable, not so much for the diabolic overtones of the hunchback who gets trapped inside the giant olive jar he has just mended, as for the surprising bitterness of the landlord whose success is mocked by thoughts of death.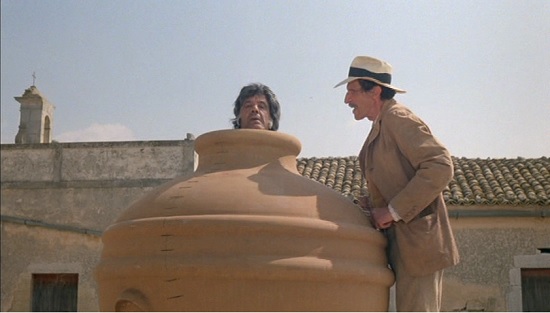 The man who gets trapped in "The Jar" with the landlord
In "Requiem", the fourth story, farmers in a remote hamlet, facing the imminent death of their founding father, try to obtain rights to bury their dead locally in ground owned by a baron, rather than in the town, which is over a day's hike away. The baron refuses and police escort the peasants back to their hamlet to break down the beginnings of a graveyard the peasants are building. Death itself is the subject of this story as an old man sits over his grave and literally waits for it to come in order to lay claim to the land he will be buried in. Since the land, on which generations become established, becomes in effect composed of the dead, there is a subtle moral question of a man's rights here, suffused with ghostly mysticism - an issue we have lost sight of in the modern world.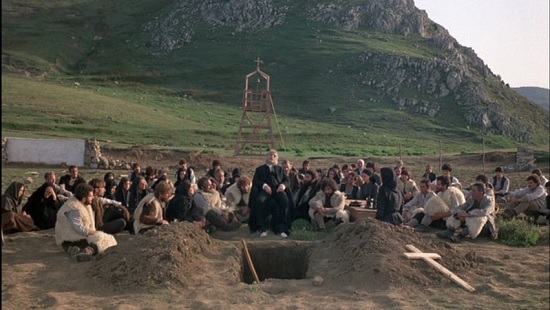 The old man waiting for his death in "Requiem"
The Epilogue, "Conversation with Mother", is almost too sublime to describe. It may be the most perfect, the most meaningful and stunning 20 minutes ever put on celluloid. In it, Pirandello himself, weary now of life, travels to his childhood home in Sicily, drawn by the spirit of his mother. She tells him the fabulous fairy-tale journey taken by boat when she was a girl, only this time filling in some crucial forgotten detail. The span of time held in our mind here is breathtaking - backwards from an old woman long dead who is reflecting on the memory of an intense childhood experience; forwards to her son, now old himself and aware of his own impending death, trying to capture some meaning in it all that is the spark of life, knowing that this spark itself will soon go out.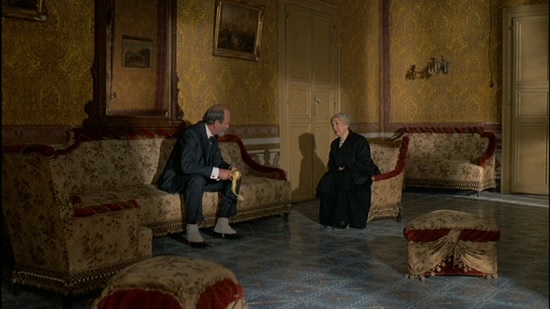 Piradello meeting his mother's spirit
The climax to the mother's story - the images of the children rolling down the mountain of pumice on the "Pumice Island" into an azure sea- is so beautiful, so mixed of elation and despair, that no more words in the film are possible. It is a scene of deep lyrical intensity that gets emblazoned in our memory long after it is seen.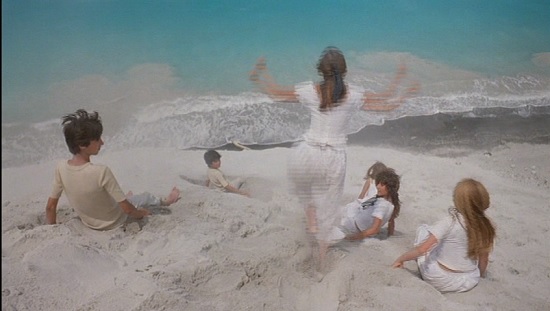 Children rolling down the pumice mountain to the sea
The final shot of Pirandello sitting silently in the chair that no longer contains the mother he had been speaking to is utterly moving. Nicola Piovani's passionate and transporting musical score (he would later do the music for "Life is Beautiful") adds immeasurably to the experience of this powerful work of art. It is indeed sad that not many film fans are aware of this sterling classic.
A series of "Hundred Favorite Films Forever"