Director: Patrice Leconte/ France/French/82 mts
"Film is the medium that gives room to our fantasies, most of the time harmless, since they are fantasies. The cinema is often more beautiful than life, if only because we write the screenplay." - Leconte
The Hairdresser's Husband is a film so fantastical, so sensual, and so romantic that you cannot help but sigh in ached longing... a longing that, deep down, you know is untouchable, but how good it is to be drenched so thoroughly in it in a French hairdressing salon, on sunny afternoons and stormy nights?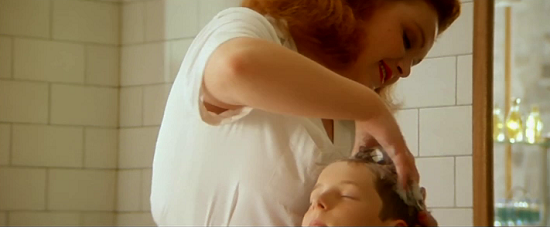 Boy Antoine's first visit to hairdresser's Salon
Dreamers. Lovers. However they came to be we do not know, and it does not matter. They are so content together, indeed so happy that they seem immune to the ravishing of life's toil. Passion consumes their lives. The day begins with it, and ends with it. The Hairdresser's Husband takes us to that small but intimate world of Antoine and Mathilde. The movie teaches a wonderful lesson: The whole life can be beautifully shrunk to the salon of a hairdresser.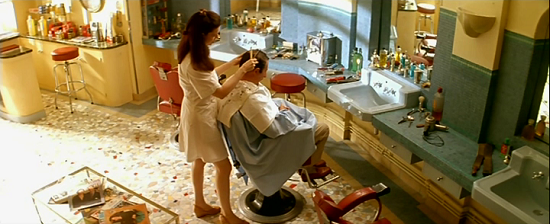 Antoine as an adult visits the salon where he meets the hairdresser Mathilde
As a small boy Antoine (Jean Rochefort) is asked by his father what he would like to be one day. He answers that he wants to marry a hairdresser and he does that some fifty years later when he weds Mathilde. Their relationship is an ideal one: warm, affectionate, deeply loving. It brings out the very best in both of them. For whatever reason, the lovers seal themselves off from the world, relying on each other for emotional sustenance. Sometimes for a change of pace, Antoine puts on his favorite Arab pop music and does a crazy dance for Mathilde, who smiles tenderly at his gawky antics. She spends leisure time reading magazines on her perch by the widow, he working crosswords on the red leather bench, the sunlight flooding in. The yellows, blues, tropical colors. Occasionally at some unheard signal their eyes meet and they smile in shared bliss. One night they get really wild and make love on the floor after drinking cocktails made of hair cologne.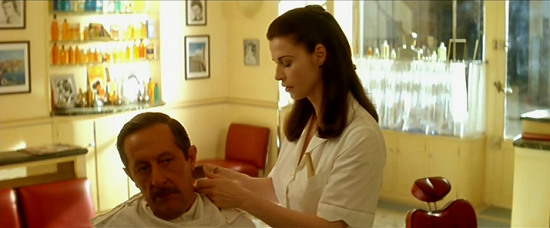 Antoine and Mathilde
Throughout the film, love's perfume permeates the air as sunlight streams through the window and sets Mathilde's honey brown hair aflame. Her voluminous waves glowing and the light stir as she moves, from the counter to the door, to the shampoo to the chair, to the door as the customer leaves, and she returns to her counter. The light and perfume stir with each step, whisper between them, around them.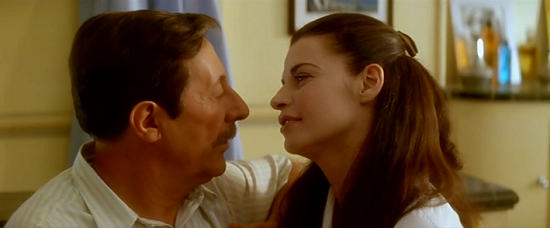 Antoine falls in love with Mathilde
Antoine watches from the red sofa, knowing full well that this is exactly where he wants to be, where he should be. She looks up from the counter, a wordless smile passes between them, shared, stretching on like hot caramel with the passing of daylight. Little smiles and glances of joy spill unabashedly, so over-brimming of hearts that they drip like pearls with the streaming light, and are finally gathered again at the end of the day. Dusk falls, the door closes after the last customer. She hikes up her dress and unbuttons her blouse. He stands up from the red sofa. Passion leads day into night, and then begins all over again.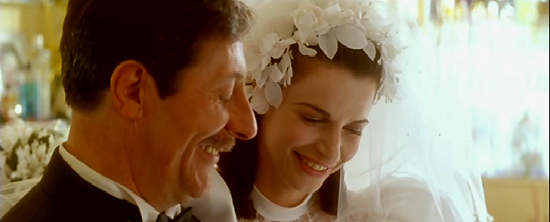 Antoine marries Mathilde
Such idyll would be perfect, if there weren't any disturbing shadows falling on the radiant image. At the beginning they are nothing more than some apparently casual remarks made by Mathilde referring to certain customers, for instance when she discovers on their departure that they walk more stooped than they used to. It is progressing time that haunts Mathilde, the fear of sudden loss of passion. Such an idea seems to be unbearable for her, and leads her to a fatal inspiration….

"The Hairdresser's Husband" sweeps us away with not just its words, but its colors, its light, and its unmistakable eroticism. Eroticism is about what people think, not what they see. As the eye behind the camera, Patrice Leconte leads us with visions of what he sees, and leaves us with more of what he does not. With steady hands and voyeuristic angles, he evokes a sea of sensuality that ripples endlessly:
"Eroticism is, always, a subjective and personal vision and perception of things. I don't think there is a universal eroticism. There is a form of sensuality, desire - conveyed through some attitudes, some looks, clothes slightly yawning… tiny things most often, because I believe all comes down to a very simple principle: the oncoming of desire is infinitely more provoking than the acting out of desire."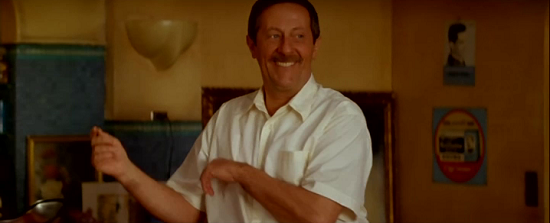 A happy Antoine dancing to an Arabic tune
Luminous and sunny, tragic and inevitable, is "The Hairdresser's Husband" a fantasy? Leconte answers sincerely:
"My film is as realistic as a naive painting, a miniature; a good painting can be realistic. Nothing leads us to assume we are confronted with a pure fantasy. But if somebody wants to see it that way, why not?"
The Hairdresser's Husband is sensual, magical and mysterious in every sense. Quirky humor, insightful observances about everyday life and people's behavior, and superb photography make this film an enchanting experience without a lull moment.
A series of "Hundred Favorite Films Forever"