Director: Marcel Camus/ Brazil/Portuguese/100 mts

One experiences an aerobic joy while watching this Brazilian movie. Marcel Camus' 'Black Orpheus' celebrates the fiery power of the South American sun, the frantic colors of Brazilian style, the dizzying blast of relentless samba, and the rangy life lived in the slums of Rio, all of it bouncily packaged around the Orpheus myth . Barack Obama notes in his memoir "Dreams from My Father" (1995) that it was his mother's favorite film. The film won the Palme d'Or at Cannes Film Festival in 1959.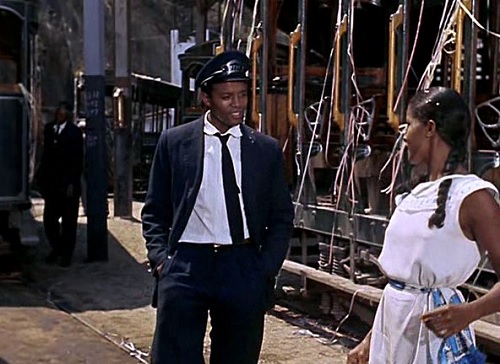 Orpheus , the streetcar conductor meets Eurydice
Black Orpheus (Orfeu Negro) is literally what its title suggests: a retelling of the "Orpheus and Eurydice" legend enacted by black performers. This time the setting is the annual Carnival in Rio de Janeiro. Orpheus (Breno Mello) is a streetcar conductor; Eurydice (Marpessa Dawn) has just jilted her lover and is attempting to escape his wrath. Orpheus himself falls in love with Eurydice, whereupon her ex-lover disguised as the Angel of Death shows up and kills Eurydice. To reclaim his lost love, Orpheus enters "Hell" (the Rio morgue) and uses supernatural methods to revive the dead girl. A multi-award winner on the international film scene, Black Orpheus features a samba musical score by Luiz Bonfa and Antonio Carlos Jobim.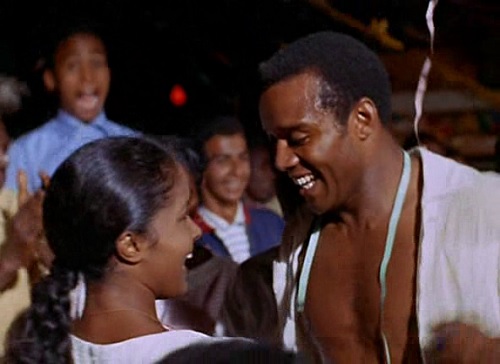 Orpheus dancing with Eurydice before the Carnival session
When the film begins, everyone is excited and preparing for carnival. The children dance, the women, sexy and uninhibited, dance as they go about their daily activities. Into this festive atmosphere comes the shy Eurydice (Marpessa Dawn) who has fled her village to visit her cousin Serafine (Lea Garcia) in fear of a stalker who wants to kill her. She rides to the end of the train line and meets the handsome Orpheus (Breno Mello), the streetcar conductor and musician. Eurydice's cousin is happy to see her, though she's expecting to be joined shortly by her boyfriend Chico (Waldemar de Souza). Orpheus is engaged to the slender, vivacious Mira (Lourdes de Oliveira) who wants to get a marriage license that very day.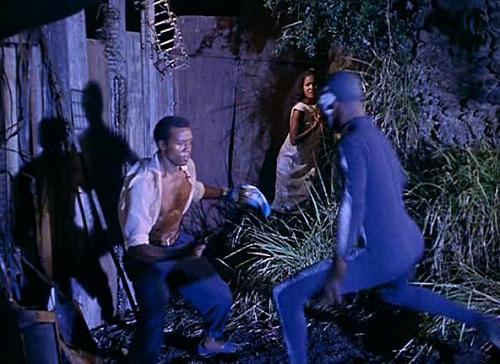 Orpheus confronts the stalker or angel of death
When the clerk at the courthouse hears Orpheus's name, he jokingly asks if Mira is Eurydice. Not knowing the story, Mira becomes jealous and wants to know who she is. Afterward, Mira insists on getting an engagement ring. Though Orpheus has just been paid, he would rather use his money to get his guitar out of the pawn shop for the carnival. Mira finally offers to loan Orpheus the money to buy her ring. She buys the ring; he gets his guitar. Orpheus meets Eurydice again as he stays near the shack of her cousin. It is love at first sight. Later, during the carnival, wearing Sarafina's costume, Eurydice dances a provocative samba with Orpheus. Mira enraged when her rival is unmasked and Eurydice is once again stalked by Death. The mythology then plays out as it is destined.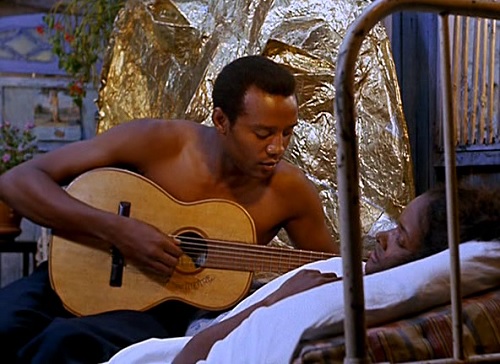 Eurydice and Orpheus: A romantic moment
'Black Orpheus' relied on unknowns for the main characters. Breno Mello makes a handsome, virile Orpheus who glistens when covered with sweat, but he performs the role more as a dancer than as an actor trying to show a man in love. Conversely, the girl who plays Eurydice is an American dancer, Marpessa Dawn, and she conveys more forthright emotions. Her pretty, frank face and a gentle manner that suggest absolute innocence gather an aura of wistfulness about her that filters down into a melancholy mood. This is appropriate and helpful for the accidental tragedy that ensues.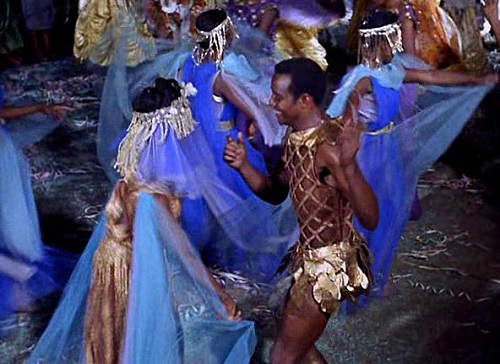 Carnival Dance Scene
The true brilliance of Black Orpheus lies in the people who live on the side of the cliffs overlooking the harbor at Rio. It is their energy that prevails. The film pulsates with intoxicating samba music, storm of colors and costumes and frenzied carnival dancing depicting the spectacular vitality of life. The music that runs through Black Orpheus like a river is authentically native, and the rampant intoxication of the film's characters is not feigned but is actually a manifestation of an entire culture exulting in its own self-expression.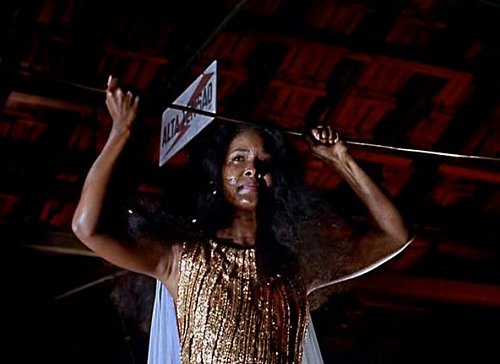 Eurydice holding streetcar cable before getting electrocuted
And yet there is the constant reality of death in this film. And it strikes in way we cannot comprehend, fatalistically, and we are helpless to do anything about it. The figure of Death that pursues Eurydice through the streets of Rio could be the literal personification of fate-or the sort of everyday maniac found on the streets of any major city. Likewise, Eurydice's death from a streetcar cable is a neat transposition of the original legend in which she died from a serpent's bite on her leg.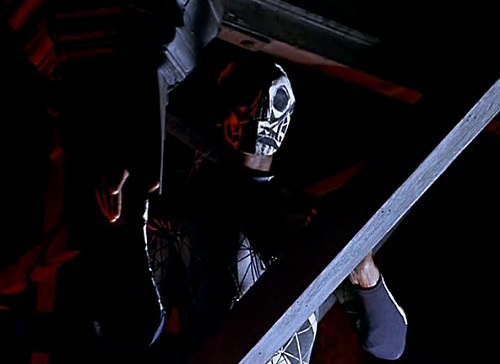 The angel of death
Best of all is the film's climax, in which Orpheus visits the underworld-here represented by Rio's Bureau of Missing Persons-and a Macumba ceremony in which he tries to make contact with his dead love. As in the legend, the story of the film ends on an unhappy note. Still this nominally sad conclusion is undercut by the spirit of the largely unprofessional cast; director Camus' obvious love for Rio and its people; and the joyous, rapturous, unforgettable musical score.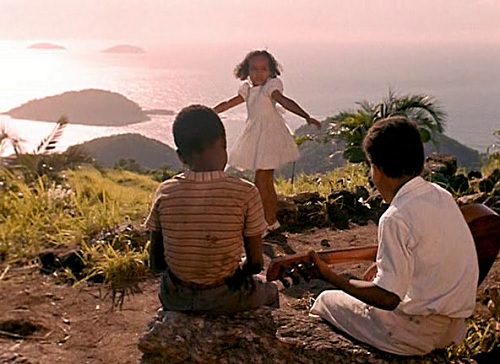 The little girl dances as the boy Orpheus plays his guitar
The final scene is beautiful. Orpheus sings, a new Orpheus perhaps, and the sun rises again, and a little girl in white, looking like Eurydice in miniature, begins to dance as the little boy Orpheus plays his guitar, telling us that time has come round again.

Black Orpheus is rhapsody on celluloid and offers a feast with its Rio de Janeiro carnival, intoxicating samba music, frenzied dancing and violent costumes. It is bound to be an energizing treat to any film viewer.
A series of "Hundred Favorite Films Forever