Director : Alain Resnais / France/French/88 mts
Resnais is a cubist. I mean that he is the first modern filmmaker of the sound film. — Eric Rohmer

You can describe Hiroshima as Faulkner plus Stravinsky. — Jean-Luc Godard

We've already seen a lot of films that parallel the novel's rules of construction. Hiroshima goes further. We are at the very core of a reflection on the narrative form itself. — Pierre Kast
Seldom in our viewing experience we come across a film that demands equal attention of the head and the heart. Hiroshima, Mon Amour is one such movie. This is the groundbreaking film debut of Alain Resnais ("Last Year at Marienbad" / "Je t'aime, Je t'aime" / "Muriel"); it's one of the landmark French New Wave films that featured innovative flashback techniques that altered the narratives chronological order and used silence to indicate the past.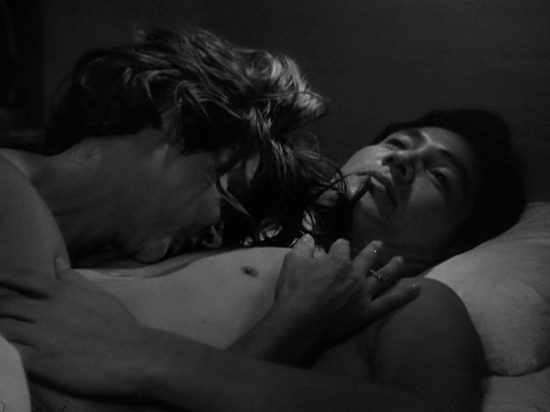 From the evocative opening scene: French woman and the Japanese architect
In July 1959, Eric Rohmer, Jean-Luc Godard, Pierre Kast, and other members of the editorial board of Cahiers du Cinema convened a roundtable on Hiroshima Mon Amour. Godard called it the first film without any cinematic references; Jacques Rivette said its rupturing of rhythm likened it to contemporary classical music; all members agreed on its status as a cinematic watershed. With his first feature, Alain Resnais created the thing they had all been looking for: a truly "modern" film.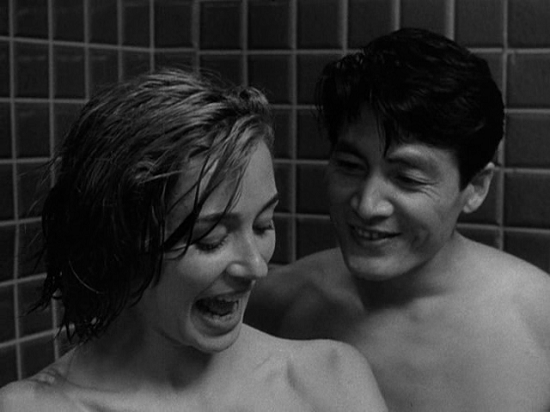 An intimate moment
It's difficult to quantify the breadth of Hiroshima Mon Amour's impact. It remains one of the most influential films in the short history of the medium, first of all because it liberated moviemakers from linear construction. Without Hiroshima, many films thereafter would have been unthinkable, from I Fidanzati to The Pawnbroker to Point Blank to Petulia to Don't Look Now (and almost every other Nicolas Roeg movie) to Out of Sight and The Limey. After he screened the answer print, Anatole Dauman, one of the film's producers, told Resnais, "I've seen all this before, in Citizen Kane, a film which breaks chronology and reverses the flow of time." To which Resnais replied, "Yes, but in my film time is shattered." As it is, often for less dramatically compelling and sometimes more fanciful reasons, in many of the above films.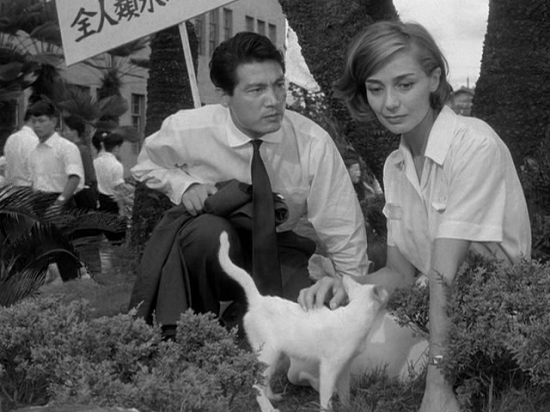 A scene during a break from shooting scene:
The French actress and Japanese architect
Hiroshima, Mon Amour, Alain Resnais' meditation on memory and how one can never escape or forget the past, follows a French actress who travels to Hiroshima to shoot a movie. She meets a Japanese architect and the two have a romantic fling. They have great chemistry together but both know they can never leave their families, nor have they any inclination to do so. The more time they spend together in the shadow of a horrific war, the more the woman is reminded of her first great love–a German soldier with whom she had a passionate affair during the Occupation. What really gets us about this movie is Resnais' incredible editing, conflating past and present; Michio Takahashi and Sacha Vierny's gorgeous photography; and Georges Delerue and Giovanni Fusco's haunting, lonely music score. Their music is a presence unto itself. Though made in the late 50s, Hiroshima's imagery and music give it a feel at once modern and timeless quality , this is indeed a beautiful piece of art.

A flash of painful memory
The film is based on the daring screenplay by novelist Marguerite Duras, key writer in the Nouveau Roman movement. Marguerite Duras and I had this idea of working in two tenses," Resnais told Parisian journalist Joan Dupont in a recent interview. "The present and the past coexist, but the past shouldn't be in flashback…. You might even imagine that everything the Emmanuelle Riva character narrated was false; there's no proof that the story she recites really happened. On a formal level, I found that ambiguity interesting." In Hiroshima Mon Amour, Resnais and Marguerite Duras show their debts to the Modernists, to Marcel Proust, James Joyce, Virginia Woolf, philosopher Henri Bergson, and a group of contemporary experimental French writers (one of whom, Alain Robbe-Grillet, wrote the screenplay for Resnais's equally groundbreaking film The last year in Marienbad). In place of linear narrative and clear denouements, these writers employed stream of consciousness, subjectivity, and "affective" or "lived" time, the sense of experience through memory as opposed to the "artificial" time of calendars.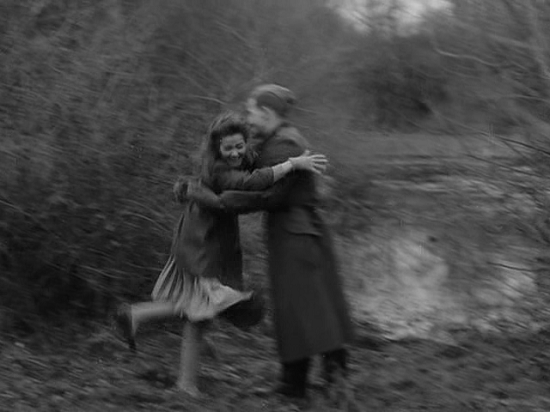 The French woman with her first love-German Soldier
The film's celebrated opening montage introduces this idea in its selection of dissimilar images: snowy ashes of nuclear fallout, the glint of sweat on embracing lovers, disfigured victims of the Hiroshima bombing, and public spaces in the newly rebuilt city. Gradually, the voice-over of an anonymous French woman (Emmanuelle Riva) provides a loose cohesion. These are her memories, recalled for her anonymous Japanese lover (Eiji Okada), who tells her that she "saw nothing of Hiroshima," because she was not there when the bomb fell. She is trying desperately to understand, however. "I longed for a memory beyond consolation," she says, "a memory of shadows and stone."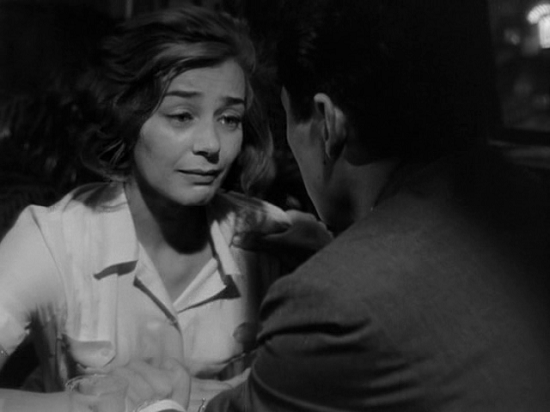 The French woman narrates her traumatic past
In Hiroshima, 14 years after the atomic bomb was dropped, to make an international peace film where she plays a nurse, married French actress (Emmanuelle Riva, her first credited role) has a fling with a married Japanese architect (Eiji Okada) shortly before her departure to Paris. In her hotel room, in the aptly named New Hiroshima, the nameless lovers make love, embrace and explore how the war altered their lives and what Hiroshima means to them. She leaves to finish filming and he can't get her out of his mind, so he visits her on the set. She assumes their illicit rendezvous (they are both married) is for one night, but he pleads with her to meet again. That in a few hours she's set to return to Paris and he has failed to convince her to stay on longer upsets him greatly, as he knows it's likely that he will never see her again and she has greatly touched him.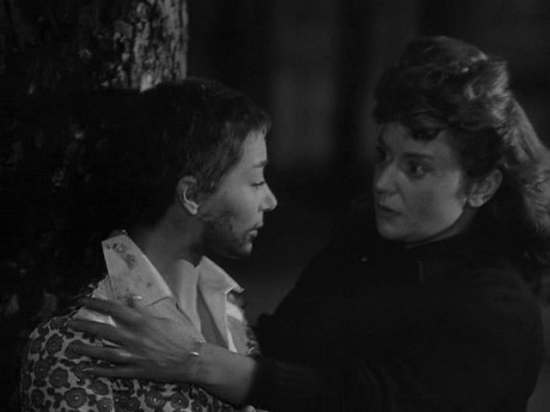 The French woman with her mother during her period of illness
While having their last drink together she tells him of her humiliating unforgettable experience in occupied France, in her hometown of Nevers, a place she has never returned to after the war. She begins to tell him about her youth in Nevers and the German lover she had during the war, who was shot and died in her arms. Because he was an enemy soldier, she was ostracized by her parents, humiliated by having her head shaved, being paraded in public, then locked in a cellar. She tells of the German being her first love, and how miserable everything became for her at the war's end when she found herself isolated. She fled to Paris just before the bombing of Hiroshima. Her melancholy connects with the architect's wartime experience, where 200,000 died and eighty thousand were wounded in just a few seconds from the bomb that virtually ended the war.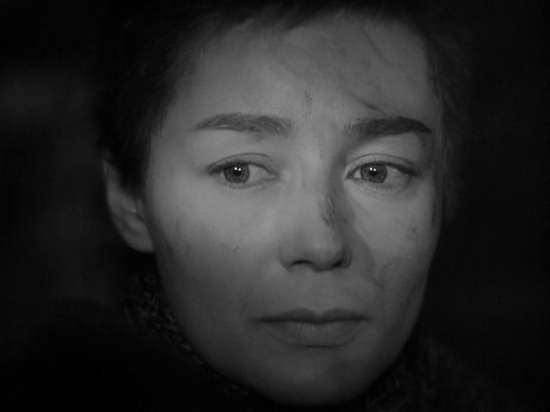 Life in the cellar
The recollection of a traumatic past during their conversation jolts her. Wandering the city streets in the early morning hours, she wonders if she should return to France or stay with her new lover. She longs for a memory of Hiroshima, hoping to bury her own past by empathizing with the greater suffering of countless victims. But her visit to Hiroshima and brief affair only amplify her sorrow.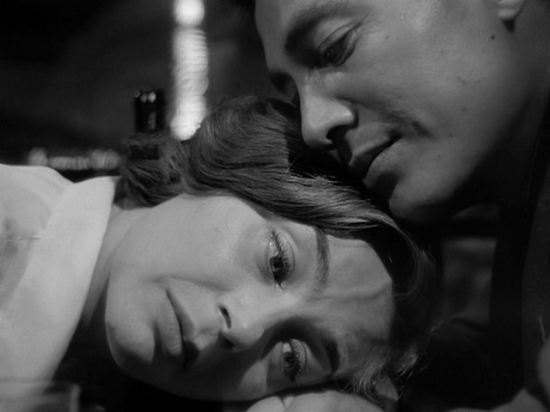 A consoling moment
In tracing her emotional devastation, Hiroshima Mon Amour is less about memory itself, more about the burdensome act of remembering. As Sontag says, "The memory of an unrecapturable feeling becomes the subject of feeling".

In this act, the past is the present. During their talk in a riverside café, the Japanese lover "becomes" the German lover: "When you're in the cellar, am I dead?" he asks. "You're dead," she replies. "What did you scream?" he asks. "Your German name," she tells him. Images of her staring into her new lover's eyes are intercut with scenery of Nevers, with the German lover dying on the street, and with her in the cellar, screaming.

Many critics have admired just this sort of formal experimentation, and with good reason; Resnais's techniques are fundamentally innovative. But the movie's modernity derives from its representation of a specific fragmentation and anguish, central to the post-War moment. Resnais originally conceived of the film as a documentary about the atomic bomb's destruction of Hiroshima believing that cinema had failed to address the horrors of World War II. Even as fiction, Hiroshima, Mon Amour maintains this interest in history, as well as an anti-nuclear, pacifist theme.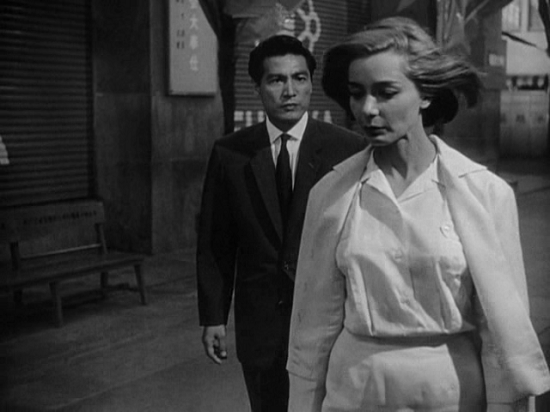 Will you stay in Hiroshima?
Appropriately, the Japanese man embodies this theme. He reveals to the woman that, when the bomb fell, he was away fighting. His family, however, was in Hiroshima, and now he must live with his survivor's guilt. His sorrow manifests in an erotic longing that hopelessly, endlessly remains unfulfilled.

Hiroshima, too, cannot fully exorcise its horrors. The city rises, phoenix-like, out of the ashes of nuclear destruction, rebuilt in a thoroughly angular, modern architectural style as a tourist destination. The film shows citizens seemingly at peace alongside the Ota River, yet their awful past is constantly present. As seen through recurring images, the A-Dome, over which the atomic bomb exploded some 2,000 feet in the air, stands as a symbol of their inhuman suffering.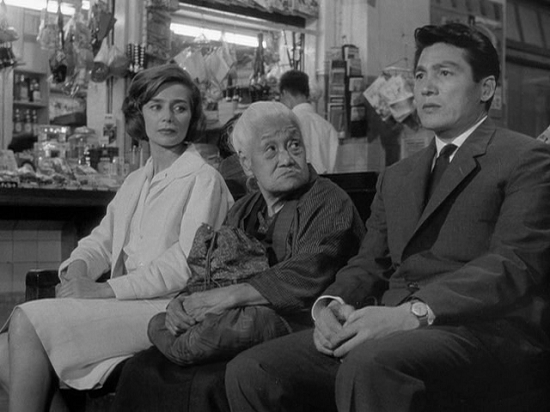 At a railway station
As important as the lover and the city are, the French woman provides the film its most overt modernist theme: human isolation. She recognizes the necessity of confronting her own history in order to purge her sadness, but abandoning the past is equally horrible. In her hotel room, staring in the mirror, she says to her dead lover, "I cheated on you tonight with that stranger. Look how I am forgetting you." This sense of guilt and regret keeps her from realizing any sustained emotional and physical satisfaction.

Hiroshima Mon Amour therefore finds its tonic note in two people hopelessly separated, not by their marital status or culture, but by the burden of their memories.

What seem to be flashbacks here are not flashbacks at all. In the film's most haunting, and hauntingly beautiful, moment, the woman walks the streets of Hiroshima at night, looking up at building façades, street lights, and neon signs; slow tracking shots mix these images with the streets, buildings, and signs of Nevers. In her consciousness, time and space are poetically fused, one place coexisting with (and as) the other.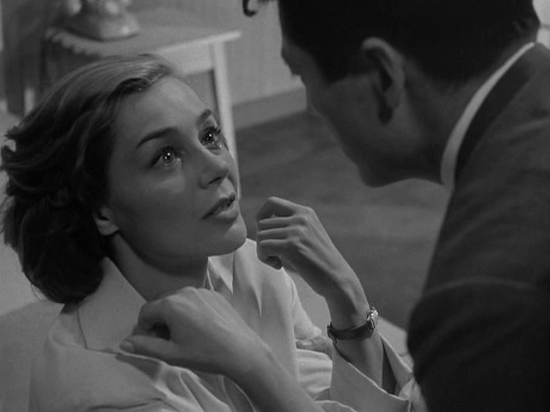 You are Nevers and I am Hiroshima
Resnais's highly stylized and personal film serves as a bridge to the past so some understanding of it can be reached, while because of its commercial success and its critical acclaim it also paved the way for modern filmmakers to make innovative non-linear films instead of the usual linear ones.

"Hi-ro-shi-ma. That's your name." "That's my name. Yes. Your name is Nevers. Ne-vers in France." Appropriately for a film about the anxiety of irresolution, the end doesn't tie up loose ends as much as it suggests a new and sober starting point. It's a moment of realization that feels neither tragic nor affirmative; just crushingly exact. But there is another endpoint, a spiritual one, and it comes early—the final statement of the film's famous and eternally alarming opening section mentioned earlier. We are looking at shots of a rebuilt Hiroshima, a tourist attraction less than fifteen years after it had been leveled, probably filled with people like Riva's actress, unconsciously and mistakenly expecting to see their own personal tragedies rendered insignificant in the shadow of a monumental tragedy. Resnais' beautifully calibrated images move in sinuous counterpoint to Duras'––and Riva's––verbal music. And we hear the actress' sad voice carefully reciting the words that still ring true today, and probably always will:
"Listen to me. I know something else. It will begin all over again. Two hundred thousand dead. Eighty thousand wounded. In nine seconds. These figures are official. It will begin all over again. It will be ten thousand degrees on the earth. Ten thousand suns, they will say. The asphalt will burn. Chaos will prevail. A whole city will be raised from the earth and fall back in ashes…."
A series of "Hundred Favorite Films Forever"