Director: Arthur Penn/ USA/English/112 mts
"Bonnie and Clyde" is an unforgettable classic that has lost none of its power since its 1967 release. Rarely has a film been as widely influential as director Arthur Penn's crime spree masterpiece. Single-handedly spawning the psychotic-lovers-on-the-run sub-genre and simultaneously breaking the envelope in its frank, realistic depiction of violence, Bonnie and Clyde decisively consigned all vestiges of 50's Hollywood to the scrapheap of the 60s and signaled the start of the most creative, daring and satisfying decade in Hollywood history, the Seventies.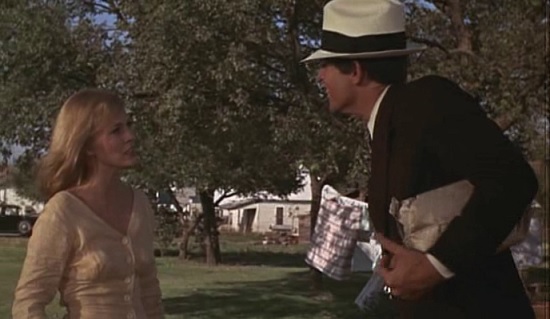 The first meeting: Bonnie and Clyde
In the opening scene of this film, Bonnie is restlessly lying in bed, naked, like a capricious girl her parents just punished, impatiently waiting for 'something to happen'. The monotony is eventually broken when the beautiful blonde girl catches a handsome young man about to steal her family's car. When a bored girl meets a strange newcomer, it's not properly what we'd call a 'love at first sight' but there's obviously a mutual attraction, fascination. And the man has more than his dandy charm to offer, from his pockets he carefully unveils a gun that the girl sensually touches like a phallic trophy. But showing a gun is one thing, the guy must use it to assess his manhood, so he robs a store and runs away with the girl, and they finally exchange their names.

Planning the first Robbery
That is the beginning of the perilous journey of Bonnie Parker (Faye Dunaway) and Clyde Barrow (Warren Beatty) and Faye Dunaway the legendary Depression-era bandits and lovers in this landmark film that won two Academy Awards and helped trigger a revolution in screen violence. The film is a poetic ode to the Great Depression.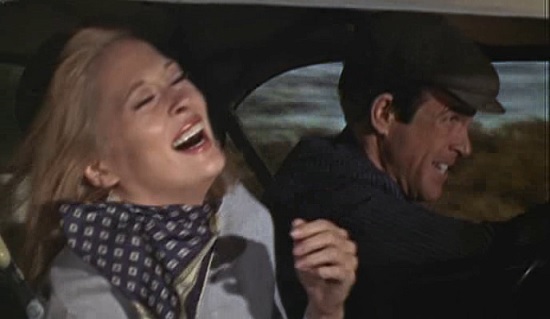 The happy ride after the fiasco of attempting to rob a bankrupt bank
The duo's crime spree shifts into high gear once they hook up with a dim-witted gas station attendant, C.W. Moss (Michael J. Pollard), then with Clyde's older brother Buck (Gene Hackman) and his wife, Blanche (Estelle Parsons), a preacher's daughter. The women dislike each other on first sight, and their feud only escalates from there: shrill Blanche has nothing but disdain for Bonnie, Clyde and C.W. Moss, while gun-moll Bonnie sees lanche's flighty presence as a constant danger to the gang's well-being.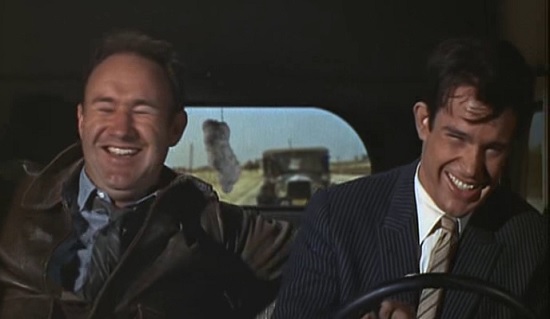 Clyde with his jovial brother sharing a joke
Bonnie and Clyde turn from pulling small-time heists to robbing banks. Their exploits also become more violent. When C.W. botches a bank robbery by parallel parking the getaway car, Clyde shoots the bank manager in the face after he jumps onto the slow-moving car's running board. The gang is pursued by law enforcement, including Texas Ranger Frank Hamer (Denver Pyle), who is captured and humiliated by the outlaws, then set free. A raid later catches the outlaws off guard, mortally wounding Buck with a gruesome shot to his head and injuring Blanche. Bonnie, Clyde and C.W. barely escape with their lives. With Blanche sightless and in police custody, Hamer tricks her into revealing C.W.'s name, who was up until now still only an "unidentified suspect."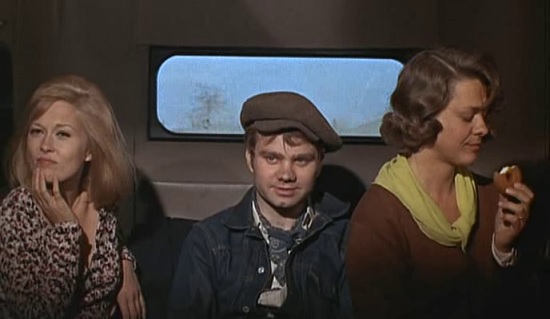 Bonnie, C.W and Blanche
Hamer locates Bonnie, Clyde and C.W. hiding at the house of C.W.'s father Ivan Moss (Dub Taylor), who thinks the couple — and an ornate tattoo — have corrupted his son. He strikes a bargain with Hamer: in exchange for leniency for the boy, he helps set a trap for the outlaws.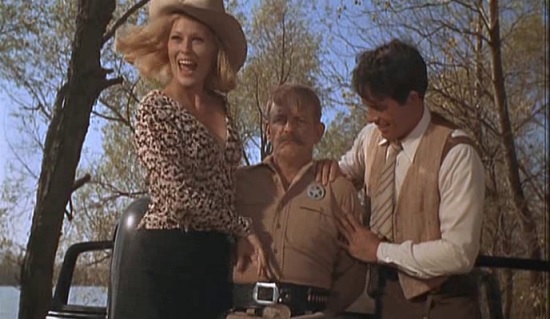 A photo with tied up Texas Ranger Frank Hamer
There is a sense of tragedy as the end nears, and Penn makes the right choices in shooting his closing sequence. The director couldn't have thought of a better ending for this movie as one is reminded of a little of Romeo and Juliet the way they died with each other. I swear I got the chills from the last scene and it was almost like a cliff hanger wondering what came of the boy who had been helping them all along.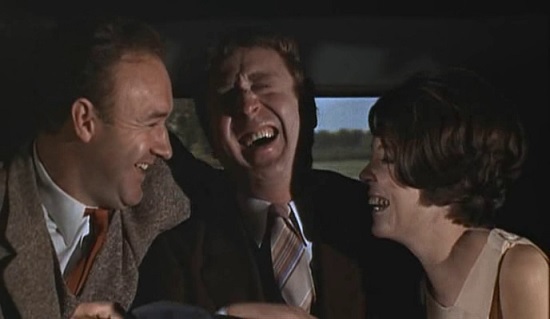 Blanche sharing a joke with captured couple of a car
"Bonnie and Clyde" was a break-through film in its fast paced, entertaining and bold portrayal of violence and sex. American cinema reached its maturity with Arthun Penn's masterpiece that consecrated the anti-heroic figures, a model that would enrich the 'New Hollywood' era with some of its greatest and most iconic characters. We root for Bonnie and Clyde as they are the epitome of anti-system rebellion. And never seems their violence gratuitous or cold-blooded.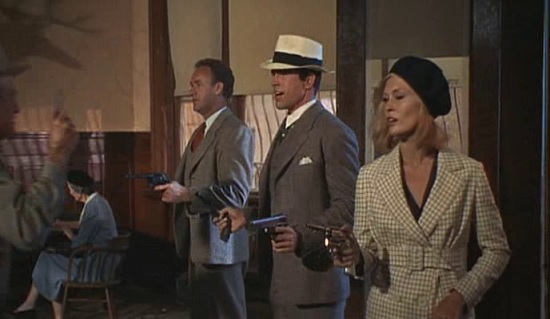 Teamed up for a successful bank robbery
Maybe we could blame Arthur Penn's for the liberties he took with the characterization of notorious gangsters, and the deliberately romantic portrayal of Beatty and Dunaway. Maybe Bonnie is too gorgeous in a glamorous way, maybe Clyde is too good-hearted as he would express many grieves all through the film, highlighting the fact that he feels as much a killer as a lover. Yet, the audience at that time was mature enough to identify with "Bonnie and Clyde" as movie characters.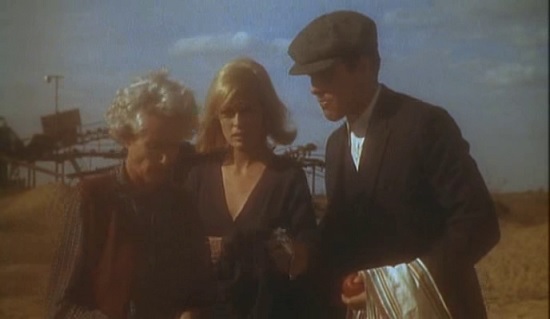 Promising Bonnie's mother to lead a better life
"Bonnie and Clyde" is the most excitingly American movie since "The Manchurian Candidate." The audience is alive to it. Our experience as we watch it has some connection with the way we reacted to movies in childhood: with how we came to love them and to feel they were ours — not an art that we learned over the years to appreciate but simply and immediately ours.

Faye Dunaway and Warren Beatty deliver pitch perfect performances as Bonnie and Clyde, with characterizations that are layered and engaging. Beatty's bravado is infectious, and Dunaway's abandon is life affirming - if doomed. The film is indeed a romanticized version of the real Bonnie and Clyde. The Depression-era milieu is wonderfully recreated through the use of bluegrass music and authentic-looking supporting actors. The rage that people felt against the government in a time when banks were closing and people were losing their property is palpable, making it clear why a couple like Bonnie and Clyde might become heroes to the average man.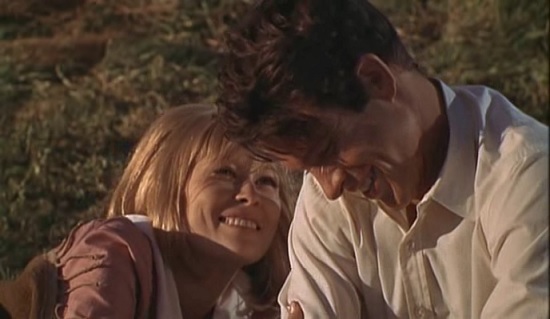 A cheerful moment before the final encounter
The ending of Bonnie and Clyde also ushered in the ideas that criminals might be lovable, and that violence might be art. The film bewildered its studio, Warner Brothers, but it became a big hit because it spelled out within the formula of an old genre the seething lawlessness in a new young audience. A fresh myth was launched: that a few years of mayhem with a beautiful companion might be a bargain you could make with death. And it was a breakthrough to discover that death and disintegration were stunning metaphors for sex.

"Bonnie and Clyde" is a landmark and definitely one of the most important films of American history.
A series of "Hundred Favorite Films Forever"