Director: Andrzej Wajda /Poland/Polish/105mts

Ashes and Diamonds is the last film of the wartime trilogy (Generation, Kanal) of the renowned Polish director Andrzej Wajda. Wajda presents a strong anti-war statement in this movie and is widely regarded as Wajda's masterpiece and as "the supreme achievement of postwar Polish cinema."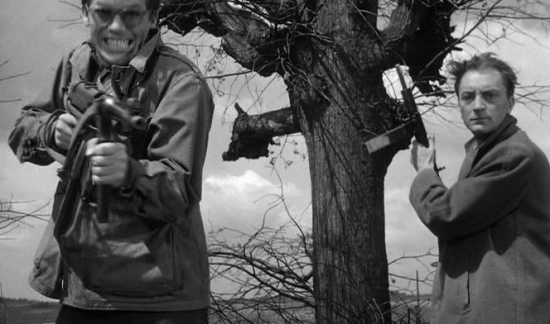 Home army soldiers Maciek and Andrzej: The assigned contract killers
The film's theme was adapted by Wadja himself from Jerzy Andrzejewsk'i's famous novel about the internal strife that divided Poland at the end of the war against the Nazis. It is set in a provincial town celebrating the end of the occupation and the beginning of a new social and political order. Maciek, who as a young idealist had fought in the anticommunist Home Army, is given one final order—to kill the district secretary just appointed by the new communist government. The spark of hope offered by Maciek's brief love affair at his seedy hotel turns to ashes. He at first resists his assignment but finally carries out the assassination, is shot himself, and dies in agony on a garbage dump.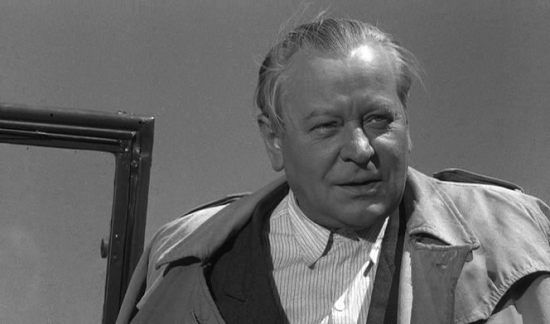 The Communist Commissar Szczuka
This last film in Wajda's trilogy, suspenseful as a good thriller, has the dimensions and the shape of high tragedy. Concentrated within a single day, it is constructed around the pull of contradictory forces: war and peace, love and hate, death and life. Moreover, as Boleslaw Michalek points out, it possesses "all the ingredients of a national epic, showing individual destinies being reshaped in the turmoil of a great débacle." It deliberately asserts its connection with the great romantic tradition in Polish art—a tradition that at its most extreme personifies Poland itself as saint and martyr among nations and views the artist as the country's conscience and prophet.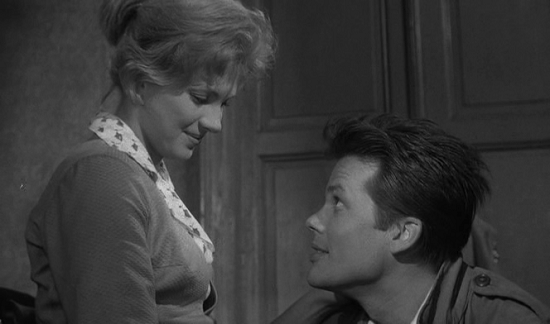 Krystyna (Ewa Krzyzewska) and Maciek
The film was attacked for its ornate, baroque effects and its negative and fatalistic spirit (though it may also be understood as an appeal for national solidarity—an end to ideological conflict). However, even reviewers who disapproved of the film recognized its stature as "a spellbinding, stirring work which imposes its own view of the world." Zbugniew Cybulski, who plays Maciek, became with his dark glasses and unruly hair as much a personification of disaffected postwar youth as James Dean did in the West.

Ashes and Diamonds is not without irony, such as the moment when Maciek and the Party official fall almost ludicrously into each other's arms as the one kills the other amidst fireworks; and the victory banquet at the hotel where the polonaise Farewell, My Homeland is played and where some know their careers are at an end while others prepare to accept government posts in Warsaw.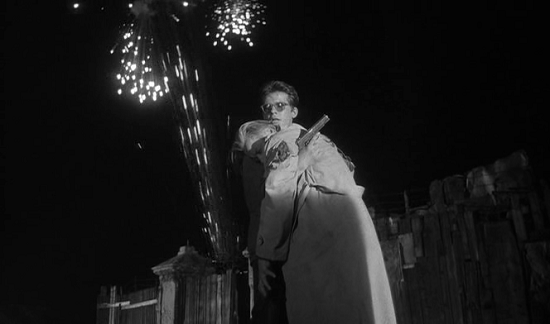 Mission accomplished: A poignant moment of irony
Is the title of the film taken from romantic poetry: 'Will there remain among the ashes a star-like diamond, the dawn of eternal victory?' Wajda doesn't attempt to answer this question. And it is the film's ambiguities, as the film-maker tries to come to grips with the myths and legends of the era that continue to render it fascinating.
A series of "Hundred Favorite Films Forever"