Director: François Truffaut /France/French/99

Praised by film-makers (Akira Kurosawa called it 'One of the most beautiful films that I have ever seen.') and critics the world over, The 400 Blows is an extraordinary debut and helped launch the French New Wave - films by new directors like Jean-Luc Godard, Claude Chabrol, Louis Malle, Jacques Demy and Agnes Varda all appeared between 1958 and 1960.

One story trait that recurs in Truffaut's oeuvre is the good-natured way he places children at the center of his narratives. As Annette Insdorf notes, Truffaut's films "constitute a vision of childhood unequaled in the history of the cinema for sensitivity, humor, poignancy and respect for children themselves. With neither sentimentality nor condescension, Truffaut captures in "400 Blows" the need for freedom and tenderness, the spontaneity and the frustrations of being a child in a society made by and for adults."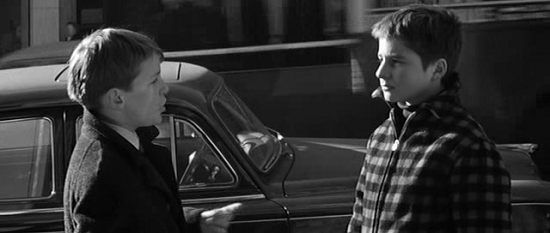 Antoine Doinel (Right) with his friend: Bunking from school
The 400 Blows is one of the most written about motion pictures in history; the freeze frame of Antoine's face is now as famous as the Odessa steps in Battleship Potemkin or the snow globe from Citizen Kane, and Antoine's ambivalent look to the camera now symbolizes a whole new sort of film practice. 400 Blows went on to win Truffaut the best director prize at Cannes in 1959.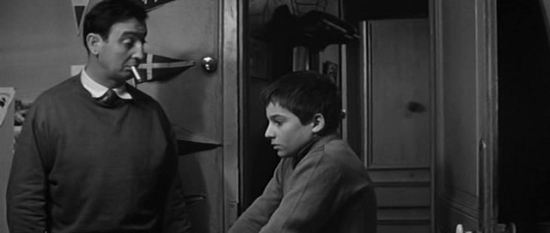 Antoine Doinel with his father
Francois Truffaut's "The 400 Blows" is one of the most intensely touching stories ever made about a young adolescent. The film tells the story of the 12-year-old Antoine Doinel who lives in a tiny flat with his mother and stepfather. They are poor and generally inattentive. A ruthlessly domineering teacher makes life at school more unbearable than at home. His only escape from the shackles of everyday life is to bunk off school with his one friend, go to the fairground, or visit the cinema. His problems deepen as frustration, desperation, and loneliness lead to his expulsion from school and subsequent running away from home. "The 400 Blows" is more than semi-autobiographical. Both Antoine and the young Truffaut were social outcasts - failures at school, who turned to delinquency, ran away from home, and ended up in custody.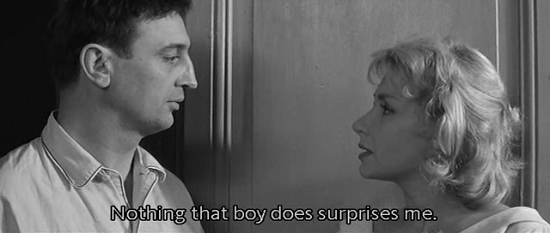 A chat between the Mother and the Father
Antoine Doinel was played by Jean-Pierre Leaud, who has a kind of solemn detachment, as if his heart had suffered obscure wounds long before the film began. This was the first in a long collaboration between actor and director; they returned to the character in the short film "Antoine and Collette" and three more features: "Stolen Kisses", "Bed and Board" and "Love on the Run".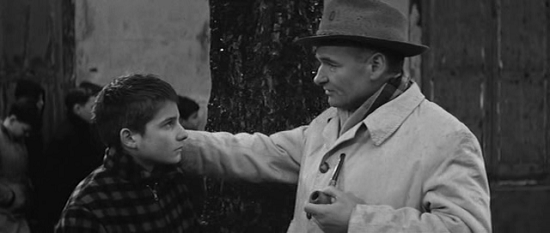 Telling the school teacher a lie that his mother died
Little is done in the film for pure effect. Everything adds to the impact of the final shot. We meet Antoine when he is in his early teens, and living with his mother and stepfather in a crowded walkup where they always seem to be squeezing out of each other's way. The mother is a blond who likes tight sweaters and is distracted by poverty, by her bothersome son, and by an affair with a man from work. The stepfather is a nice enough sort, easy-going, and treats the boy in a friendly fashion although he is not deeply attached to him. Both parents are away from home a lot, and neither has the patience to pay close attention to the boy: They judge him by appearances, and by the reports of others who misunderstand him.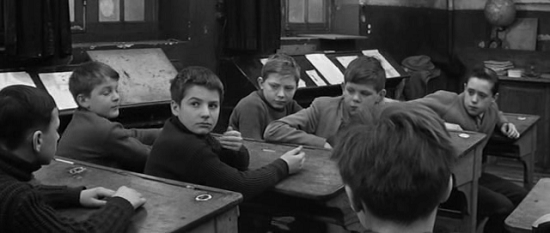 An anxious moment in class when Antoine's parents appear in the class
At school, Antoine has been typecast by his teacher as a troublemaker. His luck is not good. When a pinup calendar is being passed from hand to hand, his is the hand the teacher finds it in. Sent to stand in the corner, he makes faces for his classmates and writes a lampoon on the wall. The teacher orders him to decline his offending sentence, as punishment. His homework is interrupted. Rather than return to school without it, he skips. His excuse is that he was sick. After his next absence, he says his mother has died. When she turns up at his school, alive and furious, he is marked as a liar.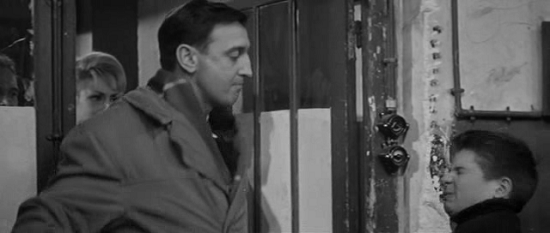 Father beating the son in classroom for telling lie that mother died
And yet we see him in the alcove that serves as his bedroom, deeply wrapped in the work of Balzac, whose chronicles of daily life helped to create France's idea of itself. He loves Balzac. He loves him so well, indeed, that when he's assigned to write an essay on an important event in his life, he describes "the death of my grandfather'' in a close paraphrase of Balzac, whose words have lodged in his memory. This is seen not as homage but as plagiarism, and leads to more trouble and eventually to a downward spiral: He and a friend steal a typewriter, he gets caught trying to return it and is sent to the juvenile detention home.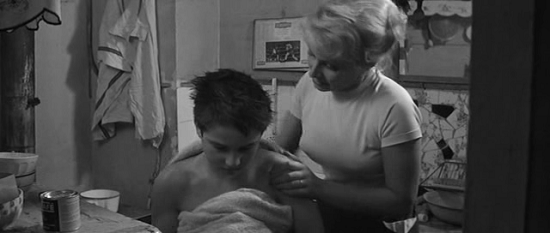 Mother trying to patch up with the son after the incident in school
The film's most poignant moments show him set adrift by his parents and left to the mercy of social services. His parents discuss him sadly with authorities as a lost cause. And so he is booked in a police station, placed in a holding cell and put in a police wagon with prostitutes and thieves, to be driven through the dark streets of Paris, his face peering out through the bars like a young Dickensian hero. He has a similar expression at other times in the film, which is shot in black and white in Paris in a chill season; Antoine always has the collar of his jacket turned up against the wind.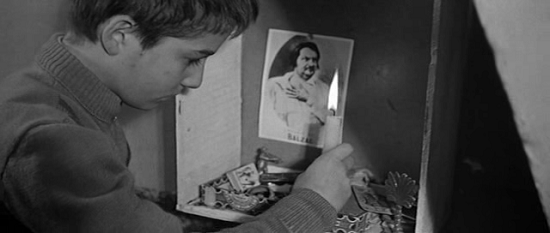 Lighting a lamp before his hero-Balzac
Truffaut's film is not a dirge or entirely a tragedy. There are moments of fun and joy. One priceless sequence, shot looking down from above the street, shows a physical education teacher leading the boys on a jog through Paris; two by two they peel off, until the teacher is at the head of a line of only two or three boys. The happiest moment in the film comes after one of Antoine's foolish mistakes. He lights a candle to Balzac, which sets the little cardboard shrine on fire. His parents put out the flames, but then for once their exasperation turns to forgiveness, and the whole family goes to the movies and laughs on the way home.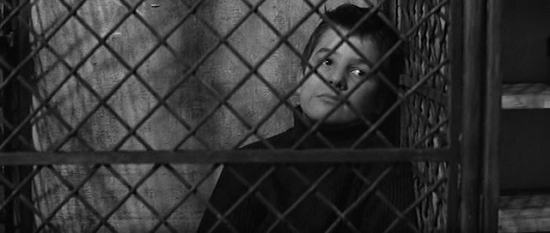 Ending up in jail for delinquent youths after stealing typewriter
The film's famous final shot, a zoom in to a freeze frame, shows Antoine looking directly into the camera. He has just run away from a house of detention, and is on the beach, caught between land and water, between past and future. It is the first time he has seen the sea.

400 Blows is a defining moment in the history of cinema and ushered a series of later masterpieces from European directors.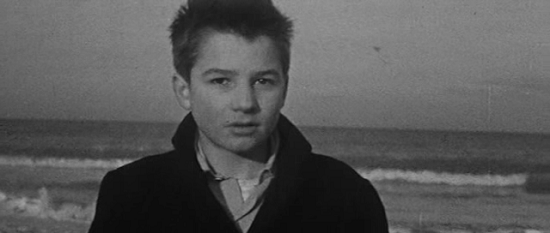 Final shot: A zoom into a freeze frame
A series of "Hundred Favorite Films Forever"