Director Jean-Pierre Jeanette /France/French/122 mts

One woman decides to change the world by changing the lives of the people she knows in this charming romantic comedy film directed by Jean-Pierre Jeanette. Amelie, the film is a whimsical depiction of contemporary Parisian life, set in Montmartre. It tells the story of a shy waitress, played by Audrey Tautou, who decides to change the lives of those around her for the better, while struggling with her own isolation.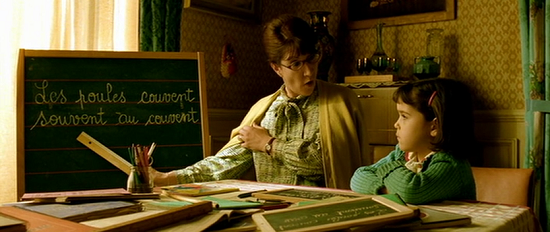 Amelie with her mother as a child
Amelie is a girl who learns to heal people from the inside. This particular healer is a daydreamer with an irresistible smile and charm to melt even the iciest of souls. The only-child of a tight-lipped, hard-hearted doctor father and a neurotic schoolteacher mother, Amelie Poulaine grew up being too much unloved, with a not too happy childhood. She becomes fairly comfortable in her solitude, but her life is shaken when her mother is inadvertently fatally crushed by a suicidal tourist leaping from the roof of Notre Dame. Her father becomes deeply depressed, and Amelie receives even less parental affection. In her late teens, she moves to her own apartment and takes a job as a café waitress at the Two Windmills café. In her free time, she immerses herself in an imaginative world of dreams, not forming close ties with people, being terribly shy.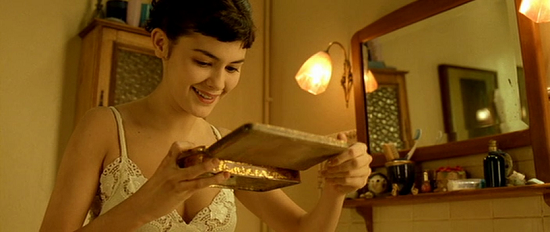 Amelie finds a small box behind a wall in her apartment
Amelie amuses herself with life's simple, everyday pleasures, since her romantic relationships were often disappointing. She takes interest in the lives of others, but does not get involved. On August 31, 1997, as she watches a news report of Princess Diana's death, Amelie finds a small box behind a wall in her apartment. It contains pictures and toys from decades before. Amelie decides to find the box's owner and is touched by the happy gesture of the owner and decides to dedicate her life to such acts of kindness. She now sets out to make everybody she encounters happy, in subtle and amusing ways. Amelie decides to encourage her father to travel for the first time. She steals his beloved garden gnome and gives it to her stewardess friend, who takes pictures of it in famous foreign locations at her flight stops. Amelie anonymously sends the pictures to her father and he feels elated.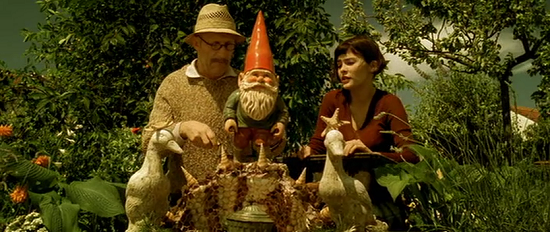 Amelie with her father and his garden gnome
Amelie steals Madame Wells's letters from her husband (written to her decades before) and cleverly creates a new letter in which he apologizes to his wife for his infidelity. After receiving the false letter, Madame Wells is overjoyed with the news that her husband loved her after all. There's Colignon the grocer, an obnoxious middle-aged man who delights himself in disparaging his assistant Lucien, who's slow-witted but nice and sensitive. Amelie feels sorry for Lucien and the scenes where she becomes his avenging angel at Colignon's expense are hilarious. At one point she tells Colignon, "You'll never be a vegetable. Even artichokes have hearts."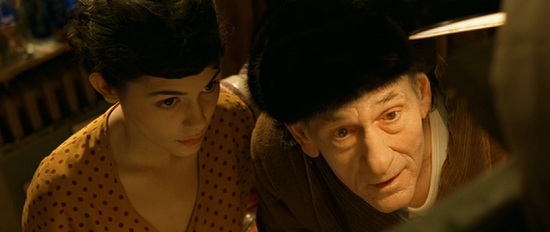 Amelie with the artist Raymond Dufayel
One day at the train station, Amelie encounters Nino Quincampoix (Matthieu Kassovitz), an eccentric young man whose hobby is reconstructing torn-up pictures found underneath photo booths. Nino drops one of his photo albums when chasing a mysterious man through the station, and Amelie looks through it. The man Nino was chasing appears in reconstructed photos throughout the album, and Nino was intent on discovering his identity. Amelie decides to return the album, but is interested in meeting Nino.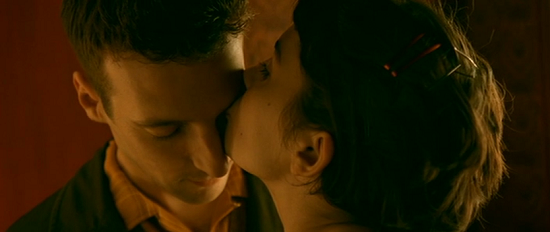 The final reunion with Nino
Amelie is also befriended by artist Raymond Dufayel, known as the Glass Man, because of a disease that has given him very brittle bones. Amelie visits regularly Dufayel, who has been recreating the same Renoir painting for 20 years. He reminds her that, despite her intentions to help others, she is neglecting her own pursuit for happiness. Amelie resolves to meet Nino and sets up a series of clues that appears like funny cat and mouse chase which would eventually bring them together.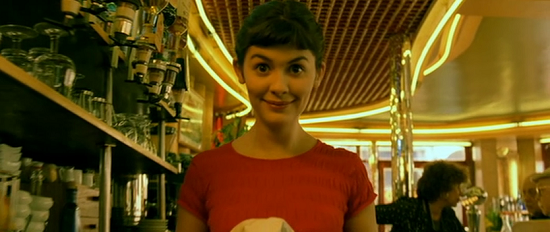 The playful radiant Amelie
Forget the plot; the real delight of Amelie is the army of oddballs that rotate around the gamine Miss Tautou. Hypochondriac tobacconists, tyrannical grocers, kindly strippers, failed writers; all human life is here thanks to Jean-Pierre Jeunet's stock company of character actors. With so many colorful eccentrics and unlikely subplots, it's perhaps inevitable that Amelie is episodic and fractured. But this is a small price to pay for a film guaranteed to put a smile on your face and a song in your heart.

Amelie is a beautifully endearing and amazingly original movie crafted in a unique style, a soul-refilling experience that restores your faith in life and people.
A series of "Hundred Favorite Films Forever"