Director: Krzysztof Kieslowski /Poland /Polish/(98/92/99) mts

The late Polish director Krzysztof Kieslowski cleverly "adapted" the three French ideals - liberty, equality, fraternity - into three thought-provoking modern-day dramas about people who cope with personal losses and tragedies in 'Color Trilogy'.

In BLUE, the first of the trilogy, a widow tries to set herself free (and gain liberty) from her emotional baggage. The second film, WHITE, is about a jilted man's outrageous plot to get even (thus, equality) with his ex-wife. The last film, RED, which is also Kieslowski's final film before he died in 1996, is about a lonely old man who is embittered by the memories of his youth and finds accidental companionship (fraternity) with a young model. All three films are understated in their tone, economical in their dialogs, elliptical in their editing and plotting , and haunting in their atmosphere.
Blue (1993, 98 mins.)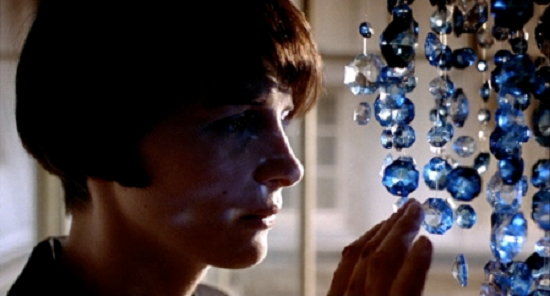 Juliette Binoche in Blue
Juliette Binoche plays a young woman whose husband and child are killed in a car crash. After a period of emotional paralysis, she telephones an old friend who has always been in love with her, and tells him his chance has come around at last. They have sex. She wants to see if it will help. It does not. She moves to an obscure street in an anonymous corner of Paris, determined to see no one she knows and make no new friends. But as chance would have it, she does meet someone: She meets her husband's mistress.
White (1994, 92 mins.)
The second part of Kieslowski's trilogy is also the wittiest of the three. Zbigniew Zamachowski stars as a Polish man whose life disintegrates when his new French bride (Julie Delpy) deserts him after only six months. Forced to begin anew, he returns to Poland and plans a clever scheme of revenge against her.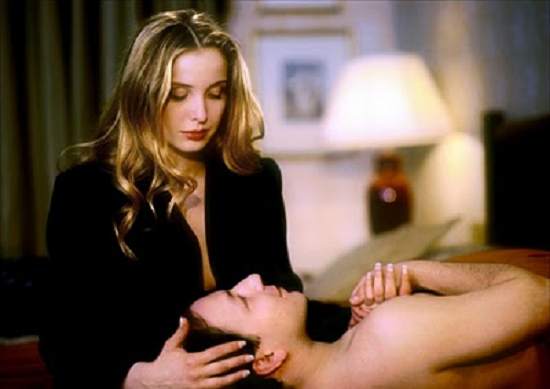 A scene from White
Red (1994, 99 mins.)
"Red" stars Irene Jacob as Valentine, a woman in Geneva whose car strikes a beautiful golden retriever. She nurses the dog back to health and returns it to its owner, a retired judge (Jean-Louis Trintignant), who tells her she can keep it. He is beyond worrying about dogs. He occupies his days intercepting the telephone calls of his neighbors, and he watches them through his windows almost like God--actually, just like God--curious, since they have free will, what they will do next. After a lifetime of passing verdicts, he wants to be a detached observer.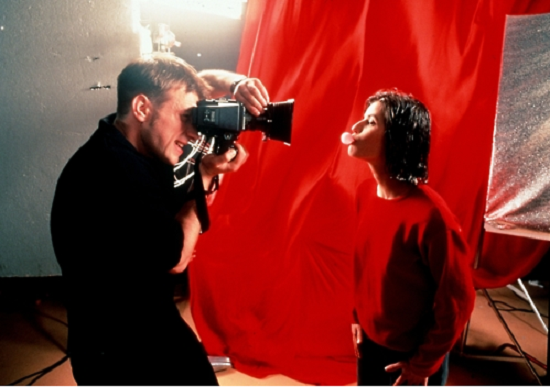 A scene from Red
As a young man this judge was once in love, lost that love, and has lived on hold ever since. He all but caresses his emotional wounds. Although at first he rudely turns Valentine away, slowly he begins to tell her his story. There is a moment in "Red" where Valentine leans forward to listen with such attention and sympathy that she seems at prayer. Only gradually do we learn that the story of the judge and his lost love reveals parallels with the story of Valentine and her lover who is always absent, and with the life of a young law student who lives across from her apartment in the city--a student she has never met.

On another timeline, in a parallel universe, the judge and Valentine might have themselves fallen in love. They missed being the same age by only 40 years or so.

The three films are also linked in various ways. All three films involve an unfaithful lover who dies, in one way or another. All three films involve a chance encounter between the distressed protagonist and a sympathetic observer - the widow and the mistress in BLUE, Karol and Mikolaj in WHITE, the retired judge and the model in RED. Both BLUE and WHITE are about people who move to new surroundings to escape from his or her troubled pasts. And RED, ironically, is about someone who never leaves his home in order to wallow in his self-pity.

'I have said all I need to say on film,' remarked Kieslowski after completing the trilogy. 'Red is my summation.' Having said that, in my opinion, Blue remains the most intimate and poetic of the three and Red the most complex and densely woven, reverberating with doubles and disconnected relationships that dance around one another throughout the film until the final scene of Red, a coda that pulls all three films together in an unforgettable scene of emotional power and beauty.
A series of "Hundred Favorite Films Forever"