Lesotho is a small land locked nation nestled entirely by the surrounding South Africa. This is the home of the Basotho people. The country came into being when the Basotho were forced to flee from two advancing groups ' the Zulus and the Boers. They took refuge in the Drakensberg and Maluti mountains, and under the "protection" of the British remained independent of South Africa.

Lesotho is incredibly beautiful and its vast highland plains are spectacular places for tourists. Broad and treeless, they offer stunning views of the mountains looming over shimmering gold grasslands. The proud, distinct, and traditional Basotho people are welcoming, friendly and generous.

Sadly, this is also one of the most impoverished countries in Africa because of a debilitating cycle of environmental and social problems. There is no rain between April and September and when the rains do come, the water just runs straight off the mountain side.

Lesotho sits on a plateau mostly above 1,800 meters altitude. For many years, the weather in Lesotho has been unpredictable. This little kingdom has bleak backdrop for agriculture. Its craggy landscape is obviously fragile: the soils are infertile and thin, a shallow covering over steep slopes; the temperature rebounds between intense heat and fierce cold - from 40 to -15 degrees Celsius; it has to cope with hail, snow and frost; water is available in only two volumes, almost none during the long droughts, or far too much during devastating downpours. Once the surface of the ground is broken, the soil is washed away. The country suffers some of the worst soil erosion in the world. Erosion has created countless miniature canyons that split the plains everywhere. The already thin mountain soils have lost virtually all their productive nutrients. In many respects, Lesotho is a microcosm of the problems facing so many parts of the developing world.

More than 45 percent of Lesotho's population are now unemployed, so when crops fail or food prices rise, families are hard pressed to buy enough food for their daily needs. The most important opportunity for Basotho men was to work in the gold and diamond mines of South Africa. Many thousands of them did. Layoffs at the mines cut the cash inputs necessary for farming in Lesotho. And then came AIDS. Migrant labor returning from South Africa proved a perfect transmission route for HIV, and Lesotho now has possibly the highest infection rate in the world with almost one-third of the population living with the virus. Many of its able-bodied workers have either died or been crippled by disease. Life expectancy here has plummeted to 35 years, and for most, life is hard; subsistence farming on a background of drought is the challenge for the majority of people in Lesotho. At least 200,000 Lesothans annually are without enough food to eat.

As an answer to the soil and social problems, Send a Cow, a Christian charity organization came up with a sustainable farming technique, so that the destitute and diseased farmers could use their land to work their way out of poverty. This farming technique is called 'Keyhole garden'.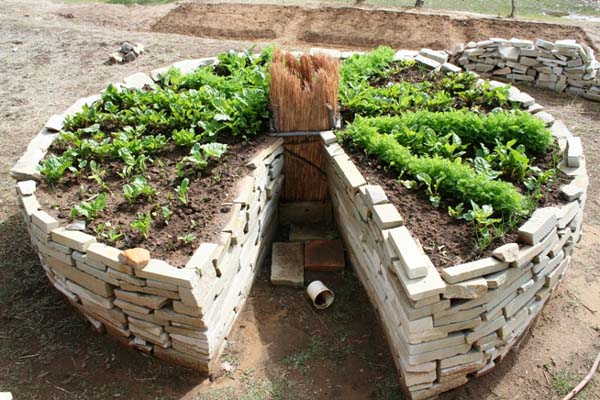 Keyhole Gardens are 'stacked up' vegetable beds with an inner column of compost. 'Keyhole gardens' are so called because, from the top, each one looks like a keyhole. It looks like a circular cairn of big stones or bricks and is shaped like a cake at top. It is about four feet high (Waist level) and eight feet in diameter, with a slice of the cake cut out like a wedge to provide access for the sick and elderly to work. It is constructed of alternating layers of suitable soil, manure from pigs and livestock. At the bottom, layers of tin cans or pieces of and scrap metal are laid to provide iron, ash is spread to give potassium and then straw mats are laid to retain moisture. These materials are supported by an outer layer of stone and have at the center, a column of alternating layers of manure and ash held within a porous straw basket which leaches out nutrient to make the gardens extraordinarily productive. This straw centre is important as it is through this domestic waste water is fed for irrigation. Seeds are planted once the bed is ready. Because they are protected by Stones and waste rubble from brick building, the rich soils are safe from erosion. Farmers are also taught to harvest rainfall from roofs with ferro cement water tanks.

"The Keyhole garden is ideal for the elderly or sick AIDS victims who often depend on it as their primary source for survival . Because the height of the garden is at waist level, people who don't possess the strength to bend down and cultivate can adopt it easily", says Lyle Kew of CARE. What makes it particularly fascinating is that it is cheap ' recycled products are used ' and easy to maintain.

Insecticide is also home-made, from garlic and cooking oil. During a drought, it can be covered with plastic bags and the compost holds enough moisture for the vegetables to survive. It will grow vegetables efficiently in a baking landscape of bare rock and a person unwell with HIV would still be able to tend to the garden.

Despite their small size, the gardens are highly productive: they can yield substantial amounts of nutritious vegetables, year round and regardless of rainfall patterns. Their ease of use and immune boosting nutritional value of vegetables grown make them apt for AIDS Victims. Vegetables usually planted are spinach, pumpkins, rape, legumes, onion, beetroot, apricot and carrots. Keyhole gardens can retain moisture far more effectively than land farmed by traditional farming methods, and they are compact enough to turn the tiniest plot of land into productive agriculture.

Once built, keyhole gardens need very little labor and are easy to irrigate. It is small, simple and simply reliable.
These gardens in the sky won't solve all the problems of the country, but it will help to break the cycle of hunger. The whole idea of creating a simple garden in hilly, windy and dry climates is so uncomplicated, so effective, so enterprising and empowering that it can even provide tangible solutions to some climate change problems as well. Necessity can indeed be the mother of invention. Such innovative ideas in farming are valuable weapons in the fight against food insecurity in Lesotho and elsewhere. Anyone anywhere can do it. It demonstrates eloquently how communities can work together to change lives of people for the better.

Keyhole garden is indeed an expression of human faith, the testimony of a humbling experience and an embodiment of the flaming hope of a feeble nation. It is an assertion that any spot of ground, however arid, bare or dreadful, can be tamed into fields of fertility,