Journey to Japan -1
Stand smiling before others;
Stand austere before yourself.
Stand brave in distress,
Cheerful in everyday life.
When they applaud you: stand indifferent;
When they hiss you: immovable.
– (A Samurai Quote-Katsu Kaisu)
Ever since my acquaintance with Japan through the novels of Yasunari Kawabata and Natsumi Soseki and the movies of Kurosawa and Ozu , the country had evoked a mysterious charm and allure in my mind. I have long been yearning to explore this land of giggling geishas and gardens filled with cherry blossom trees. My dream materialized this year when I embarked on a journey in April as chasing Sakura in Tokyo and Kyoto was one of my missions. I reached Tokyo on March 31st and began my 17 days tour that has blessed me with a lifetime memories of Japan and its unpretentious folks.

There are no people in this world more polite, more sweet in social etiquettes, noble and restraint in their manners, patient and imperturbable in the face of all storms than Japanese. Natural politeness seems to be a stylized tradition here. One never gets tired of watching them bowing to each other: they bow deeply, their faces acquire a sort of religious solemnity and reverence in that act. What comes from the heart goes to the heart. This is unlike the pointless pleasantries and plastic smiles you encounter in North America or UK. This politeness of Japanese is like a velvet cushion that makes the jostling of a traveler as soft as possible.

For a Japanese, his heart is not his heart. His heart is the heart of his race. The Shinto religion, the ancient religion of Japan, teach each one to perform his duties to ancestors and perform his duties to his very best to honor his race. They do not shout, they are never angry. Everything is accepted with grace, finesse and stoicism. Everything is smoothened with a smile. The subdued smile of Japanese may be a mask; however this mask makes life more cheerful and gives dignity and grace to human relations. It teaches you to discipline and restrain yourself, to keep all your pain to yourself and not to trouble others with your woes. And thus slowly, the mask becomes the face, like form changes into substance.

The most curious thing I watched as landed in Tokyo was the hurried-yet-unhurried flow of people in stations and streets. Surprisingly, many wore masks triggering a fear that the city was under some virus attack. My niece Anjali Ajay, a research engineer with Hitachi Corporation, allayed my fear and informed that many people wear masks during sakura season due to pollen allergy from cherry blossom, the emblematic flower of japan.

My journey covered many important tourist destinations in Japan that included Mt Fuji, Kanazawa, Kyoto, Nara, Koyasan, Himeji and Hiroshima. This travelogue is therefore divided into four parts and will cover temples, monuments, museums and gardens that I visited in Japan. In this part, I intend to cover Tokyo and Mt. Fuji and at the end of it I have given some useful tips/recommendations for those who aim to visit this great nation.

Shinjuku Gyoen National Garden

In Japan, cherry blossoms symbolize the transience of life, which is a major theme in Buddhism. The cherry-blossom tree is known for its short (the season lasts just 15 days) but brilliant blooming season, a natural process that metaphorically describes human life.

Garlanded by Cherry blossoms: With my niece
This garden is an oasis in the midst of the bustling city. It is like the Central Park of New York, though much superior in its serenity. This is the prime spot in Tokyo to witness the Sakura spectacle. It is heavily crowded during spring and one can see many Japanese families holding Hanami parties under the Cherry blossom tree. Hanami is the Japanese traditional custom of sitting under the tree and enjoying the transient beauty of flowers ("hana") with drinks, food and music. The whole place erupts with so much riotous pink and white that the garden offers a 360-degree view of cherry blossom trees during the season. The park is very well laid out with lots of variety of trees, plants, ponds and has excellent landscaping.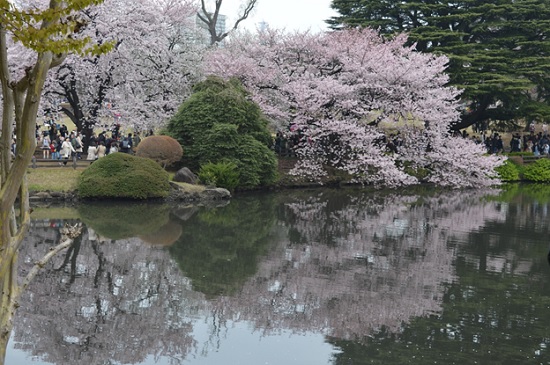 Shinjuku Gyoen originated during the Edo Period (1603-1867) as a feudal lord's Tokyo residence. Later it was converted into a botanical garden before being transferred to the Imperial Family in 1903 who used it for recreation and the entertainment of guests. The park was almost completely destroyed during World War II, but was eventually rebuilt and reopened in 1949 as a public park.

One chief attraction is a traditional Japanese landscape garden featuring large ponds dotted with islands and bridges. Well-manicured shrubs and trees surround the water together with several pavilions including the Taiwan Pavilion which was built on the occasion of the wedding of the Showa Emperor.
Chidorigafuchi Park
This beautiful garden located a few steps away from Indian Embassy in Japan is perhaps the second most beautiful site to witness the splendor of Sakura in Tokyo. Chidorigafuchi is a moat located in the northwest of the Imperial Palace, and it is said the name comes from the moat's shape, which resembles plovers (chidori in Japanese). The moat is a historic site, and was constructed in the early Edo Period according to the expansion work of the castle, and nearly a Kilometer long of its pedestrian path are covered with hundreds of cherry blossom trees. The trees are lit up at night during the sakura season, and the gorgeous canopy of cherry blossoms leaning into the moat on either side offer a magical and romantic setting to appreciate the beauty of these blossoms. Views from many spots seem like impressionistic paintings of Claude Monet.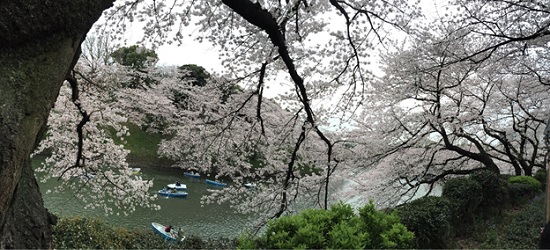 Chidorigafuchi moat
Yasukuni Shrine

Yasukuni Shrine is a Shinto shrine adjacent to Chidorigafuchi garden and is probably the only place in the world where those who fought and died in various wars of Japan are enshrined and given divine status. The spirits of about 2.5 million people, who died for Japan in the conflicts accompanying the Meiji Restoration, in the Satsuma Rebellion, the First Sino-Japanese War, the Russo-Japanese War, the First World War, the Manchurian Incident, the Second Sino-Japanese War and the Pacific War, are enshrined at Yasukuni Shrine in form of written records, which note name, origin and date and place of death of everyone enshrined. This includes 14 high-ranking war criminals also (reason for Korean and Chinese protests) and hence the temple has been frequently controversial.

Interestingly, I was surprised to see the name of an Indian Judge who has been given a special status here. The Indian judge Radha Binod Pal, He was the only South Asian person appointed to the International Military Tribunal for the Far East's trials of Japanese war crimes committed during the Second World War. Among all the judges of the tribunal, he was the only one who submitted a judgment which insisted all defendants were not guilty, thus exonerating Japan.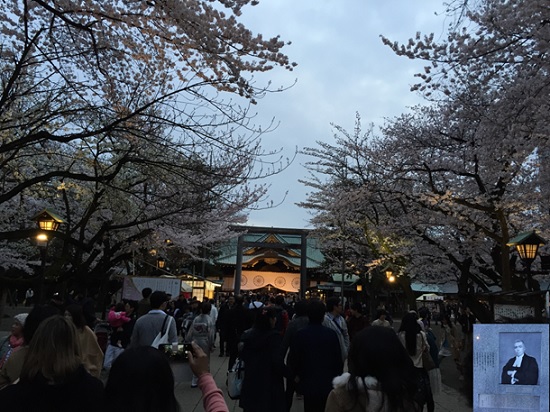 Entrance to Yasukuni Shrine with the memorial of Radha Binod Pal in the inset
Sensoji (Asakusa) Temple

Founded in 628, Sensoji Temple is the oldest temple in Tokyo. Many people believe that the Asakusa Kannon deity enshrined here has the ability to bestow benefits on earth. According to popular lore, two brothers fishing in the nearby Sumida River netted the catch of their lives -- a tiny golden statue of Kannon, the Buddhist goddess of mercy and happiness who is empowered with the ability to release humans from all suffering. Sensoji Temple was erected in her honor, and although the statue is housed here, it's never shown to the public. Still, through the centuries, worshippers have flocked here seeking favors of Kannon; and when Sensoji Temple burned down during a 1945 bombing raid, the present structure was rebuilt with donations by the Japanese people.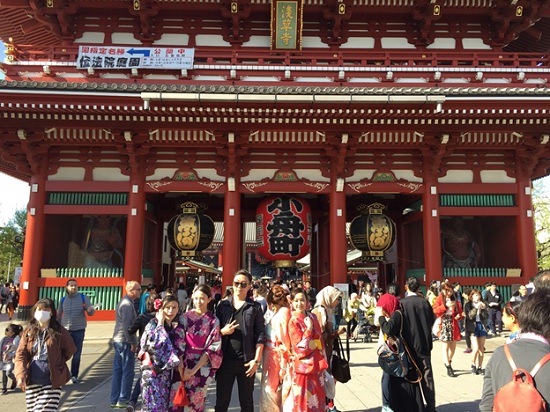 Entrance to Sensoji temple
Sensoji temple was the epicenter for the development of Edo culture, and these traces still remain today. Entrance to the temple complex is via the fantastic, red Kaminari-mon (Thunder Gate) where huge red lanterns are hung. One cannot escape noticing the two wooden laughing beasts as you walk through the gate and they are the temple protectors - Fujin (the god of wind) and Raijin (the god of thunder). The street that usher in the visitors to the temple bears a carnival atmosphere with beautiful Kimono-clad ladies and street vendors selling curios, Japanese sweets, sandals and fans. Here everything from tourist trinkets to genuine Edo-style crafts is sold. I found this shopping street quite genuine and reasonable to shop for mementos.

Tokyo National Museum

If you have time to visit only one museum in Tokyo, this must be the one. This colossal museum, thematically spread out in six buildings, chronicles the history of Japan from as early as 15000 BC. The museum holds over 110,000 objects and has the largest collection of Japanese art and antiquities in the world, including over hundred National Treasure holdings and more than 600 Important Cultural Property holdings (they are clearly marked on each artifact), thus making it the single best place to see sculptures, lacquerware, metalwork, pottery, old kimono, samurai armour, swords, scrolls, screens, ukiyo-e (woodblock prints), calligraphy, ceramics, and more. No one should miss the Honkan (Japanese Gallery) as I found it the most stunning among all the sections. Other galleries display Japanese archeological finds, art from other Asian countries, priceless treasures from Nara, and special exhibitions.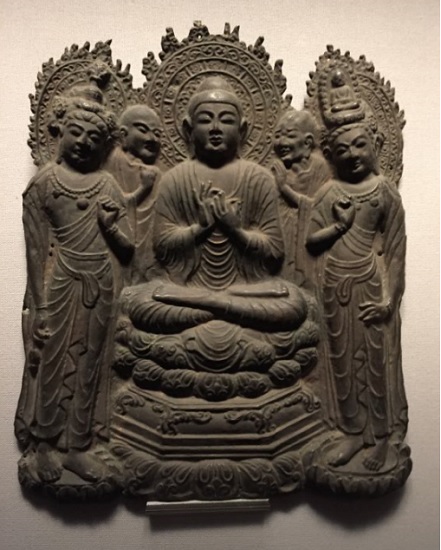 Amitabha triad with priests : Horyuji treasures- 7th CE AD
The Heiseikan Gallery was a revelation to me as it holds amazing artifacts dating back to 30,000 BC Archaeological relics of ancient Japan, including pottery and clay burial figurines of the Jomon Period (10,000 BC.–1000 b)and ornamental, keyhole-shaped tombs from the Yayoi Period (400 BC–200 AD) are fascinating. The creativity displayed in clay figurines found in burial mounts is astonishing and one can spend hours there appreciating its beauty.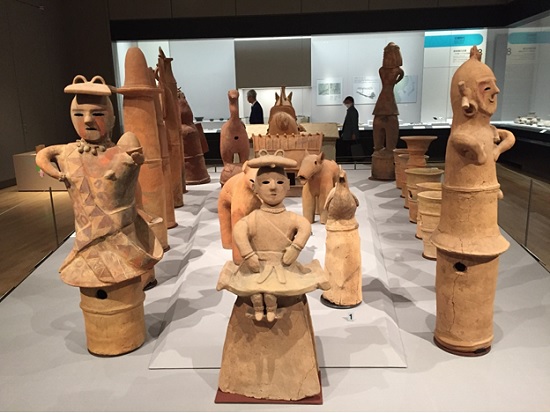 Burial Mounds pottery: 4th CE AD
I also highly recommend a tour of the Gallery of Horyuji Treasures (Horyuji Homotsukan), which displays priceless Buddhist treasures, including the intricate banner of Kanjo ceremony in gold-plated bronze, from the Horyuji Temple in Nara, founded by Prince Shotoku in 607 AD. Since I had completed my trip to Nara before visiting the museum, I could appreciate the stunning sculptures there. The Asian Gallery (Toyokan) is the place to go for art and archeological artifacts from surrounding Asian regions, including China, Korea, Southeast and Central Asia, India (many statues from Gandhara period) , and Egypt. Chinese art—from jade and paintings to calligraphy, and ceramics—makes up the largest part of the collection, a reflection of China's tremendous influence on Japanese art, architecture, and religion through the ages. There are also stone reliefs from Cambodia, embroidered wall hangings and cloth from India, Iranian and Turkish carpets, Thai and Vietnamese ceramics, and Egyptian relics, including a mummy dating from around 751 to 656 BC and wooden objects from around 2000 BC.

Edo Tokyo Museum

Edo-Tokyo Museum is an expansive museum that throws into the history of Tokyo in a very interactive, stimulating and elaborate way. The museum is divided into the Edo period (1603 to 1868) and Tokyo period (post 1868). The artifacts, particularly for the Edo period are captivating. The attention to details is also remarkable. There are numerous intricately constructed and minutely finished scale models, reconstructed historical buildings that can be walked through and miniatures of real buildings, reproductions of old maps and ukiyo-e (woodblock prints) are on display.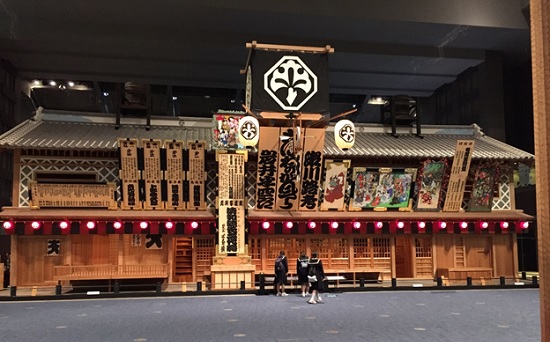 Kabuki Theatre Model displayed in Edo Tokyo Museum
This history museum does an excellent job laying out Tokyo's miraculous transformation from feudal city to modern capital, the history, art, culture, architecture, and disasters of Tokyo from its founding in 1590—when the first shogun, Tokugawa Ieyasu, chose it as the seat of his government—to the 1964 Tokyo Olympics.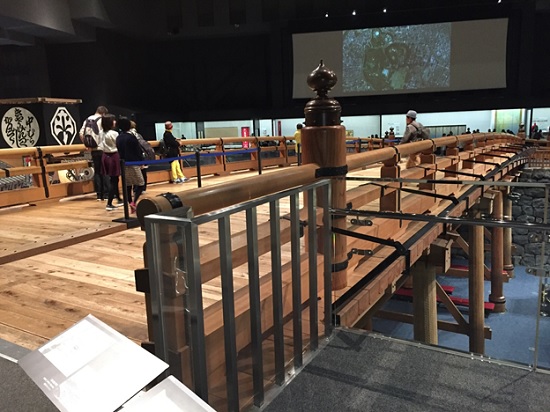 Huge Model of Nihombashi Bridge in the museum
Displays begin on the sixth floor, where you'll start your journey through the centuries with a walk over a replica Nihombashi Bridge, once the starting point for all roads leading out of Edo (old Tokyo). Displays of the Edo Period (1603–1868) center on the lives of the shogun, merchants, craftsmen, and townspeople, and an amazing replica of Kabuki Theater, models of Edo and a feudal lord's mansion, maps, photographs, portable festival floats, and a life-size replica row-house tenement, where most of Edo's commoners lived. Other displays relay the events of the Meiji Restoration and Japan's opening to the rest of the world, the Great Kanto Earthquake of 1923 that killed more than 100,000 people, and the bombing raids of World War II that destroyed much of the city.
Meiji Shrine
Unlike Sensoji temple, this temple nestled in the midst of a sprawling forest (like visiting Sabarimala in Kerala) is Tokyo's grandest Shinto shrine , inaugurated in 1920 in honor of Emperor and Empress Meiji, who were instrumental in opening Japan to the outside world. The shrine, however, was destroyed in WWII air raids and rebuilt in 1958.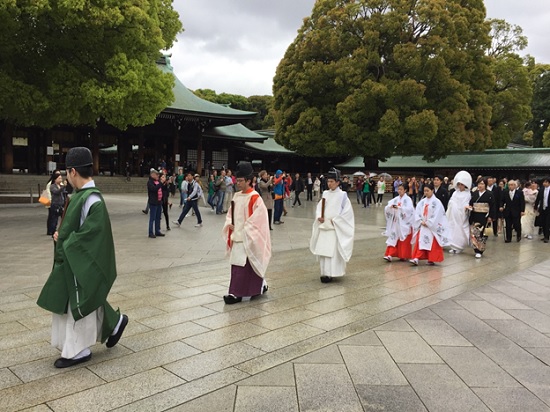 A marriage scene at Meiji Shrine
The towering torii (the traditional entry gate of a shrine), built of cypress more than 1,700 years old, imparts dramatic entrance to the shrine. The shaded pathway lined with trees, shrubs, and dense woods gives it an authentic feel oozing in tranquility.

The shrine seems to be a popular destination for marriage as I witnessed two marriage ceremonies in the short span of time I spent there.

Shibuya Crossing

Shibuya Located on the southwestern edge of the Yamanote Line loop, Shibuya serves as an important commuter hub. It caters to bustling throngs of students and young office workers with its many shops and thriving nightlife, including more than a dozen department stores specializing in everything from designer clothing to housewares. Rumored to be the world's busiest, this intersection, known as Shibuya crossing, in front of Shibuya Station is famously known as 'The Scramble'. It's an awesome spectacle of giant video screens and neon, guaranteed to give you a 'Wow – I'm in Tokyo!' feeling. People cross the intersection from all directions at once – sometimes over a thousand with every light change – yet still manage to dodge each other with a practiced, nonchalant agility.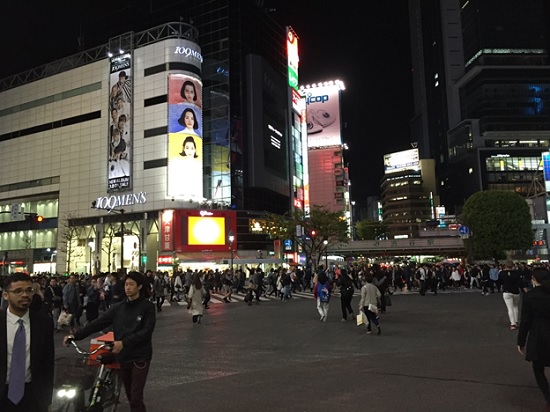 Shibuya crossing at night: At the start of signal crossing
Mount Fuji

No visit to Japan has spiritual significance without a visit to Mt. Fuji or Fujisan as Japanese exclaim on its sight. Mt. Fuji has been the single most inspiring natural wonder for poets, painters, and pilgrims for centuries. The sight of Mount Fuji, an active volcano, which most recently erupted in 1708, is stunningly impressive. At 3,766m (12,355 ft.), it's the tallest mountain in Japan, towering far above anything else around it -- a cone of almost perfectly symmetrical proportions. It is majestic, grand, and awe-inspiring. To the Japanese it symbolizes the very spirit of their country. The heart of Japan is not, as Japanese song says, the cherry blossom; the heart of Japan is Fuji: an indomitable fire, covered, in a disciplined way, with untrodden snows.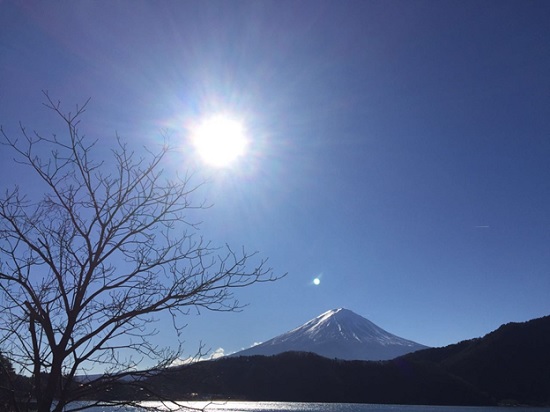 View of Mt. Fuji from the lake: Photo Courtesy Anjali Ajay
I reached Mt. Fuji taking the train to Kawaguchiko and stayed in Mt. Fuji Hote, perhaps the best hotel to view Mt. Fuji. However, the most stunning view of the mountain I had was from the window of the train when I heard the Japanese shouting 'Fujisan! Fujisan!'. I turned my head and saw sky-high, pure white, snow-clad from the foot to the summit, disciplined even in the simplest curves, full of grace and gaiety, serene and silent, the holy mountain of Japan silhouetted on the sapphire sky.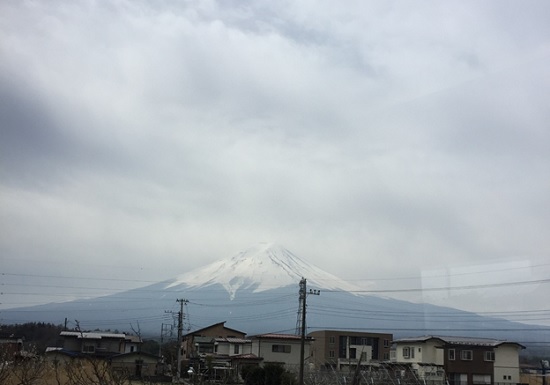 A view of Fujisan from the train
Note that Mount Fuji is a notoriously shy mountain and choose to camouflage itself in clouds. Poor visibility often hinder visibility, and you have to consider yourself lucky if you get a clear view of the mountain. The hotel people informed me that visibility is at its best during the cold season such as in January.

The Fuji five lakes are located in an arc around the northern half of Mount Fuji and the surrounding areas offer many scenic spots. In ancient times, lava flow from a volcanic eruption of Mount Fuji spread across the area, damming up rivers and resulting in the formation of these lakes.

Shiraito Falls

This beautiful soft waterfall is quite different from anything I have seen. It is a stitched series of weeping falls through the dense foliage of birch trees and moss It resembles a giant curtain of fine silk threads—hence the name, Shiraito, which translates as "White Thread Falls.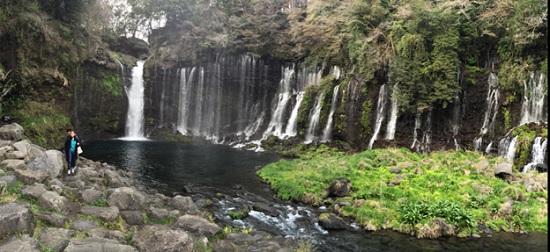 The weeping Shiraito Falls
Otodome Falls

This is very near to Shiraito Falls .If one can categorize Shiraito Falls as the female falls, Otodome is the male one that falls sharply and heavily down a sheer cliff. The name "Sound Stopping Waterfall" comes from an episode in the Soga Monogatari story of the Kamakura period. When the Soga brothers accompanied Minamoto Yoritomo on a hunting expedition to the base of Mount Fuji, they plotted to assassinate one of Yoritomo's retainers, Kudo Tsuketsune, who was the murderer of their father. In order to avoid being overheard, they planned their strategy by the roaring waters of this waterfall.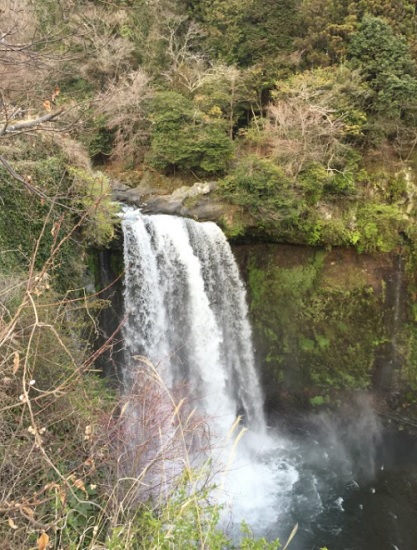 Otodome Falls
Fuji Safari Park

Fuji safari Park at the foot of Mount Fuji is one of only six full-scale zoological parks you can enjoy visiting all year round. Open in 1980, it includes a vast Safari Zone where many animals live in controlled freedom. They can be observed from your own car, as we did, or from cage-like safari bus. It has different zones for bears, lions, tigers, cheetahs, elephants, and many other animals from rhinos to flamingoes. It is worth visiting as the trip offers a fantastic opportunity to photograph animals at close quarters. Children would enjoy it better than a Zoo.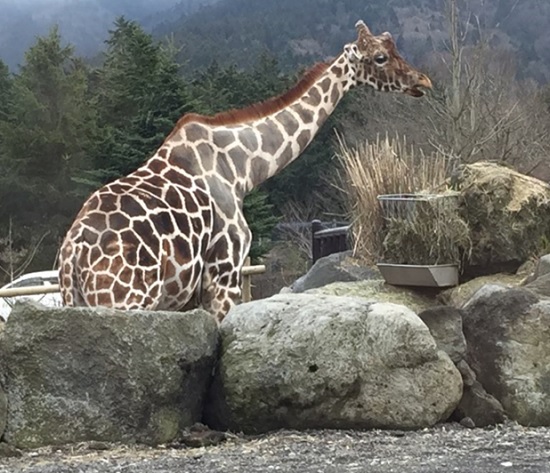 A resting Giraffe in Fuji Safari Park
Tips for visiting Japan

Japan is a safe country for all. I hardly encountered any street fight or wayward behavior anywhere in my entire tour. People are willing to help and guide you everywhere regardless of the lack of fluency in English.

One thing you will explicitly notice upon arrival is the lack of garbage bins on streets. They are there but only in very selected locations. You won't find it even near vending machines. Startlingly, the streets are very clean and there's no garbage on the street; everyone just carries their trash with them.

Japan's rail system can be quite complicated. Different lines are run by different companies. Generally, the intercity lines are split into two groups – JR (Japan Rail) lines and the other lines, generally a subway system. One can buy a subway pass to move within the city and they are acceptable in buses also. Alternatively, you can pay with coins at the counter near bus driver. Changes are delivered by coin machines located there. City buses charge around 240 yen per trip (about 2 dollars).

Bullet train (Shinkansen. Speed 280-300 KM/hr) travel is something not to be missed in Japan. Each compartment is provided with superb toilet facility that rivals airlines and a nice smoking room. All those who travel to Japan are advised to buy JR Rail Pass exclusively offered to foreigners. Important: the pass must be bought (Order through JR website) outside of Japan before the trip. You can't get it once you arrive there. I paid 400 dollars for a two-week economy pass and these passes are acceptable on bullet trains and all JR operated trains and buses. I seriously advise travelers to note of this , lest you pay through your nose for Shinkansen (Bullet train) travels. One long trip itself can cost 100-150 dollars.

It's considered rude to speak on your mobile phone while on trains and buses, and announcements encourage travelers to switch phones to silent mode. People also tend not to speak loudly when traveling on public transport, so as not to disturb fellow passengers. A big caution for loudspeaker-throated folks like me.

Credit cards are generally accepted in Hotels. Japan tends to be slightly a cash society as many restaurants don't accept credit cards though supermarkets do. Carry enough yens with you. A decent meals with a glass of wine costs around 1600 to 2000 Yen depending on where you eat. Very good Indian restaurants are there in Tokyo (Dhaba India), Kyoto (Ajanta Restaurant) and Hiroshima. Now here is the great news -No tips are required anywhere, be it hotels, restaurants or salons. It is not a custom at all. When I ventured once, a Japanese customer who was sitting near me stood up , took the tip money, and gave it back to me saying a strong NO on tips.

The bad news is that Mobile services in Japan are not up to the mark. It is not that easy and economical to get a mobile service during your stay. So your solace is mainly the hotel Wi-Fi. Luckily many historical sites and some parks have free connectivity.

Do remove your shoes when you enter matted or carpeted premises in temples and shrines.

Bow generously every time you meet and depart from someone and remember to say 'Domo Arigato' (Thank you) a million times every day! Learning a few basic words and phrases in Japanese will go a long way to impress the people you encounter. Sumimasen (excuse me), Gomenasi ('sorry'), Hajimemashite (Nice to meet you), Konnichiva (Good day) and wakarimasen ('I don't understand') are all very handy for starters.

I strongly recommend to stay in a Japanese Inn (Ryokan) at least one time and experience the stay including Onsen (hot spring bath pools). Bathhouses are common in the basement floor of star hotels also. I have never seen people wash themselves so thoroughly as the Japanese, from their ears to their toes. All such bathhouses provide shampoo and body soap and you must wash thoroughly and enter the bath naked. Separate baths are available for men and women.