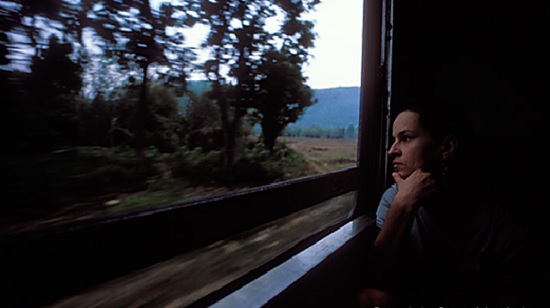 Born in Oslo, March 08, 1907, Rolf Jacobsen is considered the father of modern Norwegian poetry. Jacobsen's poems record the extraordinary changes that take place as we move from an agrarian to an industrial society. Garnering the highest praise of critics, Jacobsen won many of Norway's and Sweden's most prestigious literary awards, including the Swedish Academy's Dobloug Prize and the Grand Nordic Prize, also known as the "Little Nobel." But he also has earned a wide popular audience, because ordinary readers can understand and enjoy the way he explores the complex counterpoint of nature and technology, progress and self-destruction, daily life and cosmic wonder. "North in the World" is an outstanding collection of his poetry brilliantly translated by the American poet Roger Greenwald . The below poem is drawn from this book.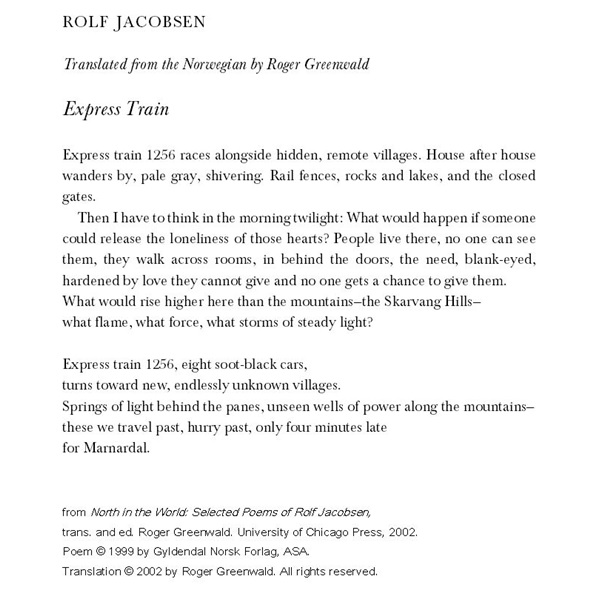 Rolf Jacobsen interweaves the natural and the technological with a dark tone in this wonderful poem. Very often, the train is presented as the site of observation by a person who travels. Beyond, outside the window, there are towns, cities, and in this case a Norwegian landscape of villages, provoking a philosophical reflection on the life of their inhabitants, life deprived of love, unfulfilled, with an enormous potential that waits for liberation. This is a thought that must have crossed the minds of many of us when we have seen rows of lit houses in the distance fleeing past us at express speed as dusk descends. Those are lives in motion that pulsate with untold stories of humanity. Yet, our thoughts focus on our destination and times of arrival.

This is a poignant poem that captures a fleeting vision and transforms it into an enduring meditation on our numbness, loneliness and isolation.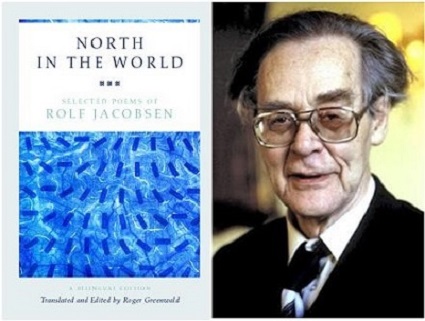 Ref: North in the World: Selected Poems of Rolf Jacobsen - A Bilingual Edition. Translated and edited by Roger Greenwald. University of Chicago Press, 2002. ISBN 0-226-39035-7. Winner of the Lewis Galantière Award from the American Translators Association.