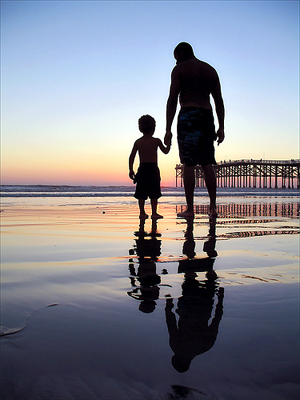 We have heard this silly question bombarded on us in our childhood by all the folks and relatives we encounter - 'Who do you love more, your father or mother?' Till this day, I have no hesitation to admit that I loved my father a bit more. This is not due to the specific fact that my mother had to board the boat of Charon when I was eighteen. When she was alive, she was overly concerned and protective about me and worried whether I would become a spoilt kid. My father, on the other hand, had a broader understanding of the destiny of his progeny and always supported my natural growth and my habit of do and learn in both good and bad. This instilled courage, confidence and optimism in me. A father is one who stands beside you and pulls you up in your ascent and descent.

I am fascinated to note that my paternal affinity has its extension to many male folks in my family tree. I loved my grandfather and till today I share deep kinship with all my uncles including my granduncle.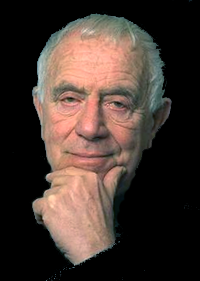 Quite recently, I was reading a collected poetry of Yehuda Amichai, the greatest Israeli poet of last century. He died of cancer in 2000, at 76. He was worthy of winning the Nobel Prize for Literature. But being a Jew, as far as the Scandinavian Judges were concerned, he came from the wrong side of the stockade.

Amichai had brimming admiration and veneration for his father.

I am posting below two amazingly beautiful and touching poems of Amichai that pay tributes to paternity.
A Letter of Recommendation

On summer nights I sleep naked
In Jerusalem on my bed
which stands on the brink
of a deep valley
without rolling down into it

During the day I walk about,
the Ten Commandments on my lips
like an old song someone is humming to himself

O touch me, touch me, you good woman!
This is not a scar you feel under my skirt
It is a letter of recommendation, folded,
from my father:
"He is still a good boy and full of love"

I remember my father waking me up
for early prayers. He did it caressing
my forehead, not tearing the blanket away
Since then I love him even more

And because of this
let him be woken up
gently and with love
On the Day of Resurrection
The above poem resonates with warmth, nostalgia and reverence for his dead father. It deeply conveys his sacred passion, unabashed feeling and tenderness. One has the feeling that, for Amichai, the road to childhood is still open.

Playful wit doesn't work against the feeling, but in tandem with it in this poem. Unlike many modern poets, Amichai is a deep-rooted emotional poet who never shies away from displaying his emotions. It is this emotional fervor that alchemizes a love line like "O touch me, touch me, you good woman!" into a memorial poem and prayer for the dead. To feel that the poet himself is 'a letter of recommendation' has a rare breath of warmth. I like the sweet , gentle and religious father in his poem.

On a lighter note, it made me smile to read the line-'He did it caressing my forehead, not tearing the blanket away' - as tearing the blanket away is still one last act I do to wake up my two lazy kids.

I shall remember this poem as long as I live - a homage to my gentle and loving father as well
My Father's Memorial Day

On my father's memorial day
I went out to see his mates-
All those buried with him in one row,
His life's graduation class.

I already remember most of their names,
Like a parent collecting his little
From, school all of his friends

My father still loves me, and I
Love him always, so I don't weep.
But in order to do justice to this place
I have lit a weeping in my eyes
With the help of a nearby grave-
A child's. "Our little Yossy who was
Four when he died"
In this poem, Amichai visits not just his father's grave side, but all those buried with him in a single row, a group of people yoked together by death, "his life's graduation class". What surprises us is the total faith and confidence Amichai has in the mutual ongoing love that persists between his father and him ("My father still loves me, and I / Love him always, so I don't weep.") and the way the poem invokes the genuine human sadness of the cemetery itself. Amichai's feeling extends to embrace the feeling of others ("I have lit a weeping in my eyes"). He concludes with the paternal feeling of a father for someone's child.

The above poems radiates rare warmth and glow. They are truly emblematic of endearing paternity.