It was June, 2003. A dream vacation was slowly unraveling and we were savoring every moment in the eternal city of Rome. Our next destination was the celestial city of Florence. We snuggled into cozy seats of the train without a worry and watched the landscape rolling by. The verdant valleys and the luxuriant sunflower fields was indeed a feast to our eyes. We had made a hotel reservation over the internet in Florence city and that too at an affordable rate of 60 Euro per night in a four star hotel barely 2 KM away from the station. We were assured of a warm bath and a hot buffet breakfast awaiting us on our arrival.
As we alighted the train and sought a limousine to take us to our hotel, we realized that the hotel we had made reservations at, was indeed, a 20 KM away from the city of Florence. While I made the internet booking, the station we had booked was Firenze Centrum (which I interpreted as central Florence. Firenze is Italian name of Florence) was a station near a major shopping complex in Florence named Centrum and was another station away from the city. We took a taxi and paid 50 Euro to reach the hotel and soon we realized that our two day stay in Florence could be expensive as commuting from the hotel to the city by taxi would nullify the advantage of a cheaper accommodation.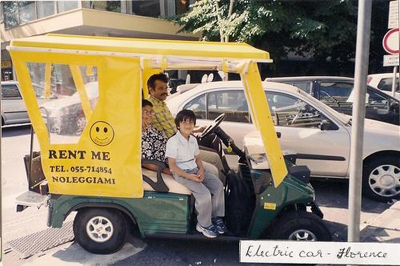 Being in a buoyant mood, we forgave the hotel reservationist for not disclosing the exact distance from the city. We checked in, refreshed ourselves and tucked into some yummy croissants, pies and pizzas. We then enquired about the mode of transport to the city. The receptionist advised us that instead of hiring a limousine, seeing the wonders of the city, with a vehicle at our disposal, would be the best option. He recommended an electric car for a daily rent of 80 Euro which would take us anywhere we wanted to go. It could be recharged at any electric power supply outlet, so he promised. My family holds a doctorate in the art of getting manipulated and falling prey into gimmicks is just common sense for us. We immediately signed for the car and awaited its delivery.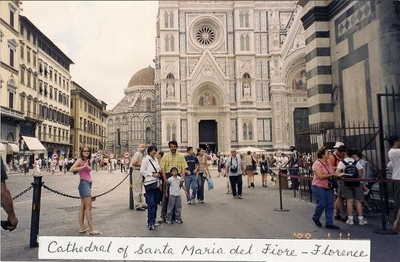 An hour later we were blessed by the first sight of the locomotive that would take us around Florence. It was a combo of a jeep and an auto rickshaw, with a flapping yellow canvas, which stood out only as conspicuously as a sore thumb. Having paid quite an amount as a rental, we couldn't discard the car and four brave souls clambered onto it. Then came the new realization – the maximum speed that it could go at, was 25 km/hr. Having always driven on the fast track on Saudi roads, I tried my level best to make the contraption move faster. But it was as stubborn as any Italian mule. Our ride through Florence alleys was a comic spectacle for the Italian Adonises and Venuses who sped past us throwing condescending looks at the flashy yellow cab sailing silently like a millipede.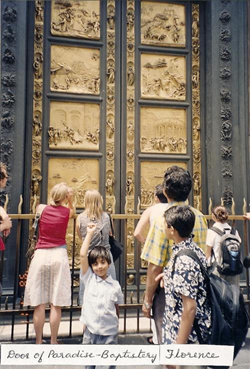 Finally after a daring drive for two hours, we reached the Fiona de Domo. We parked our contraption and immersed ourselves into sightseeing. First to Santa Maria del Fiore with the immense octagonal cupola by Brunelleschi and then to the nearby Baptistery with its door of Paradise and the Giotto bell tower from where the view of the city is a breathtaking experience. We were enthralled everywhere by the glorious heritage monuments of great Renaissance artists. No wonder Florence has been the cradle of European culture and art.

We then moved to the Academia Gallery and marveled at the perfection and poise of Michelangelo's David. By this time dusk had set in and it was time to return back to our hotel.
We climbed into the vehicle once more and started our courageous journey back. It took us only one whole minute to realize that we didn't know our way back. The old streets of Florence looked like a labyrinth. Every street looked like the previous one and the next one. We tried our luck going down a few and realized that we were almost where we started. Probably seeing the brightly baby cab passing him at least half a dozen times and returning to the same spot, a benevolent man who stood leaning on his car came forward to help us. We were very grateful and pasted the biggest grins on our faces that we ever could muster. First he expressed his pity for us having fallen into the trap of hiring the car. He told us that it was a shame on the Italian hospitality and a blemish on the tourism industry to trap unsuspecting tourists. He told us not to worry and said the bare minimum he could do was pilot us with his car till we reach the highway from where we could follow precise directions to reach our hotel.
In the packed traffic, it was difficult to keep his car in sight. But at regular intervals, he waved a red scarf to ensure that we could spot him. After 15 minutes, we reached a highway. He signaled us to stop, and we did. I came out to express my imponderable gratitude to this Italian good Samaritan. "Thank you and May God bless you for helping four stranded souls. We'll never forget this kind gesture on your part", I said it bowing my head.
He smiled and said, "Okay mister, keep your blessings to yourself. Now, shell out 100 Euros. Taxis never do a free ride"
His benevolent face had taken on a sinister look, like a mafia don, and I reluctantly pulled out the last 100 Euro note I had in my wallet and tossed it into his hand.