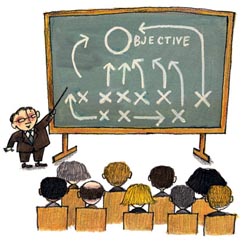 In the year 1996, when I was the president of Cochin Film Society, I organized a week long "Film Appreciation camp" in Cochin drawing people from all over Kerala. PK Nair, the former curator of National Film Archives of India was the Camp director. The purpose was to give training to movie buffs on how to understand and appreciate good films. It included screening of over 40 world film classics ranging from "Battleship Potemkin" (Eisenstein) to modern masterpieces like "Elektra My Love" (Miklos Jancso) followed by discussion sessions. The Camp was inaugurated by the great Malayalam Novelist and Jnanpeeth award winner MT Vasudevan Nair, popularly known as MT. MT is also well-known in Kerala as a film script writer whose films have won National awards several times. During his speech he inspired us with a powerful example of transformation a film society in Karnataka achieved through training.

In a village near Belgaum, every evening the Belgaum film society used to freely screen film classics in world cinema to an assembly of villagers in a maidan. The films included works from masters such Akira Kurosawa, Bergman , Federico Fellini, Michelangelo Antonioni, Satyajit Ray. A veteran Kannada film critic used to make an introductory appreciation speech about each film and he would then translate the English subtitles into Kannada language so that the villagers understood each film in all respects. A month following this regular exposure of villagers to great film classics, the Belgaum film society screened a typical Hindi Blockbuster or Masala movie. To their utter surprise, the villagers became furious and made catcalls as the movie progressed .The whole village square was empty by the interval. The villagers of Belgaum had acquired that rare sensibility to distinguish between a good movie and a bad one after that month long training in film appreciation.

Dear Readers, if training can bring that powerful transformation in the mindset of illiterate villagers, it can work miracles in your life. Many things are made easier through constant familiarity and training. Through training we can develop talent and discard our debris. The right employee training, development and education, at the right time, provides big payoffs for any employer in increased productivity, knowledge, loyalty, and contribution. Through training we can change; we can transform ourselves. I stand as its testimony.

I have been associated with the greatest communication and leadership training organization in Public Speaking called Toastmasters for the last nine years through many Toastmasters clubs in Saudi Arabia. This forum turned out to be a supreme example of what training can accomplish in the flowering of my persona. My communication abilities and self-confidence made a quantum leap through my constant training in Toastmasters clubs by way of presenting speeches and workshops on different Topics. I became the first Distinguished Toastmaster (Highest educational achievement in Toastmasters) in Jubail after presenting 40 speeches and over ten workshops. The new improved PGR established a name in my organization as a good presenter. All these simply stemmed from my continual toil by training. There is a Chinese proverb which says "When planning for a year, plant corn. When planning for a decade, plant trees. When planning for life, train and educate people".

Training can transform a cabbage into a cauliflower, a jaded glass into a glittering chandelier and a man called Johnson into Magic Johnson. Training also gives us an outlet for suppressed energies created by stress and thus it tones the spirit just as exercise conditions the body. Today in this competitive world, we all know there is just one-way to improve our odds for survival: train, train and train. Sometimes, if your training is too intense it may kill you. More often -- much, much more often -- it will save your life.

As Mark Twain said "There is nothing training cannot do. Nothing is above its reach. It can turn bad morals to good; it can destroy bad principles and recreate good ones; it can lift men to angelship."