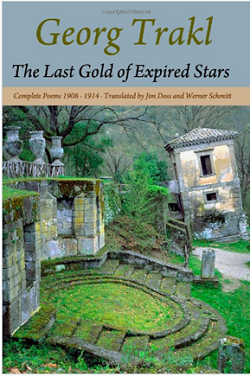 The Last Gold of Expired Stars: Complete Poems 1908 - 1914 by Georg Trakl ably translated by Jim Doss and Werner Schmitt is a wonderful treat to all poetry lovers. I was first introduced to the poetry of Georg Trakl in an anthology titled "The Winged Energy of Delight" by Robert Bly. This bilingual edition includes all of Trakl's mature published work, as well as his youthful poems and prose, drama fragments and selected letters, and is the most comprehensive collection of his work in English to date.

Georg Trakl (1887-1914), the Austrian expressionist poet, has been called one of the most original poets in the German language in the 20th century. Trakl was born on 3rd February 1887 in Salzburg, Austria and underwent initial schooling in a Catholic school and afterwards at Humanistic state gymnasium of Salzburg. Near the end of school years, Trakl became moody and withdrawn and started experimenting with drinks and drugs. After failing to get promoted twice, he left Gymnasium and was schooled at home for a time, where he discovered French symbolists Verlaine and Rimbaud, whose works deeply impressed him and remained an influence throughout his life along wth Nietzshe, Holderin and Dostoevsky.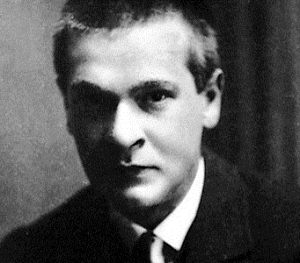 Trakl decided to train as a pharmacist, against his father's wishes which gave him easy access to drugs his entire life. During his three year apprenticeship, Trakl wrote plays and poetry. From 1908 to 1911, Trakl lived in Vienna, where he studied pharmacy, eventually graduating with a Masters of Pharmacy degree. The death of his father in 1910 who ran a hardware business that went into insolvency was a severe financial blow to him. After this Trakl's life grew more and more unstable; his depression, drinking and drug use escalated. He returned to Salzburg in 1911 and took up job as a pharmacist and later as an accountant in Ministry of Public works.

In 1914 his manuscript 'Sebastian in dream' was published. He then travelled to Berlin to attend to his sister Margareta, a concert pianist, who became seriously ill after an abortion. She later committed suicide and her image often recurs in his poetry (see poem 'Grodek'). At the end of July 1914, the great Ludwig Wittgenstein awarded Trakl 20,000 crowns from his donation to needy artists. Due to outbreak of WWI Trakl never received the money. In the August of 1914, he was called up as second lieutenant in the Austrian medical corps.
After the battle of Grodek, ninety badly wounded men were left in a barn for him to care for. He had no supplies and was not a doctor and hence could provide little comfort to them. His already fragile mental state deteriorated further. The uninterrupted contact with mutilated soldiers and morbidity of battle overwhelmed him. One evening, as he left the barn that served as an impromptu hospital, he was startled to see the bodies of disloyal townspeople hanged on a tree. He broke down and attempted to commit suicide with a pistol, only to be disarmed by his comrades. A short time later he received orders to report to the Krakaov military garrison hospital, where he thought he was to serve as a pharmacist, only to be placed in the psychiatric ward for observation of schizophrenia and was later confined in a separate cell.

On November 3rd 1914, Trakl died of an overdose of cocaine that he had secretly concealed upon his detention. Ludwig Wittgenstein who had been supporting him arrived three days later to meet him and inform him of the financial reward to relieve Trakl of his financial hardship only to be informed his death. He said of Trakl's poetry: "I don't understand it: but its tone bewitched me. It is the tone of truly ingenious humans." Trakl was buried in Krakov.

Georg Trakl was a modernist poet who possessed a high degree of originality. He evolved a symbolic language very much his own and one which may at first encounter make him appear obscure. Yet gradual familiarity with this highly wrought, economic style, with its patterned imagery and recurrent usages, makes him not forbidding but increasingly accessible. Trakl is preeminently the poet of autumnal moods, though lacking all traces of Romantic self-indulgence. His modernity lies in the hard, almost frigid, clarity of his diction, the severely disciplined mastery of word and image. His poetic style may, to some degree, be likened to musical composition both in its formal patterning and the emotive directness of appeal. An outstanding feature is the separation of lines, phrases and images into discrete or isolated entities.
Trakl's style demonstrates how poetry empowers words, giving them new emphasis and freshness of meaning. He had a new "visionary" approach, an "inner landscape" that defies the laws of realistic and logical presentation. In spite of its visionary quality, Trakl's poetic "world" never completely emancipates itself from the "real" world. Rather, the reader observes a gradual dissociation from a realistic representation, a shift toward the imaginary. This is why Trakl can indeed be called an expressionist, since the expressionist artist does exactly what Trakl attempts in his poems: He turns away from a realistic or naturalistic approach to the representation of reality. He no longer copies, imitates, reproduces. He follows the emotional impulse of his inner vision and expresses it, whether this means deforming or distorting reality as it is known, changing its perceptual and logical structure at will, or shifting from a representational to an abstract creative mode.

Let us look at some of the well known poems written by him.
Summer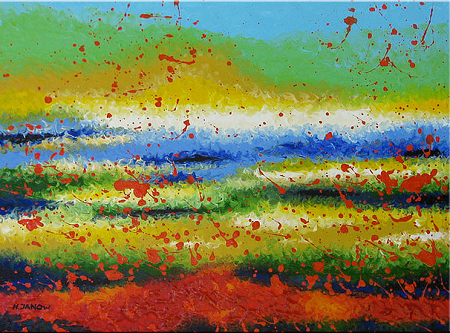 At evening the cuckoo's lament
In the wood is silent.
The corn stoops lower,
The red poppy.

Black storms threaten
Above the hill.
The cricket's ancient song
Dies in the field.

The leaves of the chestnut
Never stir.
On the winding stair
Your dress rustles.

The candle shines in silence
In the dark chamber;
A silver hand
Extinguishes it;
Deep calm, starless night.
Among the abstract concepts that recur in Trakl's poetry are decay, disintegration, disease, and, ultimately, death. These concepts all point to a facet of reality that elicits the poet's lament even though it cannot be regarded as the fruit of modernity. Trakl often links decay and disintegration with humanity's sinfulness and with an undefined. The mood in many of Trakl's poems is one of melancholy, anxiety, and desperation. Subdued emotions such as melancholy, however, prevail over the harsher expressions of negative emotions. The poet frequently establishes a connection between expressions of negative emotions and the themes of decay and sinfulness, which are in turn interrelated.

The contrasting themes of sinfulness and purity that permeate the poems of the second phase of his poetry culminate in the third phase in the creation of the mythical figure of a surrogate god, Elis, who represents the ideal of ethical purity.

'Mankind', written in 1912 before Trakl had experienced actual warfare, is resonant with apocalyptic foreboding. Stark images of destruction and violence are meaningfully juxtaposed with devotional imagery which highlights the notions of human guilt and its atonement through the wounds of a sacrificial act. At its conclusion, St Thomas, the figure of doubt and lack of faith, stands ultimately for all humanity
Mankind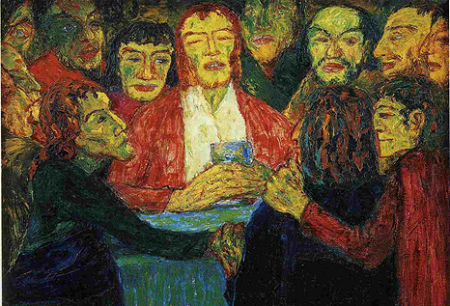 Mankind placed before fiery gorges,
A drum roll, foreheads of dark warriors,
Steps through blood-fog; black iron resounds,
Despair, night in sad brains:
Here Eve's shadow, the hunt and red money.
Clouds through which light breaks, the Last Supper.
A gentle silence dwells in bread and wine
And they are gathered twelve in number.
At night under olive branches they scream in sleep.
Saint Thomas dips the hand into the stigmata.
Let us see an excerpt from another wonderful poem titled "Occident". This one no longer presents a view of reality as it is traditionally and normally perceived. The images joined together in the stanza can still be construed, with some effort on the part of the reader, as the evocation of a moonlit night in spring. However, who is the "sickly shape," and why are the lovers in their black boat moving toward death? This stanza seems to have originated in a dream.
Occident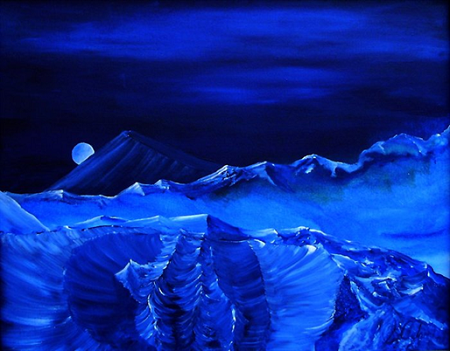 To Else Lasker-Schüler, with admiration
Moon, as if a dead shape would step
From a blue cave,
And many blossoms fall
Across the rocky path.
Silvery, a sickly shape weeps
By the evening pond,
In a black boat
Lovers have died crossing over.
An aura of mystery surrounds the life and poetry of the Austrian poet Georg Trakl. Although he was born over a century ago, his starkly original poems provide a window into the psyche of the early twentieth century with its anguish, melancholy, and occasional exaltation. From a life inflicted with drug addiction and mental torment, Trakl paints a vivid, musical portrait of his autumn soul as in the one below titled "Grodek". It is a ferocious poem constructed with great care. A short passage suggesting a whole of German Romantic poetry of nineteenth century appears, and is followed by a passage evoking the mechanical violence of the German twentieth century. This alternation is strongly felt even in translation.
Grodek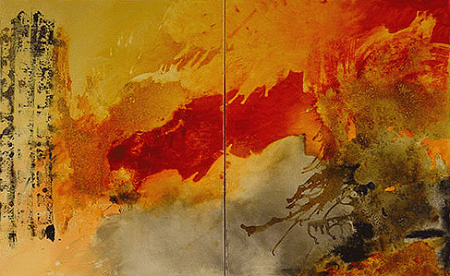 In the evening the autumn forests resound
With deadly weapons, the golden plains
And blue lakes above which the sun
Rolls more somberly; night embraces
Dying warriors, the wild lament
Of their broken mouths.
Yet silently in the meadow
A red cloud, in which an angry god dwells,
Gathers spilled blood, lunar coolness;
All roads end in black decay.
Under golden branches of night and stars
The sister's shadow staggers through the silent grove
To greet the ghosts of heroes, the bleeding heads;
And quietly the dark autumn flutes resound in the reeds.
O prouder grief! You brazen altars
Today an enormous pain nourishes the hot flame of the spirit,
The unborn grandchildren.
If Munch's art can be said to culminate in a scream, it can be said that Trakl's poems culminate in a whisper. With gentle expressions, Trakl, who lived his brief life in the chains of mental anguish and pharmaceutical dependency, sought light through the wormhole of melancholy and wrote from the hellhole of addiction.

As Rilke rightly said "Trakl's poetry is to me an object of sublime existence...It occurs to me that the whole work has parallel in the aspiration of a Li Po; in both , falling is the pretext for the most continuous ascension".