Introductory Observations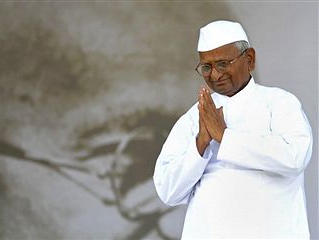 "Resurgent India" has won its first major victory over "Decadent India" last night under the dynamic and inspiring leadership of Anna Hazare after a bitter and grueling struggle for 13 days on which he resolutely sat on a fast in his crusade for the Jan Lok Pal Bill. In 21st Century India in a short span of six months he has politically emerged as a towering iconic leader in whose shadows Indian political leaders look diminutive. Anna Hazare has ignited India's political transformation and political renewal in a manner that only Mahatma Gandhi could do so.
In my Column of 4 August 2011 I expressed that "Histories of any nation have always demonstrated a unique characteristic and that is when gloom and darkness descend on national affairs, history in an uncanny way throws up "The Man Of the Moment". Anna Hazare has been India's Man of the Moment in 2011.
In the first flush of this unprecedented victory, in typical Indian magnanimity Anna Hazare and the electronic media patted political leaders to refer the three main demands of Anna Hazare to the Select Committee and expressed their gratitude.
The political leaders under unprecedented pressure from the hundreds of thousands Indian protesters on the streets all over India and medical bulletins reflecting Anna's failing health on the 13th day of the fast reluctantly gave in partially to "Resurgent India".
One cannot gloat over this partial victory and nor can one praise political leaders who after floundering, dithering and political chicanery arrived at a "Contrived Unanimity" to deceive the people of India that they had risen to the occasion.. The question also arises as to why it took 11 days to rise to the occasion and why not from April onwards. All along the political class was following hedging strategies.
If they were rising to the occasion then voting should have taken place in Parliament on Anna's demands. What transpired was a deceptive thumping of desks which was declared as 'unanimity'
This Column would additionally like to dwell on certain key features that have emerged in the 13 days of Anna's fasting and these are briefly discussed below.
Anna Hazare Ignites Political Transformation
and Political Renewal of India
"Resurgent India" latent and pent up feelings for India's political transformation and political renewal stand ignited by Anna Hazare's crusading mission against political corruption ever since his first fast in April 2011 on the same issues at Jantar Mantar.
Deceived and cheated by Congress Government's interlocutors, Anna this time had learnt the lessons an fought a pitched battle. In the process Anna's crusade drew unprecedented support all over India.
This support arose not only from Anna's lofty moral standing in Indian public perceptions but also from a public empathy that a saintly man had been deceived and perceptionally cheated by the Government of the day.
Anna's political victory, even though partial is politically significant for India in the following ways:
More succinctly put India has given a firm notice to its political leaders and polity that it is time for them to mend their ways and that Indian citizens would no longer wait for five years to ask them for accountability. Politicians would now be held accountable at every step of their five years.
Congress Government and Congress Party Divided.
Is the Party Headed Towards an Implosion?
Perceptionally what emerged in these 13 days and in April was that both the Congress Party and the Congress Government seemed to be divided both in their approaches to handling the Anna Hazare corruption crusade and so also the overall political approach to the rampant political corruption that plagues India.
The Prime Minister and Finance Minister Pranab Mukherji emerged as well meaning and sincere in defusing the issue. Interestingly, Mukherji was initially sidelined and brought in at a later stage when the crisis reached a boiling point.
The daily flip flops which Pranab Mukherji was forced into in articulating Government positions indicated that both the Prime Minister and Pranab Mukherji were being held back from their positive approaches by the Congress Party high command.

The Congress Party spin masters managed to delay negotiations for more than a day to facilitate Rahul Gandhi's intervention in Parliament on the issue. Great expectations aroused ended in a whimper when Rahul Gandhi ended his speech in the implied castigation of Anna's movement and tried to divert public attention by what he claimed to be a game changer by creating a Constitutional authority to handle corruption. It was widely perceived as a diversionary attempt.
Incensed Indian public opinion in TV visuals and blogsites of media questioned as to why the Congress Party President was outside India at this critical juncture if no life-saving surgery was involved and that had it been so the half the Government would have been sitting in New York. Indian public opinion elicited by TV crews about Rahul Gandhi's intervention questioned as to where was he for the last ten days?
The well meaning Prime Minister was also not spared in public posters displayed during these 13 days.
Somehow I get the feeling that the Congress Party may be on its way and headed towards an internal implosion. This process could be hastened as the Congress Government increasingly comes under siege when cornered with crises at hand and those brewing.
Political and Elitist Chicanery
on Adamancy on Constitutionalism, Sovereignty of Parliament
and Democratic Processes
It was nauseating to hear the constant refrain from political leaders, media personalities dependant on Government patronage and the privileged segment of civil society lionized by the ruling party that Anna's demands and agitational approaches amounted to blackmail and impinged on the sovereignty of Parliament, were unconstitutional and that democratic processes had to be gone through and take time.
On the latter Indian public opinion retorted indignantly that it took just three minutes for the Parliament to pass Bill on their salary hikes and perks. Indian public opinion also argued that if the Prime Minister could threaten to resign on the issue of not passing the Indo-US Nuclear Deal what prevented him for doing the same on the issue of the Anti-Corruption Bill?
India is in for increased public scrutiny and questioning of its political leaders.
As regards the elitist class, the intellectuals and media luminaries disconnected fro Indian public opinion, all that can be said is that their responses are conditioned by their resentment that the political space so far provided to them by official patronage is threatened by the occupation of that space by India's resurgent classes
Middle Class Political Empowerment
Now Emerges as a Reality
Regular readers would recall that in my past Columns I had been advocating that India's middle classes should shrug their political apathy and work towards political empowerment to skew the distorted electoral arithmetic imposed by Indian political leaders in form of captive vote banks whether communal or casteist.
The popular upsurge in the last 13 days cutting across class divisions, communal divides and casteist considerations now prove that not only middle class political empowerment has taken place in a big way but also that Rural India's apolitical empowerment has occurred in tandem.
The latter could well sound the death knell for India's regional political leaders thriving on casteist vote banks.
Concluding Observations
Indian Democracy's real and true strength stands revealed magnificently in the person of Anna Hare who hailing from a rural background far away from Delhi in the hinterland of Maharashtra could "Ignite India" in short span of four months to his crusades against corruption that pervades India's existence. That his selfless, resolute and relentless crusade could goad an irresponsive Parliament into a discussion of the peoples demands speaks immensely of his moral appeal to the people of India.
The struggle ahead for Anna and the Indian public opinion is going to be long and tiresome and full of heartaches as the entrenched interests can be expected to yield only incrementally
Concluding this Column I would like to re-emphasize what I wrote in my Column of 16 April 20011 entitled "Decadent India's Last Stand Against Resurgent India"
"Yet the battle must be fought with vigor and dedication against Decadent India so that "The Real Soul of India can be Revived and Renewed". It is Resurgent India that can spearhead the Political Transformation and Political Renewal of India".
Bharat Jaye Ho!
Recommended Contextual Plainspeak that need to be Read
1. "Decadent India's Last Stand Against Resurgent India" - 16 April 2011
2. "Indian Republic Failed By Its Political Leaders", 4 June 2011
3. "India Needs Mid-Term Elections" - 9 July 2011