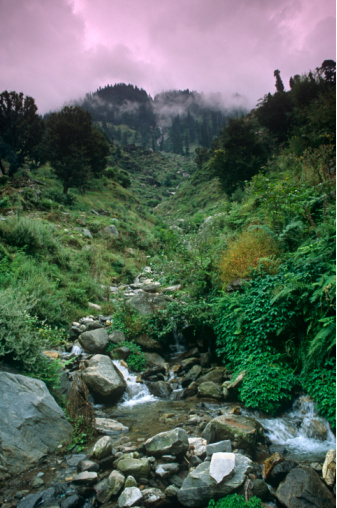 Manali - the redoubtable hill station, abode of the Saptarishis (seven sages) nestling in the breathtaking peaks at the foothills of the Himalayas, is every tourist's delight from the word go. Standing at 6398 ft. (1950m) above sea-level, it is 12 hours i.e.550 km away from Delhi. The journey up the slopes shows its charms by offering amazing views of mountain peaks, flora and fauna - all at once.
Nurtured by the gurgling Beas River, the twin attractions namely Kullu and Manali have always captivated the hearts of nature lovers. Chequered with stunning flashes of mirthful mountain flowers and soothing greenery, Kullu wrapped in the snug warmth of its simple populace, at 1220 m nudges us with eye-catching details of nature, visitors and local customs.
Manali splashed with restaurants offering varied, lip-smacking cuisines un spools vivid facets of nature to a diverse range of people.
The famous Rohtang pass, 50 km from Manali stands at 13,051 ft. (3,978m) above sea level is a mountain pass that connects both to Leh and the Lahaul-Spiti valley of Himachal Pradesh. Adventure lovers indulge in Roller skating here. But it was only when one reaches Gramphu village (20km from Rohtang Pass) that one could switch over to the road on the left that leads on towards Leh via Keylong and Sarchu. Or to the road on the right that takes one to the splendid Spiti valley.
Watch the mellow paleness of pea flowers change into the beaming, fiery red of apples in Kullu termed the 'Valley of Gods', popular for Trout fishing as much as for the tall Deodars and grandly standing Pines.
The Mall road sprawling with people buzzes with activity, witnessing beaming eyes winning the race to broken roads, currently under construction.
Seeing my enthusiastic husband and young, inquisitive, boisterous sons head towards a gazing hill with modest nonchalance, the joyous sniff of mountain flowers alongside the stunning sight of clear springs prodded me to encourage their sporty efforts at Trekking. The mystery of the woods only deepens with each mind- bending visit.
Hadimba temple, barely a km from Mall road attracts pilgrims and tourists in millions. Built in 1553, it fascinates for the sheer effort it must have taken to construct those 4-tiered pagoda roofs and the exquisitely carved doorway.
Manu temple venerates Manu, after whom Manali is named. It is believed that Manu stepped off his ark in Manali to recreate human life here, after a great flood deluged the world .The Vashisth temple has natural hot springs on offer. The temple was built in memory of Sage Vashisth and also has idols of Lord Rama.
The JagatSukh temple and few Monasteries add holy vibrations in the realm of belief and wonder.
14 km away from Manali is the Solang valley known by its ski slopes.
The average temperature in Manali ranges between 4 degrees and 30 degrees throughout the year.
The psyche of material greed has enfeebled natural systems far sooner than we had expected. Newspaper reports about frequent landslides, cloud bursts and snow melting in the peak summer months only goes on to warn us of taking a cue. Traffic congestion on the narrow mountain roads has made matters worse. Here's celebrating the glories of nature wrapped in the mist of history, mythology and adventure with a promise to posterity of us passing on undisrupted natural wonders.
Special attractions:
Nehru Kund is on the road going to Keylong.

In Keylong visit Kardang monastery on the banks of Bhaga river.

View of a deep gorge at Kothi village.

Club house has facilities such as a roller skating rink, billiards room, restaurants and video games.
Things to do
Trekking, Fishing, Skiing, Roller Skating, Visits to Temples and Monasteries.

Shopping: Shawls and handicrafts.

Shopping for locally grown fruits like Apples and Pears.
Getting there
By road: From Delhi (NH-21) or NH-1 (to Leh)
By rail: from Delhi to Chandigarh (Shatabdi express) and then by road uphill up to Kullu/Manali.
Nearest railheads: Pathankot (325km) and Kalka (310 km).
By air: Daily flights from New Delhi to Bhuntar airport
Air India flights twice a week from New Delhi
MDLR flights, 6 days a week.