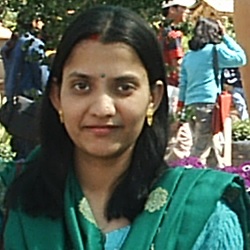 I am a freelance author, writer at the moment. I have been a lecturer in Resource Management at Delhi University. Worked as Senior Programme Officer at a leading non-profit organization working for children.

Educational Qualifications
Master's in Business Administration (with specialization in Finance) from Symbiosis Institute of Management Studies Distance Learning program. (2001-2003). (First Division)
Master's in Community Resource Management and Extension from Lady Irwin College, Delhi University (1997-1999) (First Division)
Qualified the National Eligibility Test held by U.G.C. for lectureship. (1999) In Extension education.
Other Extra Curricular Activites
Newspapers -Written articles, poems and profiles for Times of India, The Hindustan Times, The Statesman, Children's World and school and college magazines.
All India Radio - Anchored programs as English Announcer for Yuv-Vani and The National Channel. Scripted and presented western music, letter based, current affairs, science, interview-based and quiz programs, at All India Radio, New Delhi. Presented programs in Hindi for All India Radio, Jammu.