Abar Aranye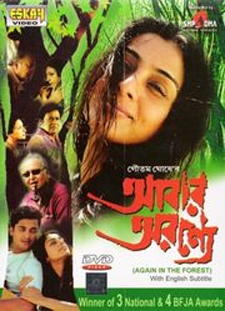 The cast of the film includes Soumitra Chaterji, Subhendu Chaterji, Sharmila Tagore, Tabu & others. Directed by Gautam Ghosh, the film was in the Bengali language.

As someone who became fascinated with cinema at an early age I'm often hit by this bug to uncover the qualities that attest a great film. A strong storyline or an array of memorable performances, an innovative style & subtlety of expression while using cinema as a weapon for social change, or the feel-good factor that eventually results in wide popularity? Till date I've not been able to arrive at any satisfactory answer partly because the Indian films that ranks high on my list nowhere finds a place among either the top 10 viewer's or critic's choice.

Anyway… I've just seen Abar Aranye by Gautam Ghosh. Does the work Abar Aranye score on any count? How does this sequel compare to the Satyajit Ray original Aranyer Din Ratri?

I confess I haven't seen the original Ray work, so I wouldn't attempt a comparison but good photography with some mesmerizing breath-taking shots adds to the charm of the film.

Touted as a tale of conflict between the ideals of two generations that comes to the fore when the protagonists undertake an adventure trip to the forest to unwind from the rigors of hectic everyday life, Ghosh's film suffer from lack of proper character development. For a probasi (non-resident Bengali) Bengali character, Bollywood actress Tabu speaks with a distinctly non-Bengali accent. The love sequences between the wife (Sharmila Tagore) of the tea industrialist (Soumitra Chaterjee) and his buddy (Samit Bhanja) is a directorial stamp of mediocrity without any significance.

After a rather sedate first-half wherein the numerous characters breaks into a song at the drop of a hat the film brings an element of mystery in the second when Tabu simply vanishes without a trace. Where does she go?

The director now tries to espouse socialist values but the treatment of his advocacy lacks the innovation and finesse seen in such works like Mrinal Sen's Chorus. The director lends a deft touch to some sequences where the hapless tea seller (Sunil Mukherjee) and some young boys being held responsible for Tabu's disappearance. It is hard to digest a foreign educated Tabu suddenly going against her parents when she comes in contact with Masterji (Arun Mukhopadhyay) & the local tribals.

Overall a middling work by Gautam Ghosh whose earlier film Dekha was a far better effort. Like his previous film this too has been shot extensively in the forests of North Bengal. Surrounded by non-sensical films galore the flick may still be worth a dekko just to pay obeisance to a promising filmmaker who must get his act together now to maintain his standing among his admirers. Of the cast, Sharmila in particular delivers a good perfomance especially in the sequences where she breaks down on hearing about her daughter Tabu's disappearance. The other performers includes Roopa Ganguly, Jishu Sengupta, Saswato Chaterjee, Ramen Rai Choudhuri & others. The technical qualities of the film including the Dolby sound effects is stunning.
 
28-May-2012
More by : Subhajit Ghosh
---