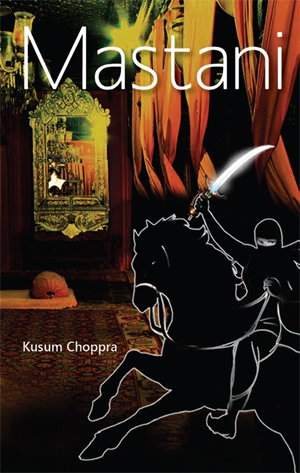 Mastani is a unique book: India's first historical novel that offers its readers two endings, diagrammatically opposed to each other; with the second ending that plugs all the holes left in the story of Mastani in traditional renderings of the myths that surround the second wife of Peshwa Baji Rao I, who is widely accepted as India's answer to Napoleon Bonaparte as a unbeaten general.
Did Mastani die on hearing of Baji Rao's death? Or did she actually die fighting for her honor, putting both Baji Rao's son Nana and brother Appa on the back foot? Forced to prevaricate to explain Mastani's absence family and friends for weeks, through family festivities, until the leaking of the secret took the life of Baji Rao?
Every reading of Maratha history reveals the steadfastness of historians in mentioning Mastani as leading influence in Baji Rao's life; and then leaving that mention just that, without any elaboration of such a 'towering' personality, so to speak. Hence my research went on and on and on, to explode all the myths and legends that surround Mastani, to expose her tragedy and her true character and her royal background.
The genesis of my Mastani obsession could have been the reading of two historical novels by an intrepid researcher, Dr. Bhagwandas Gidwani. Digging in the mountain of material available from French and other non-British sources, Dr. Gidwani wrote his "The Sword of Tipu Sultan" which offers a refreshingly different perspective of that historical character. In his "The Return of the Aryans", Gidwani turns prevalent history on its head as he traces the evolution of Ancient India from pre historic times to the so-called Aryan age. I must do something to offer different perspectives of history to readers, I resolved.
Mastani was also perhaps in some way inspired years ago by a fellow traveler in a Mumbai-Pune taxi, discussing the absurdity of all historians remembering to mention Mastani's influence on Baji Rao's life and then dismissing her in one paragraph with no mention of her antecedents or whatever. That sounded strange enough to embark me on what was to become my life's mission...about 30 odd of my 61 years. Hope that fellow traveler remembers that conversation and reads my book now!
Mistresses have been the rule rather than the exception amongst rulers, usually more than one. His father, Balaji Vishwanath and his king Shahu Maharajswami had them too. How many mistresses have been mentioned in history books? Even as a footnote?

History records an Indira Gandhi, Razia Sultan and Nur Jehan; Mumtaz Mahal is more a footnote because of the Taj Mahal. And the Rani of Jhansi found mention thanks to British applause, more to show up Indian manhood of those times wanting, especially in contrast with the British. Roshan Ara, Jehan Ara, Anarkali…legends.
Mastani has been written to blow away all those cobwebs that surrounded Peshwa Baji Rao I's second wife who is portrayed by historians as a 'dancing girl'….legends that have outlived their lives now.
This book establishes her royal persona from the house of the Bundelas of Madhya Bharat, whose dowry and paternal contacts endowed the Peshwas with an all India footprint .......plus much more.

25 years of research and 3 of writing reveal a dramatic tale that turns the entire Mastani dancing girl story on its head. That nugget egged me on but I could only devote x amount of time on it, along with my duties as a working journalist, wife and mother. So it carried on over the years, the Pune side of the story whenever I visited the city where two of my children were in boarding schools close by, one after another.
There were also trips to Indore and Mhow to seek out the descendants of Baji Rao and Mastani to get that side of the picture. Info yes, but very sad that they had never tried to unveil their mysterious ancestor themselves, although their branch owed their existence to her.
The trip also put me in touch with a very valuable resource person, Ahsaan Awara, a retired post master of Banda, who had put in a lifetime in the search for Mastani and was a mine of information for me. Ahsaan saab and Mr. Mabableshwarwalla, my teacher from school days, rang me regularly to egg me on, to start writing the story as it developed, over-riding all my protests that I had yet to reach the end of the research. They always argued that I had to start shaping up what was fresh in my mind, before it went stale as age crept up and may be stalled the book forever; since there were several elements in my story of Mastani that were quite different from those widely accepted, including a major controversy over the interpretation of the cause of the death of Baji Rao: was it merely a heat stroke or the end result of a deadly combine of alcohol withdrawal, a sense of betrayal by his entire family, deep depression caused by the absence of his beloved Mastani and finally her untimely death?
It was very unfortunate that Ahsaan saab who gave me his Mastani legacy was not alive to see my Mastani, which was so welcomed by Mr. Mahableshwarwalla.
Now comes a bombshell. Several weeks after the finish of the book with an ending I was not satisfied with personally, one night I saw a dream in which Mastani's story unspooled with an ending that was startling. It offered answers to all the unanswered questions that plagued Mastani's story. Making swift notes before the dream vanished from memory, morning saw me reviewing all my material to find that it actually made a lot of sense, even if it was dramatically different and quite controversial.
That is how the book is two endings, one taking the conventional path of Mastani dying after Rao did and the other that takes a very different and contentious route.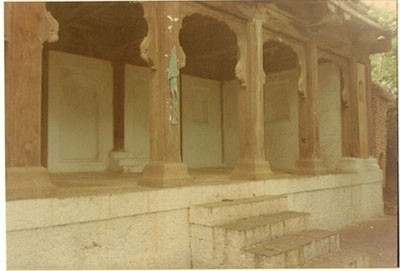 The baradari at Pabal, near Pune, Maharashstra, shown in the adjacent picture, was built purportedly to commemorate the Vasant Panchami wedding of Peshwa Baji Rao and his second wife, Mastani. Conclusive evidence of this only surfaced two and a half centuries after both of them died in 1740. It was confirmed in a letter dated April 2, 1731, written by the Pandit, Devki Nandan Pathak, who had been entrusted with the task.

After centuries of denial, the confirmation of the Vasant Utsav came with the discovery of the Pathak letter, which was recovered from Baji Rao-Mastani's descendants in Indore and made public during the Pabal Vasant Utsav in 1994, a little over two and a half centuries after the death of Rau and Mastani.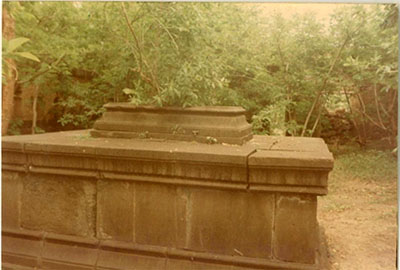 These pictures show the baradari and its courtyard in ruins. For very long, this landmark was known as Mastani chi masjid, ie the masjid of Mastani. This was obviously incongruous, with the large tomb in the centre of the courtyard.

The tomb is a stone edifice with a hexagonal shape and a carved border, with a tulsi kund on top. Now why would a conservative society that almost drove the couple to their death, take such pains over the mortal remains of a Mastani, who finds no mention in their official Daftars, i.e. court documents…not even the mention of how, when and where she died and how much was spent on her funeral, as was the case with all other women of the Peshwa family?

Over the years myths came up:

Some said that Mastani had once again given her captors the slip and was heading for a meeting with Baji Rao, when she got news of his death and she too collapsed and died there and then. Hence the tomb at Pabal.

Others held that she had committed sati, which left question marks over the tomb, but confirms her married status, which was questioned by historians; for only a married woman is entitled to perform sati.

Yet others insisted that she had taken poison. The bottom line was that Mastani vanished off the face of the earth.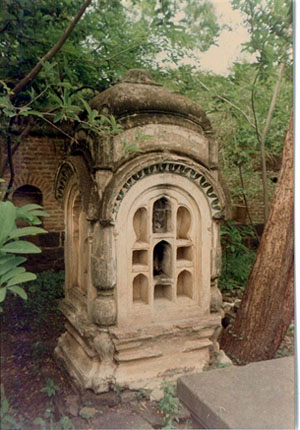 Emerging research seems to indicate that this may have been the tomb of her daughter-in-law Mehrbai; the height of the tomb indicating it to be a Pranami one, in which the dead are buried in the classic 'knees drawn up to the chin' pose which required height, unlike the classic Muslim tombs in which a pit is dug to bury below the level of the ground, with a low mound above.

Once again, it seems to confirm that the "Muslim convert" cover which was sought to be given to Mastani's Pranami faith which combined elements of Hindu and Muslim faiths, which earned her animosity in a conservative society.

The presence of the diya kund in the courtyard of the baradari again raises questions over the tomb and the masjid label.
Pabal was part of the estate Baji Rao had presented Mastani and a large Wada had been built for her there. Unfortunately, nothing remains of that Wada today.

The baradari and its courtyard is surrounded by extensive chiku orchards, which were believed to have been bestowed on the caretaker family for the maintenance of the estate which is now in ruins.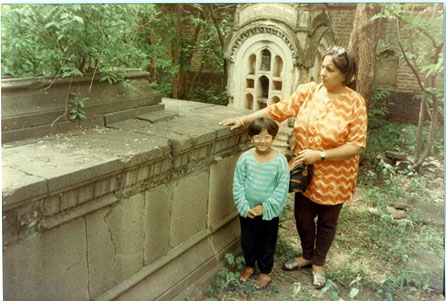 Standing next to the tomb is the author and her daughter long long ago.