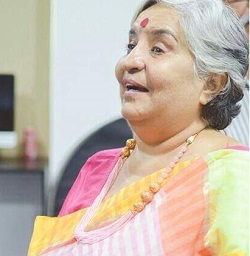 From historical to Silvers' romance, Kusum Choppra has come a long way from her journalistic roots; the journey sits lightly, although the journo background means a colorful turn of phrase as well a plethora of tales with surprising twists in the tail. Born a Sindhi (Dolly Khemlani), with a multi-cultural family from a Punjabi husband to a Kashmir bahu and everything else in between, the adventures of Life have led to inevitable questions that women often have during their private conversations: "Is it not possible for male-female co-existence to be peaceful and non-confrontational? Can the balance not be redressed?" Her pieces on Boloji apart, she has published 4 books after a very late start at age 60:
BEYOND DIAMOND RINGS on the evolution of Sindhi women,
MASTANI, the much-researched, myth shattering, double-ended expose of historical wrongs to a warrior princess,
NIRBHAYA & OTHERS WHO DARED on 22 odd women who chose to stake out their space under the sun and now
SILVER DREAMS that has the pace of a thriller but the mellow mood of a second innings.