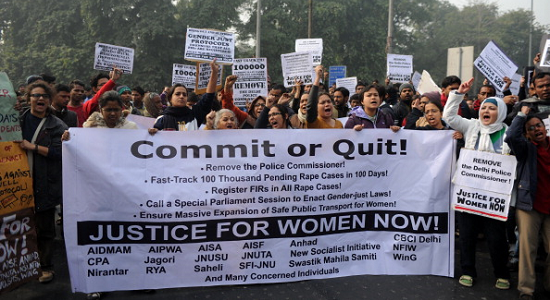 If it were to take people a whole ten days to disaster to start thinking of how to tackle it, in this era of weapons of mass destruction, the globe would be totally destroyed before any remedial action would be taken, wouldn't it!
That is the spectacle in India just now. Almost a fortnight after the gruesome gang rape in Delhi, after the poor girl has been flown out of the country, finally a sane voice has spoken.
Lawyer and columnist in Ahmedabad Mirror (28.12.2012), Gautam Patel has listed the various sections of the law on rape which need amendment and then implementation, rather than the death penalty being touted. That penalty, in all probability, will never happen, given the judicial system of our times that lets off the rapists in no time. Gautam covers a whole range, from criminal assault to outrage 'modesty' (what is that, if not another male / patriarchal concept?), adultery which only men are entitled to, along with the right to react when cuckolded, the issue of consent ... under what circumstances will a woman or a girl say yes to rape, a gun pointed at her head or a knife at her neck perhaps, marital rape, custodial rape and that of underage girls, even infants! Plus the case of the rape of a sex worker who is deemed habituated of sex, which reminded of that infamous case in which the judge who accepted this 'habituated of sex' argument in the case of a young runaway, was asked what would be his sentence for the rapist who may rape his wife who was already 'habituated to sex' after years of marriage!
Another VIP lawyer, MP and former chairman of the parliamentary committee for law and justice Abhishek Singhvi recommends speedier appointment of more judges to deal with all the demands for fast track and other courts. Plus the stalling of frivolous litigation by making the loser pay full costs to the winner ….. in short, clearing of the aegean stables of justice. Will the rape issue do it better than the no-show of the Anna Hazaare movement.

The question is: which comes first, amending the laws and implementing them or clearing the judicial backlog of judges and cases? The chicken or the egg?
From day one, everyone was out there making statements about the gruesome bus gang rape, demanding action from the government, from the harshest possible punishment from a fast track court, sensitizing the police, intensive patrolling instead of VIP security duties, to a data base of bus personnel.
Somewhere along the line, the plot was lost, just as had happened in Anna Hazare's Anti Corruption drive. A massive protest in Delhi, without adequate safeguards and organization to keep out unwanted elements! The protestors were largely working women and college students, every day of their lives victims of eve teasing and much more, finally venting their wrath and their fears. But no responsible person warned them of what would happen …. And it happened.

Result: infiltration, silly slogans and random persons throwing stones at police vans and then water cannon and tear gas and the whole protest was derailed, just like the Hazare one, by elements not only irrelevant but actually anti the motive of the protest.
How shameless a people are we? How we love to boast of our venerable ancient pious heritage!! Yet amidst concerns over whether the rape victim will survive at all, a channel telecast a horrific film which was, I am told, a big hit. The theme song says "kudiyan nu thag le" and the story is of how one 'macho' guy sold four girls down a drain. After seeing such films which make it sound so easy and girls so stupid, is it any wonder that guys feel they can get away with rape and murder?
This was followed by another gang rape right there in Delhi itself, along with notice that since one of the rapists in the first case is technically a minor, he'll get off even though he is said to be the most vicious of them all!!
Amidst all the 'Rape, rape" noise in the news and TV, what are we missing? The voices of not only political leaders, but also social ones, the Big League ladies, the film stars whose portrayals create the format for the rapes, both male and female and sane suggestions on what should be done and can actually be done, instead of merely ranting and sloganeering.

None of the A List Heroines scrambling for the next Item Song with suggestive Fevicol, Iodex, Chameli and Munni and their fraternity in Big Biz are firmly Out of the protest picture. Every TV channel worth its salt has a daily crime serial. A good majority of the episodes depict crimes against women in all their amazing variety. How much do these daily doses plus their promos infect the mind, showing viewers how things can be done, rather than scaring them away, given the rest of the social input from other media?
Our Delhi girl wants to live. More power to her. It is up to all of us to respect her life and her privacy, no matter what direction is taken by the mass upsurge of anger this incident has generated. Interspersed with medical progress of the young woman were details of the young woman's family and her statements to the authorities. One can safely assume that half of Delhi now knows who she was.
What of the culprits - perpetrators of the crime? For media, it is so much easier to camp in the hospital to dig out juicy details, rather than chase up those culprits. Only one Sunday paper Indian express carried a story on them with a paragraph each on their backgrounds.

What about more with their photos, along with those of a slum and their parents and those of their associates etc so that they may be recognized in public as RAPISTS. When this is done on a regular basis and a couple of their sisters or cousins face rejection in the marriage stakes for being related to a RAPIST, family pressure from maa-baap, chacha, mama taya , dadi, bua, mausi could work better than all the moral studies and policing in the world, on other would-be rapists. Society needs to start reinforcing those old rules that prevailed in our childhood, to make a better world for our grandchildren.
Anti Rape Protest Leaders, wake up and smell the coffee. Are we looking from neta wormed governments and babus the protection that fathers, brothers and husbands do not give us? Or are we looking for a society which accords us due respect and upholds a level playing field between man and woman?
Why ask others to do something about an issue that begins in the home? As parents, do we give equal treatment and respect to daughters and sons? Or do we, like the majority in the country, pander to the sons ...'ladka hai. shararat to chalti hai'. That my dear friends, is where it all starts ... and then continues to plaguing sisters and cousins, then in school and college until they become hardened criminals of women teasers and rapists.
Amidst all those candle marches and TV protests, what is needed is some deliberation over the answers that are in the people's hands.
One is teaching our boys to respect all human beings, men and women.
Another is to instill in the minds of our girls that their femininity does not lay exclusively between their legs. There is this huge stigma attached to a 'rape victim'. Why? Is all her femininity merely between her legs, not in her head or her heart?
This is a difficult concept, but it must be mastered and taught to women so that they will stop fearing that 'stigma' of rape. RAPE must not be the dreadful capital letters that dominate their lives forever more, whether the rapist is an unknown person, a known one or a family member.
So while waiting for the government to decide on what actions fall rationally within the regime of official dictat, after all do we want to go back to the license and danda raaj? ....
Let us as parents and grandparents, take a pledge to teach our boys that they have to respect women, whosoever they may be, mothers, sisters, maids or just a woman on the street, age, caste, creed no bar. Take that pledge and stick to it, thru thick and thin. Take that pledge.

Image (c) Gettyimages.com