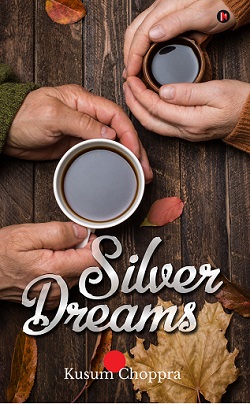 A New Beginning is always difficult; so much goes against the grain, the tradition, the custom.

Actually, not so much --- haven't men been marrying as soon as one wife dies? Often enough even while she lives?

Widow remarriage is not big deal in most parts of the world. But, in India? BIG DEAL. Building bridges between two lonely people, tearing down of walls of bias against women, creating a new society that recognized a new humanity ---- all these are topics people love to comment on but hesitate to delve into, even in the form of a Book.

Silver Dreams from Notion Press is one such book –that builds a vibrant, racy narrative to counter the old Sita concepts, now an Indian history staple. Rana and Kinnary are both Senior Citizens. Yet there is a potent zest for life, desire tamped down by circumstance and a need for the cuddles and caresses that replace passion after that while that translates into date nights.

Moving at a thriller pace through Bottecelli moments and emotional tsunamis, discussions on masturbation, the intricacies of German labor and the indenture system that replaced slavery --- to the need for 'reaching out', healthy Memory Banks, the need for 'closure' after a death in the family, accepting and understanding each others' needs and friends, the significance of the "jeete rahiye" blessing and why a maang tikka is worn with sindhoor.

They come across as well grounded individuals who could become the Emblem for various generations. Reviews of the book, especially from men wandering unknowingly into romantic territories, have expressed astonishment at what they discovered of female desires and thought processes in the book… perhaps an education in itself.

The book sets something of a record: first Romance of the Elderly in Indian English fiction.