Continued from "Is Home the Most Unsafe Place for an Indian Woman?"
The Eighth Episode - Satyameva Jayate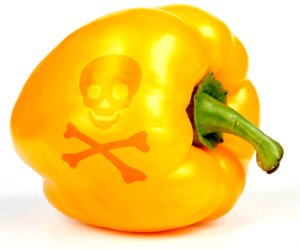 There is no dearth of horror tales in our country. Pesticide saga is yet another example of acute apathy of the general public towards serious issues. Lack of education and lack of concern have finally brought poison to our menu. Leave alone menu, mother's milk has been found to be poisonous. Rashmi Sanghi of IIT, Kanpur shared the findings of her research. Due to pesticide consumption, even mother's milk has been found to be dangerously poisonous. The soil is losing its fertility and so are doing the sons and daughters of the soil.
We have all heard the example of Kasargod in Kerala. The case was discussed in detail. Endosulfan was sprayed in this region of Kerala by choppers for twenty five long years. Extreme abnormalities have been found in human beings as well as animals of this region. Dr. Mohan Kumar was the lone crusader of this region who fought the pesticide onslaught. Once the court order prohibited Endosulfan, abnormalities have also deceased.
Farmers of Nasik do not eat their own grapes because of the poison. Nilesh Desai of Gujarat said that he grows vegetables etc for his family separately. For market consumption, he has different norms; he doesn't care if people die or suffer. Farming is business; business is money making. So, there're no moral strings attached. Even official data has been manipulated so as to hide the extent of the problem. Indians use a cocktail of pesticides without knowing its impact. We even have a cancer train 'Bhatinda to Bikaner' which carries cancer patients. Children have been found to be born without brain due to pesticides. Madam Kavita of Asha Society, Surinder Kumar Rajput and Jarnail Singh, Gurpreet Singh from Punjab, Dr. Kabra from Jaipur, Mr Pawan from Sikkim, Hukum Chandra from Rajasthan and the activist Vandana Shiva are those rare people who are trying to raise awareness in this regard. Dr. Ramanjaneyulu from Andhra Pradesh has done pioneering work in this field. He has developed cheap mechanisms that help organic farming.
The program was balanced in the sense that the pesticide lobby was also heard. Rajju Shroff of a big pesticide company came and defended the blind use of pesticides. He argued and he tried to convince. He even tried to crack a joke. But the painful side is that we do not have any machinery in our country which may monitor this blind use of poison. Farmers happily use hundred times more pesticide than required. There's no one to check or monitor or educate them. Things go all by themselves.
Overall, it was a very effective and relevant show. It succeeded in disturbing the viewer. Aamir succeeded in busting the 'India-shining' myth. Green Revolution messed up the growth story of India. We need to get our priorities right. Much remains to be desired at the governance front. Public awareness, sensitivity, basic ethics and effort are required. It's good that we are talking about things. It's good that issues are coming up. We have created platforms where we discuss things without bias.

The solution is at our arms' length only if we become conscious about it. In my opinion, this show will always be remembered as a conscience raiser.

Read Also:
A Deadly Damage
Are We Being Slow Poisoned?

Continued to: Idiotic, Ugly and Repulsive: The True Face of a Drunken Person