Continued from: "Idiotic, Ugly and Repulsive: The True Face of a Drunken Person"

The Tenth Episode - Satyameva Jayate

Today's show was on such a knotty knot that India has not been able to find its solution over the centuries. I don't want to suggest that segregation does not exist in other societies; but nowhere else in the world it is so systematized, sanctioned and accepted as it is in our country. The Indian psyche is a specialist in drawing lines, in ousting people; in feeling repulsed at others. It's truly cancerous. Caste-ism, sense of segregation, these lines deeply drawn on our psyche over the centuries are so deep that we don't even grasp our inhuman attitude, our cruelty, our Nazism, our fascism. It has become our way of life.

We can change the scene; place the individual in urban, ultra modern situations but the mind that we carry within ourselves is weakening our religions, our society, our country. The natural questions which arise are - 'Whose India are we talking about? To whom does this country belong? What's freedom? What's the meaning of this freedom?' When we don't accept our own compatriots, we are challenging our nationhood. Our concept of country, one country is at risk.

The marginalized has every right to say, 'It's your freedom, your dignity, your development. I don't belong to the space where you belong. Therefore, I've nothing to do with your rules, your society.'

This chasm between the so called lower and upper castes is simply suicidal for our country. It won't take us anywhere.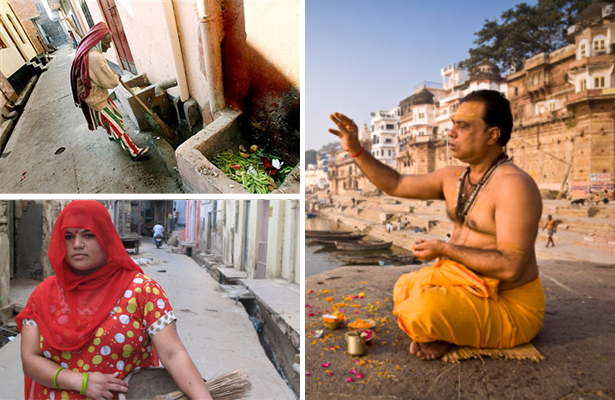 A society starts decaying when it stops questioning itself. Change, as they say, is the only constant. Then why can't we question and change certain tenets of our religions and give our religious life a new boost? Why can't our religions be more gender-friendly, eco-friendly and above all people-friendly? Why, on earth, do we have to shun people from places of worship? This is the land which sang, 'Jat-pat puchhe nahi koi; hari ko bhaje so hari ka hoi'. Our Indian culture is so soft, so receptive, so flexible. Why can't it embrace its own people?

The relevance of the topic of the episode was indeed larger than the show. In the limited time, Aamir touched various dimensions and aspects of the problem fearlessly. This is one area where people usually don't enter. Temperatures run high. The stakes are high. The positions are fixed. But the show did justice as much as it could.

Dr. Kaushal Pawar is a Professor of Sanskrit at Delhi University. She has broken huge barriers in one go - a woman, an SC getting educated in the prohibited Deva Vaani, Sanskrit and now teaching it to others! Great! I really wish that the show would have treaded just a bit more and advised achievers like Dr. Pawar not to hate the so called upper castes because it forms a vicious circle and the division of society gets permanent. Reverse racism is as bad as racism. If an SC boss tortures a general category subordinate simply on because s/he is 'superior', the boss is actually permanently scarring the social landscape.

The show kept itself to regular lines. The rigidity of the Sanskritized Brahiminical order established itself when Pandit Batuk Shastri from Varanasi declared that the constitution of India does not match religious texts and therefore he does not believe in the rule book. He said that he is a 'pucca' Brahmin, a 'pucca' Hindu' and he believes in the caste system.

People generally speak out of selfish interests. What's right, what's wrong – these are too farfetched ideas. Generally people like to protect their self-interest. Shastriji was no different. Propriety was not his forte. He simply wanted to protect the benefits he's getting by being a priest at Varanasi. His very existence depends on the caste structure. If people from other castes were to become priests at Varanasi, he might lose his job and a very lucrative job, we must say.

Mr. Balwant Singh, an IAS from UP left his job because of discrimination. Mr. P.L. Punia, Chairman, National Commission for Scheduled Castes narrated the incident when he went to temple in Odisha just to prove the constitutional point that no one can be denied entry anywhere on the basis of caste.

Mr. Stalin K. Padma has been working in this area for decades. He has made a very effective film 'India Untouched'. He made certain very poignant points that the downtrodden have been undergoing this ragging for over centuries and the society at large calls it frolic. His movie showed children of the downtrodden sections, how they accept and compromise with their inferior status. Children who go to school for studying are made to clean toilets because they come from so called lower castes. Discussing the issue is one big step towards solving it. Sharing food and matrimonial chords can be two other steps. But it's easier said than done.

Justice Chandra Shekhar Dharmadhikari told that his own caste ousted him for not being a casteist. He beautifully said that the human being gets lost under labels of caste, position etc. It's important to keep the human being alive.

Rampal from a village in Rajasthan came as a hero because he succeeded in getting his sons-in-law come for wedding riding on a mare. Earlier, only the so called higher castes enjoyed this privilege. He was helped by a general category police officer, Mr. Manvendra Singh. A proud Mr. Manvendra Singh also made an appearance on the show. Mr Bezwada Wilson also came on the show. He is a true crusader against manual scavenging.

At the end, we have to accept that there is no scientific basis for the caste system. The whole human cycle cannot be based on one biological accident. Dignity is as important as breath. The blood of humans can only be divided into four groups. All the groups are found in all the castes.

I wish to add that it is not that things have not changed at all. Things have changed and they have changed for the better. Yet, much remains to be desired. Humanism is the biggest religion. All other religions are modes to reach this final destination called 'humanism'. Kabir, Sufi poets, Ravi Das, Basavanna from Karnataka - there's no dearth of exalted examples in our country. Gandhi, Vinoba, Ambedkar, Vivekananda - we can take inspiration from all around. But one thing is final - Caste is wrong. The show was simply excellent and it touched a topic people usually don't dare to touch.

Continued to "Age with Grace"