Continued from: "The Cancer of Caste in The Indian Consciousness"
The Eleventh Episode - Satyameva Jayate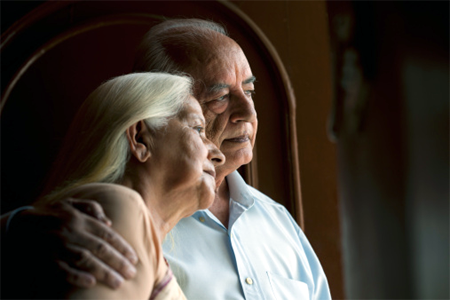 Today's episode of 'Satyameva Jayate' was based on problems of old age. There's no need to look at old age with pity. There's no need to give our children guilt consciousness that they didn't look after their parents. India is fast transforming from an agrarian society to an industrial one. The needs of the times demand a new mind-set where old age homes are not looked down as something undesirable. The show began on very traditional lines where all the teary tales of wronged parents painted children as villains. It's only in the latter part of the show where some sensible talking and thinking were projected. The plight of the widows of Vrindavan was a bit misplaced because it is related to another social evil of the Indian society i. e. perception of widowhood as curse and penance system evolved by the patriarchal society for widows. Indira Goswamy wrote a lot on the plight of these widows.
To return to the show, many examples of wronged parents were shown. NGOs also painted children as devils who forget their parents once they grow. The old were shown as innocuous, tortured lot. I personally feel that examples of wronged children would have completed the other side of the story. There's no denying the fact that old age needs care and companionship. The old age is vulnerable. But to say that the distorted fabric of the social chords is entirely due to the younger generation would be wrong.

I found Himanshu Rath of Age Well Foundation, New Delhi to be very honest and impartial. He put forth the constraints of metro living where young parents don't have time for their own young kids; where husbands meet wives in elevators going and coming from work. The elderly don't have any place in such a scenario. A two BHK flat in Bangaluru cannot accommodate three generations amicably. We as a society will have to find better answers than just blaming children. In most of the cases, as Rath rightly pointed out, there's a desire to please parents. But the pressures of commuting, space, time and urban scenario often result in grumbling parents and dissatisfied desires. The average age in our country is rapidly on the rise. The old age needs mental, emotional and financial preparation. The elderly must work for money as well as for being desirable and useful for the society. Every senior citizen must keep his/her property in his/her own name. No emotional blackmail from any quarter should make one forgo one's property. When the voters are elderly, and the leadership of the country is also elderly, then, why can't we have more and more legal rights for senior citizens?
Dr. Archana Kaushik of Delhi University underlined ceratin good points. Proper implementation of pension schemes, national policy for the elderly, opening of day care centres for the elderly, tying up crèches with old age homes, running counselling services for the elderly- these can be golden measures. Mrs Neelam Sharma living in Aayudham Old Age Home, New Delhi came with wonderful words. She said that she had come to live there on her own choice. The younger generation must be given full opportunities to fly and fulfil their dreams. The older generation should not crush and sabotage the desires of the younger generation. Aayudham has tied up with a school. The elderly teach the children. It looked such a beautiful combination. Mr. Valia of Mumbai has founded 'Dada-Dadi Park' where the elderly can go for 'masti'. Again, it was a heartening example.
The best of the show came with Mr and Mrs Joshi from Pune who have gone for a second shot at marriage in old age. Remarriage for widows and widowers in old age can be the game changer. It's a good idea. Live in relationships can also boost the life and morale of single and lonely senior citizens. Companionship, sharing, caring can go a long way in giving purpose and meaning to life. With growing life expectancy, I think, this trend is here to stay. In Ahmedabad, Nathubhai Patel actually organized a gathering for interested partners for live-in relationships. Narayan Mahajan from Pune was a 'zabardast' example of robust old age. At 91, he likes to go for mountaineering. His formula was simple - 'Don't nurture expectations; expectations cause pain. Eat less; exercise well and laugh unlimitedly.' The shooting stars from Bagpath, UP really stole the show. Two grandmothers have won many awards in shooting. They love the sport and participate in national events. One granny shot it exactly on target, 'Body may age; the mind never gets old.'
Personally, I don't like any narrative, text, story or discourse which generates 'Bhagwan' syndrome. Indian parents really build their kids into fantastic human beings, good professional and successful achievers. Any talk that diminishes love is rubbish talk. The youth needs the support of the elderly. We don't build our children so that we may ruin their youth, their relationships, their dreams. We build our children because it is the right thing to do. Our children will build their children. This is how the nation gets strong. In many families, even the elderly resort to cunning tactics in order to create differences among young spouse so that they may have a place. Grudging, grumbling, complaining, generating guilt – these are not desirable.

Familial space is a complicated structure. Young couples deeply in love need space; old eyes often work differently. Young marital relationships need space and time. I don't intend to say that the elderly should be left to die uncared. But most definitely, the responsibility of meaningful existence in old age, preparation for the dusk of life rests primarily with the individual. In extreme circumstances of weakness and disability, it is indeed the responsibility of children, society, government and system to look after the elderly. But the mind-set of the elderly and the whole society must change. The blame game must stop.

Life slips like sand, like water. Everyone has to get old. Everyone knows that everyone has to get old. The young have to go to work. The young have to be productive. There's no point in painting any one section of the society as villain. India urgently needs a parallel structure of caring for the elderly apart from the traditional family system. Keeping the GDP, liberalization of economy in mind, we need a healthy old age care system. India's growth story has to kept intact.

Continued to: "Water, Water Everywhere, Not a Drop to Drink"

Image (c) Gettyimages.com