Dr. Kalyani Das Mishra

Man said to God, " Oh God! The world is a very cold place, there is little that I can do.."

God said to man, "Just make a better you. The world will take care of itself."

A cynical feeling of distrust pervades the society. Paradoxically campaigns against corruption in public life mobilized by social activists have been adding to cynicism. But there is another picture. Some persons have been active in remote parts of the country working to bring about betterment in the lives of the deprived. They have no grand visions of their own greatness and uniqueness. They do not seek publicity, their efforts are mostly unknown beyond their region, but only such efforts have been generating hope and dreams to the country as whole. They bring hope. We shall overcome!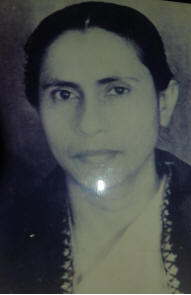 Let me begin my submission on a personal note. Silchar is the district headquarters of Cachar in south Assam. In January, 1961, at the age of 26 I joined G.C. College, Silchar as a lecturer. I went there with my wife and three months old child. My wife kept indifferent halth. Hence I needed to look for a doctor immediately. The place and the people were new and unknown to me. I noticed a name plate Dr. Kalyani Das Mishra on the wall of a Medical Store. We met the Doctor and then began a bondage of patient Doctor and treatment.

One forenoon my child was suddenly taken ill. I rushed for the doctor only to learn that she lives in a village five miles away and comes with her husband in a rickshaw in afternoons for five to six hours only . So I returned back to my residence and began to wait for the afternoon. But the weather intervened. It was our first brush with the ferocious Kalvaisakhi of the northeast. We shut all the doors and windows and shut ourselves in the safety of the closed room. As we were waiting the fury of wind to subside, a voice was heard over the raging sound of the wind, " Ami theek jaigai esechhi to?( Have I come to the right place)" I was astonished, it was the voice of the Doctor . We came out of the closed room to find her with her nurse. I was overwhelmed! Obviously she learnt from the medical store about me and had rushed to my place even in the inclement weather.

Later responding to my worry about her unavailability to patients round the clock, she told me," Many doctors are available in the town in contrast to rural areas where there is paucity of medical facilities Therefore, I live in a rural area, so that some medical service is available there."

Thereafter I learnt that she has ventured to establish a health center to cater to the needs of the rural people, especially maternity care, which was virtually non-existent in the region those days. It attracts patients from all parts of Barak valley, Northern parts of Tripura and even from parts of Meghalaya. It not only served its primary purpose but also played an important role at times of disasters, both natural and man-made, like the war of Independence of Bangla Desh in the early seventies, providing relief to thousands of refugees.

The Doctor passed away in 1989, but Dr. Sundari Mohan Das Seva Bhavan continues to serve the deprived people of this region.Presently it has grown to the status of a multispecialty rural hospital with 75 beds offering surgery, obstetrics& gynecology, medicine, ENT,& pediatric health care.

It is a tribute to the founder that the place is now known as 'KALYANI' by the people of this region.
Those interested to know more about the institution may visit www.sundarimohan.org
To conclude, I recount a personal encounter. Shree Achintya Bhattacharya, District secretary of C.P.I was contesting in general election to Assam Legislative AssembIy from Silchar constituency. The party did needed a Hindi speaking person to campaign among tea garden labourers. I was requested to do the job. I knew that intelligence people kept a watch and it was considered sensitive by the government. But I was hesitant, could not express my reservations out of delicacy to say so openly. As I was to board the jeep for the tea garden, Dr. Das suddenly appeared there and asked me whether I had contemplated the consequences of my addressing campaign meetings in favor of a Communist candidate. It is relevant to mention that she was a senior member of the party. After that she sternly and unequivocally told me to go away. I was relieved. That again reflected her human face.