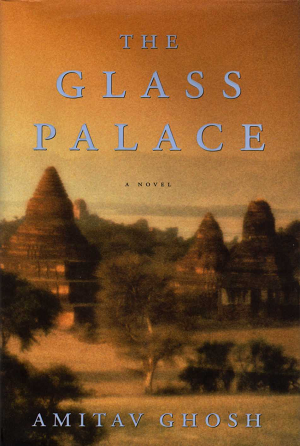 Magnificent. There's no other word for it. It's a well-researched book and thoroughly enjoying. Spanning a period of about sixty years, it's a tale about three generations of a family and similar in some respects to Gabriel Garcia Marquez's One Hundred Years of Solitude.

Human emotions make the novel engaging. Love, betrayal, treachery, racism, friendship & sacrifice pervade the unfolding of events. Romance mingles with vivid description of a war as the principal characters move from Rangoon and Mandalay in Burma to Malaya, and from Ratnagiri, Calcutta and Madras in India to the United States.

It's a story about an Indian man, RajKumar Raha who lands up in Burma in a state of penury owing to a shipwreck. From his humble beginning as a sailor boy, he rises to become an extremely affluent influential timber trader in Burma. This 550 page fictional work with Burmese history woven into the narrative chronciles his family's experiences, their ups and downs, the hatred that exist in Burma for Indo-Burmese family (Rajkumar marries a Burmese lady Dolly ) providing us in between with a wealth of information about Burma, the timber trade, killer diseases like antharax which attack and kill elephants etcetera without becoming dry and boring.

Reading through the novel one is convinced about the tremendous research the writer must have done for this work while dealing with a subject that won't come naturally to any writer. A Bengali who grew up in various places, Amitav Ghosh writes about Burmese life with an authority and a flair that a good Burmese writer would have been proud of. His description is awesome and he's as precise about military life as he is when he is handling erotic sequences or the make of a foreign car. Amitav's prose is captivating. Below are just two beautiful extracts from the book.

"Everything he owned was in that place, all that he ever worked for; a lifetime's accumulation of labour stored as a single cache of wood. He thought of the elephants and the bombs falling around them; the flames leaping from a well-stacked wood; the explosions, the trumpeting. It was he who has concentrated all his holdings in this one place — that too was part of the plan — and now the bombs have claimed it all. But it didn't matter; nothing mattered so long as Neel was unharmed. The rest were just things, possessions. But Neel ….. "
The second extract.

"They came across a lady one day, dressed in a beautiful silk sari, a peacock-green Kanjeevaram. She looked to be from a wealthy family but she too had run out of food. She was trying to bargain with a group of people who were sitting by a fire. Suddenly she began to undress and when she'd stripped off her sari they saw she had others on underneath, beautiful, rich silks, worth hundreds of rupees. She offered up one of these, hoping to exchange it for a handful of food. But no one had any use for it; they asked instead for kindling and wood. They saw her arguing vainly with them — and then perhaps recognising finally the worthlessness of her treasured possession, she rolled he sari into a ball and put in on the fire; the silk burnt with a crackling sound, sending out leaping flames."
Flashback techniques has been used in several places. Scenes from Burmese rebellion are a recurring motif. These images are terribly disturbing and continues to haunt and those who've seen John Boorman's hard-hitting film Beyond Rangoon on the atrocities by Burmese military Govt. on its citizens will be convinced that this resourceful land, called the Golden Land, rich in precious stones, rubber among other items is/was truly in the grip of anarchy for a long time. In the last pages, havoc caused by a Japanese invasion in Burma and its effect on the Army officers and the people have been penned quite forcefully. It's undoubtedly one of the best books I have read in recent times.