In Irish novelist Roddy Doyle's "The Woman Who Walked Into Doors", the battered wife Paula keeps justifying her bruises by saying she as a habit walks into closed doors and hurts herself.

The battered wife Kiranjit Ahluwalia in Jagmohan Mundhra's jolting exposé on domestic values never gets a chance to walk in or out of that closed London door where she lives with her brutal husband. She chooses her husband's death over her own exit.

Film: "Provoked"; Cast: Aishwarya Rai, Naveen Andrews, Miranda Richardson, Robbie Coltrane, Nandita Das; Director: Jagmohan Mundhra; Writer: Carl Austen & Rahila Gupta; Music Director: A.R. Rahman; Ratings: ***
It's amazing how the true-life Kiranjit found freedom by setting her abusive husband on fire. In one of the film's most sensitively delineated dialogues, Kiranjit says to her rather overly benign prison-mates, "I've never felt freer in my life."

What sort of trauma would it take for a woman to feel free in prison?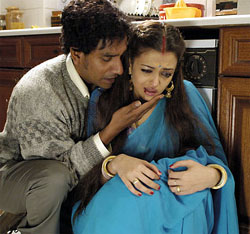 "Provoked" answers the complicated question of domestic disharmony with a deft and direct approach to the question of a woman's place in the man's 'scream' of things.

The intermittent flashbacks showing Kiranjit's spousal nightmare, cut deep and hard into the narrative. Full credit to Aishwarya Rai for plunging deep into a part that she plays from her heart.

True, at times she looks too pretty to be ravaged. But the vulnerable, fragile, little-girl-lost quality in her personality works to great advantage in portraying the spouse-burning victim as a woman scorned beyond endurance.

There're moments in the narrative where Aishwarya melts your heart like an ice-cream cone left out in the sun for too long.

Madhu Ambat's cinematography is so sweeping in its specificity that it creates a spatial bond between the protagonist's heart and her hostile-to-compassionate surroundings.

Mundhra and Sanjay Mirajkar have edited the harsh material with extreme economy of expression. The film moves mercilessly forward leaving no room for a breather.

Among the unforgettable sequences, count the one where the stern lady constable asks Kiranjit to take off her jewellery and clothes. Kiranjit pleads in hushed anguish, "Never take clothes off in front of husband."

Aishwarya's inherent inhibitions give the character a mocking edge. How could this tender woman set her husband on fire? Imagine the levels of torture she must have suffered!

Blessedly, we are shown only fragments of Kiranjit's trauma. Director Mundhra makes sure they are enough scenes to make us wince without making our stomachs churn.

Cleverly but tenderly formatted as a thriller-in-flashback, "Provoked" opens with the burning figure of Deepak Ahluwalia (Naveen Andrews) running screaming out of his house. Mundhra moves smoothly backwards into events leading to this gruesome incident.

Female bonding has always been a favourite theme in Mundhra's films - remember Shabana Azmi and Deepti Naval in "Kamla? In "Provoked" the bond that develops between Kiranjit and her cellmate Veronica, played by Vanessa Redgrave's daughter Miranda Richardson with supreme cheer, is remarkably well tuned to the sisters'-solidarity theme that forms the narrative's backbone.

Nandita Das is also in fine form as a spunky 'sister' activist holding up a torch for the torched husband's tortured wife. Every actor in the smallest role gets it right and bright.

Naveen Andrews's despicable brutality as the husband makes your skin crawl, as it's meant to.

But the film clearly belongs to Aishwarya. She gets a grip on her character Kiranjit's predicament with a fluid grace, her large eyes brimming over with untold grief as she pleads with her lawyers, "Please let me see my children."