Film: "Tara Rum Pum"; Cast: Saif Ali Khan, Rani Mukerji, Ali Haji, Angelina Idnani, Jaaved Jaffri; Director: Siddharth Anand; Rating: ***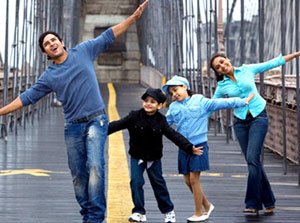 Hrishikesh Mukherjee meets Walt Disney in this utterly heart-warming take on life's most serious and cruel jokes.

There's a moment in Anand's film where Rani plays that clichéd sequence where the hero's fallen-on-hard-times wife rejects a fat cheque from her rich father.

"I did the right thing, didn't I?" Rani asks her screen-husband Saif, who looks aghast. "You turned down a cheque for $50,000? For that sum of money I'm ready to be compromised every day."

The above sequence is a strangely subverted interpretation of the sequence from Hrishikesh Mukherjee's "Satyakam" where Dharmendra's idealism was weighed against Sharmila Tagore's ability to ward off temptations.

"Tara Rum Pum" is like a romp through the highest emotional summits of life's blows. Anand situates this riches-to-rags drama of a spendthrift car racer, his cautious and principled wife and his two adorable kids in New York where the economically challenged family moves from up-market Manhattan to downtown Queens.

Cinematographer Binod Pradhan captures the underbelly of New York and the racing driver's family story in a restrained rush of emotional adrenaline. In true Walt Disney tradition, the family makes the best of its challenged morality when it falls on hard times.

There are moments, like when Saif's hungry little son, played naturally by Ali Haji, devours a half-eaten burger retrieved from a trashcan, where eyes can't but turn moist.

You can't fault the director for pumping up the tears. Commercial cinema is all about the pleasure you derive in bringing the fundamental emotions of love and life together.

"Tara Rum Pum" does just that. Anand's screenplay is original from far. Get closer and you see scenes from "Days Of Thunder" and a whole chunk from the Russell Crowe boxing film "Cinderella Man" packaged in vibrant colours.

Saif, I feel, is a better actor than Tom Cruise and Russell Crowe. He plays the role of the rugged, dare-devilish fallen hero with pathos and parody.

It helps to have Rani as a co-star. Though her make-up and clothes are all wrong in the first half, she brings an emotional resonance to her supportive wife's part in the second-half. Here, she has to stand by a man who has lost his heroic sheen and is a bit of an embarrassment to the mirror.

Jaaved Jaffri replicates the role of a star manager from dozens of Hollywood films. Though his penchant for doing accents (this time Gujarati) is admirable, he doesn't quite blend with the film's fabric.

Victor Banerjee is outstanding. He stands out of the script, trying to give a semblance of originality to the role of the heroine's rich, snobbish father.

The inspirational tale is buoyed by a bewildering array of songs and dances, including one where the protagonists dance with animation figures. They highlight the happy family undergoing distressing times.

The initial 15 minutes could have been more inspired though. Nothing, not even the tepid songs by Vishal-Shekhar can take away from the sheer weightlessness of the narrative as it moves through several superbly written scenes.

Scenes like the one where Saif and Rani pretend to be satiated at a family dinner so that the kids can eat properly and another when the kids stare longingly at a confectionary stall makes you wish all your cynicism would dissolve.

"Tara Rum Pum" is true feel-good cinema. Siddharth Anand gives us a slick slice-of-life that swings from joy to sadness. A must-see family film!