Sonia's Links with Coalgate?
On September 4 it was pointed out in these columns - Coalgate Twist: Will PM Speak Up? - that while the Prime Minister initially had favoured the allotment of coal licenses through auction the government failed to implement this policy for many long years despite the fact Dr. Manmohan Singh himself was also the Coal Minister during this period.

Attention was drawn to a note by a joint secretary of the government issued in 2004 which said:
"There are pressures of all kinds for allotment of blocks. This has made selection of an application in respect of a block difficult and vulnerable."
This columnist asked:
"Who could have exerted such pressures on the newly elected UPA government…Who could be so powerful that even the Prime Minister in charge of the coal portfolio could not implement the government's declared policy to auction coal licenses? Not for his sake but for the nation's sake the PM must speak up."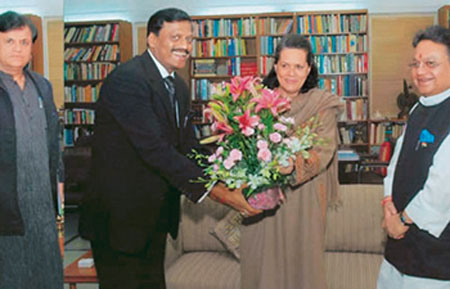 The PM of course retained his deafening silence. Now there emerges a possible clue that might throw light on his silence. The Daily Mail of London on its website published a report on Coalgate regarding the affairs of Mr. Manoj Jayaswal the Chairman and Managing Director of the Abhijeet Group which acquired notoriety recently on account of it being allotted coal licenses and being charged with corrupt practice by the CBI. Alongside the report it published a photograph lifted from the Abhijeet Group's website.

The photograph shows a smiling Mrs. Sonia Gandhi accepting a bouquet of flowers from Mr. Manoj Jayaswal while another Coalgate accused Mr. Vijay Darda stands beside her. Her Political Secretary Mr. Ahmed Patel stands beside Mr. Jayaswal. Mr. Darda's interaction with Mrs. Gandhi may be explained because he is a Congress MP. But what were the precise circumstances in which Mrs. Gandhi was interacting with the Coalgate accused, Mr. Jayaswal, who is a businessman?
It might be recalled that earlier Mrs. Gandhi had been asked in these columns to explain why her Political Secretary had a secret meeting with accused money launderer Hasan Ali as was reported by the Maharashtra police intelligence department. No reply was forthcoming. One hopes that this time around in view of the raging controversy over Coalgate Mrs. Gandhi will offer a convincing explanation. She owes it to herself and to the nation to explain why and how she interacted with Coalgate accused Mr. Jayaswal in order to prevent all unwarranted future speculation about her own role in the scandal.


Related Updated August 20, 2013
Missing Coal Files Mystery


10-Sep-2012
More by : Dr. Rajinder Puri
---
---
| | | |
| --- | --- | --- |
| | very well said @TagoreBlog!!!! | |
---
| | | |
| --- | --- | --- |
| | Sonia is the tragedy of India | |
---
| | | |
| --- | --- | --- |
| | 'Good' habits die hard - as a restaurant waitress didn't she accept tips from customers? | |
---