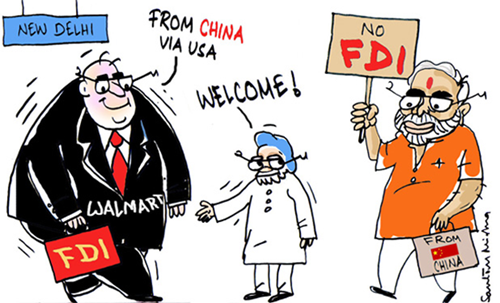 The most laughable aspect about the current debate on Foreign Direct Investment (FDI) is provided by the BJP. The BJP is ranting against FDI and alleging that the government is introducing it under pressure of foreign capitalists to help America's economy at the cost of India's interests. The BJP President Mr. Nitin Gadkari said: "Products will come from there (China), ending the businesses of small traders here." He added: "There is a perception that the decision (to allow FDI in retail) has been taken under foreign pressure." This statement should be considered in the context of how BJP Chief Ministers are interacting with China.
In democracy everyone has the right to pursue the policy of one's choice. It is just that the BJP should not consider the rest of the world to be so stupid as not to see how it has allowed itself to become the pawn of foreign powers.
Three BJP Chief Ministers, Mr. Shivraj Singh Chauhan, Mr. Yedyyurappa and Mr. Narendra Modi all visited China to seek investments and trade from Beijing. Mr. Modi has become a particular favourite of Beijing because of his state's superior administration that facilitates big business. Mr. Modi has thrice visited China heading trade delegations. Chinese leaders reciprocated by visiting Gujarat chaperoned by their ambassador in Delhi. That deep and enduring ties are sought by the BJP with Beijing becomes clear by the Gujarat government creating special facilities for teaching Mandarin to children in schools. Chinese companies including automobile majors; infrastructure giants; heavy engineering companies, and textile corporations are finalizing their strategy to invest in Gujarat. The competition offered by Chinese textiles to Indian textiles, a major manufacturer in India, bothers BJP the least.

All this is very well. But a question arises. Whatever happened to the nasty foreign business pressures that introduced FDI in India to help the American economy against which the BJP is ranting?
The answer to that is simple. India cozying up to China economically will not help the American economy. It will help only the American businessmen who have bled America and now through China are being encouraged by the BJP to bleed India. The BJP is serving in fact the international lobby which I had described earlier as the real Axis of Evil.

It is the China-US corporate business lobby which is subverting and dominating the politics of India and most of the world. This lobby is institutionalized by the US-China Business Council (USCBC). The Gujarat trade delegations to China were invited by the China Council for Promotion of International Trade (CCPIT). The USCBC in close cooperation with CCPIT conducts numerous and frequent conferences and seminars to advance overall investments and trade. In other words CCPIT may be based in China, its control and benefits accrue equally to American businessmen though not necessarily to US economy.
The USCBC was founded in 1973 when Kissinger was at the height of his power and Nixon was tottering. Kissinger's influence with Beijing was so great at that time that he actually helped Beijing set up China International Trade and Investment Corporation (CITIC) which was the Chinese government's banking merchant for conducting all business with America. After demitting office Kissinger's influence did not disappear but became covert. In 1982 he founded Kissinger Associates Inc, an international consultancy. The firm employs the cream of the most powerful retired American officials. Kissinger is partnered by former National Security Adviser Mr. Bent Snowcroft. Between 1986 and 1989 the current U.S. Treasury Secretary Mr. Timothy Geithner was also employed by Kissinger Associates. The firm helps clients identify strategic partners and investment opportunities, and helps them with advice on how to deal with government throughout the world. It has a reputation of extreme secrecy and very little is known of its specific activities. Recently Kissinger made trips to Beijing to confer with China's top leaders to iron out glitches in US-China currency and trade differences although he holds no political office.
This, then, provides just a slice of the corporate lobby that is pushing closer China-India trade and cultural ties. Let the BJP by all means pursue the policy, and select the friends, of its choice. Let it continue to cry itself hoarse over the threats emanating from Pakistan while it blissfully ignores the fact that Pakistan's military clout is provided by the same China it is ardently wooing.

In democracy everyone has the right to pursue the policy of one's choice. It is just that the BJP should not consider the rest of the world to be so stupid as not to see how it has allowed itself to become the pawn of foreign powers. If the BJP is not deliberately deceiving the public, it is in that event deceiving itself.

Illustration by Santosh Mishra