Himalayan Cloud Train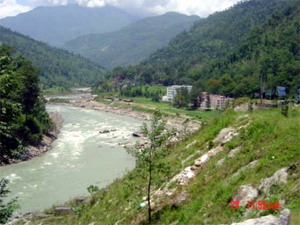 I along with my family still savor the memories of Gangtok in Sikkim, a nestled paradise in the mountains, under clusters of clouds. So beautiful was the place, I could not just leave from there, for our onward journey to Darjeeling and Kolkata. Another reason for my reluctance to leave - I lost my mobile in a taxi at the last moment. We waited for the police to give my report. In fact our taxi driver declared himself as very innocent before the authorities and as a reward I was in turn scolded for my sheer negligence. Coming to the heavenly thereabouts of Sikkim, the people there were too civil either in the manners and due courtesy.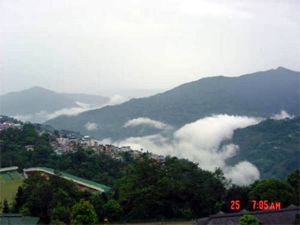 At the daybreak I opened my suite's very large window. Oh Boy! I could look straight down and also yonder. I froze breathless and mesmerized by the majestic spectacle. I saw tiny tots playing far below in a school yard right under my window which projected itself on to a boulder of a small hillock. In the distance, clouds were traveling in one large stream from the mountain peaks, say like a huge train (some bogies had even entered my room through the just opened window. I was swamped in a cloud that made me wet for a bath.) And above this train of clouds and gleaming in the Sun, I found the trace of Kanchenjunga summit in the distance. I was told about its name later by the hotel manager.

I realized it was better not to have known fully about the place, only to have the thrill in such surprises. The room boy brought us coffee (My family comprises, we two and our two dear daughters). Some steaming coffee it was. I unpacked my baggage. I pulled out my cameras: one I bought in 1977 and the other had a zoom lens of a recent make. Then and there I shot at a flower of a tiny plant lying on the terrace some five meters below 'my window to paradise'. I duly magnified the image on the monitor and showed it to my wife as if I plucked a flower and offered her.

Later I took a careful shot at the distant mountains after allowing the clouds to come into the full view for a backdrop. For the first time I felt like a movie cameraman. My wife was pleading with me to get out of the room and get some real action as though she was my director.

Finally, we all trooped out and trudged into the streets and it was quite an exercise to amble across and gradually move upwards over to the roads and on to the terraced slopes where residential units as well as shopping marts existed. The food sold was a multi-cuisine fare both in the hotels and restaurants (meaning disappointment to strict vegetarians). Yes, the good service at the eateries was very evident. Every one wore their broad and open smiles, unaffectedly pure, just like their garnished dishes.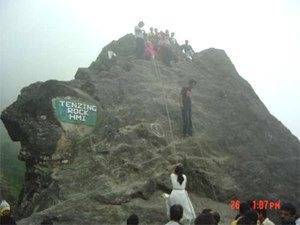 We loved MG Road for it was free of vehicles (Vehicles restricted to reduce crowd at the market place, apparently). I liked the Himalayan Mountaineering Club (I have to check the name again) where a mock rock was placed for beginners to climb. Some children and a few adults were using ropes. This miniature climbing struck me funny because we were, straight in the midst of the highest hill ranges of the world, at the gateway of the largest landmark of all. Only disappointment was, alas, the rope-way was not functioning.

A football stadium we visited, and we heard the famous football player of Olympics fame (Baichung Bhutia) played there - news courtesy, our taxi driver-cum-guide.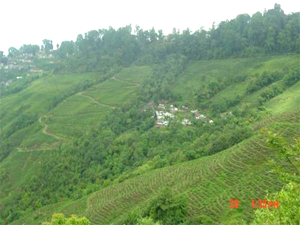 With regard to the road signs en-route to Gangtok from New Jalpaiguri (a Railway station town as well as airport in the valley, strategically connecting Assam, Darjeeling, Sikkim and Nepal on all sides): they were very funny to read since they were satirically written with descriptive wisecracks - to caution road users on the dangers of careless driving. Later we enjoyed the taxi ride down the precipitous and serpentine slopes to a tea estates where-from we purchased Tea from the shops right in the gardens themselves, named as super tea which we gave away to friends on return to Hyderabad in South India.

Quite stimulating mementos we kept for ourselves are the pictures and memories of that great Gateway to Eastern Himalayas.
 
27-Sep-2012
More by : Seshu Chamarty
---