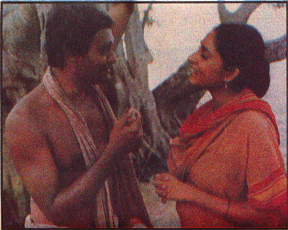 This film was released in 1993.

Padma Nadir Majhi (Boatman of the river Padma) is based on a classic novel by Manik Bandopadhyay. The work is based on the life of fishermen, who eke out a living from the catches they make from the unpredictable river Padma. The hopes and aspirations, despair and grief and longings for a better life of this downtrodden community has been well brought out by the Director. The abject poverty which stares in the face of these beleaguered people almost every day has been skillfully woven into the narrative of this film.

In the past, there has been two significant films made on the life of fisher folks in Bengali films. They include Ritwik Ghatak's Titas Ekti Nadir Naam and Rajen Tarafdar's Ganga. So, this work by Gautam Ghosh can be considered the last in a series of trilogy made on this tribe so far.

The film has been shot both in India and Bangladesh. The central character is Kubir played by Asaad who is a tall, strapping fisherman. Initial sequences depict the exploitation of these hapless people, where their catches made after a lot of struggle hardly earns them the money in the market. Even residents from neighborhood take away fishes from them without paying on several occasions. It is indeed a hard life for them.

Enters Hossian Miya (Utpal Dutt), a trader who offers to take this community to Moynadeep and offer them a better life there. It is apparent that Hossian Miya has a flourishing business there, because he has recently purchased a huge boat because of expanding business.

However, people who return from Moynadeep after working there has a different tale to narrate. Rasu (Sunil Mukherjee) and Aminuddin (Robi Ghosh) say that Moynadeep is infested with lions and tigers, and there is forest all around. Rasu has fled from Moynadeep deserting his wife and children there. Aminuddin, too, refuses to go back to Moynadeep again.

Kubir has a wife and daughter and also recently blessed with a child. His wife is beset with a leg deformity, and his daughter is grown up and engaged to a local man. Kubir goes to pay a visit to his relatives from his wife's side. On return, he brings along his sister-in-law Kapila (Roopa Ganguly) along with a ton of small kids. Kapila was married, but is now estranged from her husband.

A sneaky amorous relationship develops between Kubir and Kapila. Staying with a deformed wife and coupled with amorous gestures from his alluring sister-in-law Kubir succumbs to her wishes of passion play. However, Kapila's husband re-appears and takes her away with him.

Suddenly one day a storm rises in the Padma. And leaves behind a trail of destruction. Kubir tells his wife "Padda amago joto daay abar totoi loy " (It is true Padda gives us a lot, but in return it also takes a lot from us). Gautam Ghosh deserves kudos for beautifully capturing the stormy sequences on celluloid. Indeed, these disaster sequences are hauntingly filmed and lingers in one's mind.

Storm wreaks havoc in the village. Hussian Miya offers to lend a helping hand to the villagers. He does so, but in return he takes their thumb impression as proof of his help so that he can use it later to exploit them.

Meanwhile Kubir's daughter's marriage breaks down. Rasu proposes to marry her. Even though Rasu was close to Kubir, he refuses to accept the match because of the age difference between them. Rasu becomes furious and threatens to ruin Kubir.

He succeeds in his endeavor. Kubir is fabricated in a theft case, and police is now trying to nab him. He flees, and go to Hussain Miya for help. Hossain Miya tells he can absolve him of the theft charge, but in return Kubir must go to Moynadeep. Kubir agrees to the offer.

Kubir goes to Moynadeep. A new life unfolds for him there. These concluding sequences from the film adds up to a compelling climax.

The music was scored by Gautam Ghosh and Alauddin Khan. The film was made in Bengali.